Invoice2go reviews are going public. Here's how to get the most out of them.
Exciting changes are coming soon to Instant Websites – including the ability to add the verified customer reviews you collect through Invoice2go. 
Reviews are a valuable resource for building your business' credibility with potential new customers. Virtually all customers now research companies online before opening their wallets, so online public reviews have become an essential business-building tool.
Did you know that Invoice2go helps you collect customer reviews? 
In late 2020, we launched Reviews – a way for your customers to leave detailed feedback. The way it works is simple. Your customer automatically gets a prompt after paying the invoice. 
Some of our early adopters of this feature have noted exciting results. One long-time Invoice2go customer stated about 50% of her customers now leave detailed reviews. This is way more than she gets Google, Facebook, Instagram, or Yelp. 
She's not alone. Because we've had such an overwhelmingly positive response to Reviews, we're excited to announce you'll soon be available to add them to your Instant Website. The countdown is on.
If you're worried that asking for reviews will bother your customers, check this out: 70% of customers, on average, will leave a review when asked. People love to express their gratitude for businesses they appreciate. Critical reviews can also give you insights to improve your service. Even Bill Gates famously said: "Your most unhappy customers are your greatest source of learning."
Here are some tips for building your collection of customer reviews with Invoice2go. Then, when you can add them to your Instant Website, you'll already have tons of glowing feedback to share.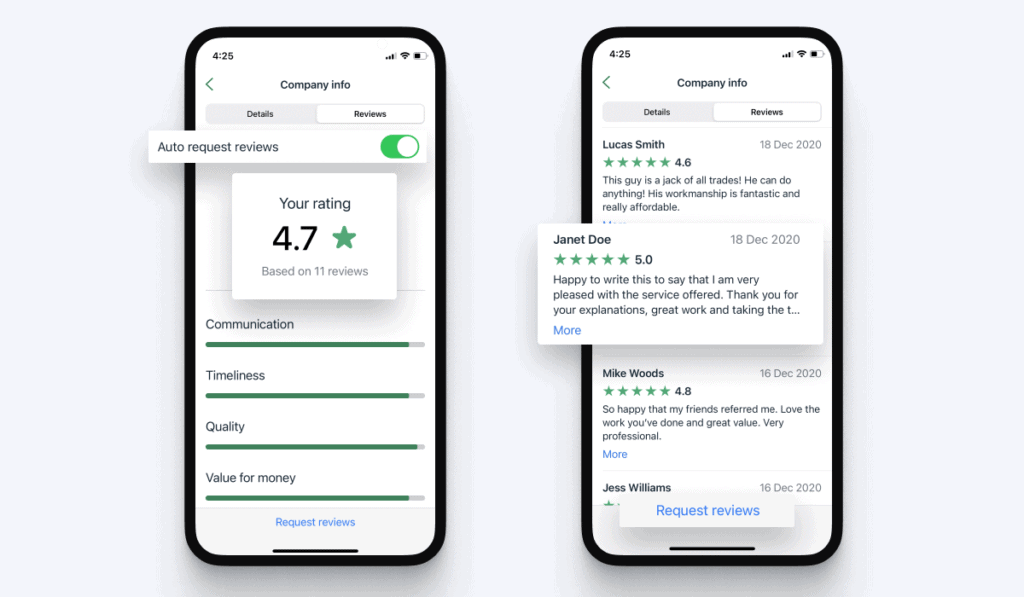 Switch on automatic review requests
Toggle on automatic requests when your customers pay an invoice in full. This allows your customers to provide helpful feedback while your work is top-of-mind. 
Additionally, because review requests are automatic, you no longer have to take the time to follow up or email customers asking for reviews.  
To start using this feature, simply go to your Profile icon > Company info > Reviews and tap the toggle for "Auto request reviews."
Send review requests to your previous customers
You can also seamlessly reach out to your previous customers to request a review. Invoice2go will help you generate a list of eligible customers who have paid invoices in full. 
To send review requests to previous customers, follow these steps. Go to your Profile icon > Company info > Reviews > "Request reviews" and follow the prompts.