Business Receipt Template
Record your transactions with business receipts that provide a record for you and your customer. Like a grocery store receipt, business receipts list the purchases.
Download a business receipt templates
Manage your transactions with Invoice2go receipt templates that organize your data into neat sections. Download a free receipt template today, then impress clients with your professionalism.
What is a business receipt template?
A receipt template is a document you fill out after completing a transaction. Business templates look like invoices, but they confirm a payment instead of requesting it. You write your address, the customer's address, a list of purchases, and other essential information, then send the customer one copy and keep another for yourself.
What are the benefits of using a business receipt template?
Business receipts are some of the most important documents in your financial records. Without receipts, you could lose track of payments, charge the same customer twice or misreport your income on your taxes. A receipt template has all the information you need, so you don't miss anything. Simply fill out the template and keep it in your files.
How do you edit business receipt templates?
Follow these steps to edit your receipt template:
Download a free receipt template from Invoice2go.
Open the receipt template in a PDF editor or word processing program. Depending on the program you choose, you'll click the text to edit it or click above the lines to fill out the form.
Click on the elements to add branding that reflects your business. For example, add your logo and change the colors on the table.
Fill out the form, then email it to your customer or print it out and send it through the mail.
Don't worry too much about making mistakes while you edit–you can always download a fresh receipt template if needed.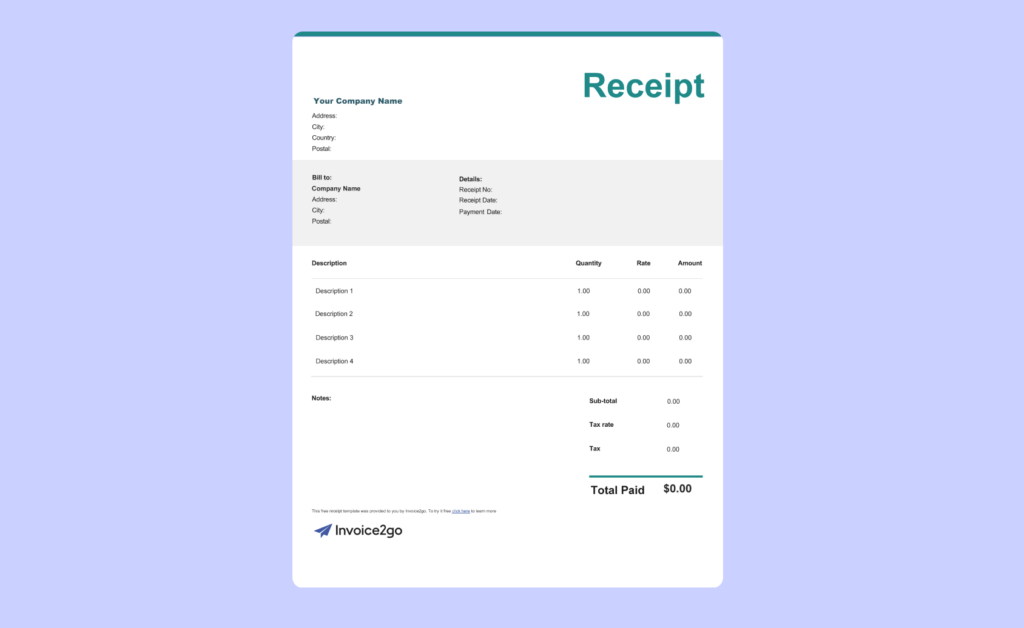 What information is on a business receipt?
Your business receipt contains basic information like your business's name and contact information, the customer's name and address, a list of purchases, the payment date, a signature, and the payment method used. Give each receipt a unique number to keep them distinct.
The purchase list contains a description, quantity, individual price, and total for each item. Underneath the list, the receipt features the subtotal, added tax, and the complete amount due. Add discounts if you gave your customer a coupon. If the customer chooses an installment plan, include the amount paid and the total to keep track of their balance.
Business Receipt Frequently Asked Questions
How do I write a receipt for my business?

To write your business receipt, fill out the basic information on the form. Consider creating a receipt template to save you time. This includes you and your customer's name, address, and contact information. Next, write down the receipt number and payment date. Select the payment method that the customer used. If the customer's present, they might sign the receipt.

Write each individual purchase on the receipt along with the individual price, quantity, and total. Add up the purchases for the subtotal, then add sales taxes and other fees. Subtract discounts from this number. Write the final price on the receipt along with the amount that the customer paid.

If the customer paid in full, you'll only need one receipt. Otherwise, write a new receipt for every transaction. Stay on top of taxes and fees so customers never underpay you.
What are the benefits of providing a business receipt?

Offering refunds and exchanges builds trust with your customers. You stand by your product or service–and if it doesn't work out, you're committed to making it right. However, you can't offer refunds if the customer has no proof of purchase. When you decline their refund, they'll get frustrated, feel like they wasted money, and turn to another business.

Business receipts offer proof that a transaction took place. When they request an exchange or refund, customers show you the receipt with the date and purchase. If they don't have the receipt on hand, you'll look it up in your records. This quick exchange increases customer satisfaction and encourages clients to work with you again.

On your end, business receipts help you file taxes. Federal law requires you to save your receipts for at least three years to report your profits accurately. Receipts also help you plan a budget for the upcoming year and see which products and services are most profitable. When you know what customers need, you'll offer better service.

If a customer pays in installments, receipts keep track of their bills. They'll see their past transactions and current balance, reducing the risk of missed payments. You'll also keep track to ensure that you receive your money on time. Since each receipt marks the payment date, you can check back and send a friendly reminder.

Finally, if a customer pays in cash, the receipt is the only proof that the transaction took place. Without it, your customer can't request a refund or check their purchase, and you can't prove that you earned the money. Receipts create a paper trail that prevents disputes – especially a cash receipt. Consider using a receipt template to save time and make the process as simple as possible. You can download a free receipt template from Invoice2go.
Why are business receipts important?

Business receipts confirm that you finalized the transaction. Without a receipt, customers wonder if you received their money or if they paid the wrong amount. A receipt confirms that they completed their end of the deal. You'll also have a record, so you don't accidentally charge your customer twice.

While you could send customers an email confirming that you received their money, business receipts add professionalism to the transaction. You've invested time in downloading and filling out clean, orderly receipts that resemble the forms they'd get from a major corporation. Customers can lose an email, but they'll download or print out a receipt that outlines their purchases.

Ultimately, staying on top of the transaction shows customers that you value their business. Add a note to the receipt thanking them for their purchase, and make sure you write in the discounts so they know how much they saved. When they feel appreciated, customers build a personal relationship with you, leading to more orders in the future. Consider using receipt templates to save yourself time. You can download a free receipt template from Invoice2go.