Itemized receipt template
When your customers need specific information, itemized receipts detail the entire transaction. Review the receipt with your client so you're both up to date.
Download an itemized receipt template
Record transactions with the best itemized receipt template from Invoice2go, a Bill.com company . Download an itemized receipt template today and use it for every transaction going forward.
What is an itemized receipt?
An itemized receipt is a transaction record that you give your customer after they pay the bill. Unlike a basic receipt, an itemized receipt lists every product or service along with the price, quantity, and final total. This receipt adds taxes and other fees, then provides the total charge. Both parties keep the itemized receipt for their records.
What are the benefits of using itemized receipt templates?
Using an itemized receipt template saves time and money because you won't have to hire a graphic designer or figure it out yourself. Instead, you'll jump right to the editing process. Our professionals designed Invoice2go templates with your small business's needs in mind. While you can add and remove content as needed, the essentials appear in neat content blocks.
How do I edit an itemized receipt template?
Follow these steps to edit your itemized receipt template:
Download the Invoice2go template that you want to use.
Open the template in a word processing program.
Click on the text to edit it. If using a PDF editor, click on the box or above the line to add your text.
Edit the information that stays the same across every receipt, like your name and business address.
Add the logo and colors that match your branding.
Duplicate this file, so you don't have to make a new template every time.
Check your records, and add the transaction information to your template.
Save the template, print it out, or email it to your customer. Make another copy for yourself.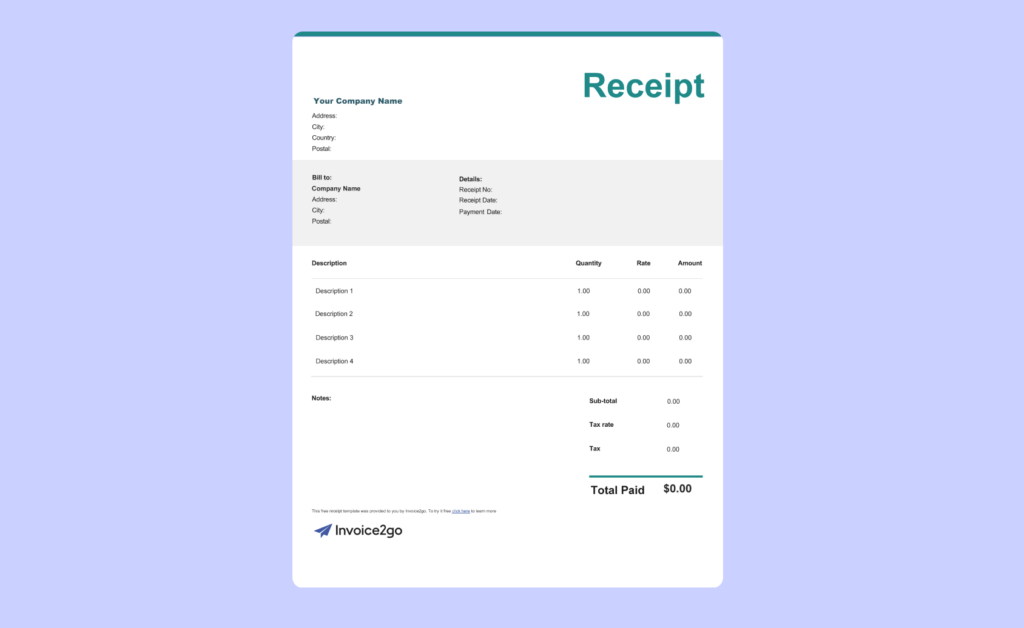 What information is on itemized receipt templates?
An itemized receipt lists every purchase individually, even small purchases that cost only a few dollars. Afterward, the receipt adds taxes, discounts and other costs like labor and shipping fees. It includes a receipt number and provides the total amount at the bottom, so the customer knows exactly how much they paid.
Other information may include the business address, customer's shipping address, payment method, purchase date, payment date and customer's signature. Some receipts have sections for specific purchases, like vehicles. Each receipt presents information in a clean, orderly layout so both parties can refer to it for budget and tax purposes.
Itemized Receipt Frequently Asked Questions
How do I make an itemized receipt?

Start with a template that contains all the information that you need. At most, you might have to make a few alterations. Customize the template so the receipt reflects your business. For example, you might need to add a logo and alter the colors so the receipt matches your branding.

Afterward, transfer the purchase record to your receipt. You might review the customer's online purchases or see what you wrote down in your records. Make sure you include add-ons that the client requested later. Afterward, figure out the sales tax and add it to the receipt. Follow that up with discounts to show the customer how much they saved.
What are the benefits of providing an itemized receipt?

An itemized receipt breaks down the entire purchase, showing customers exactly what they paid for. If they're unsure about a charge, they'll see where their money went, reducing the risk of payment disputes. The receipt also lists taxes and additional fees, which clients tend to forget about. They'll use this information to budget the next time they order your services.

If your receipt includes business expenses, the client determines what's taxable so they can report deductibles on their taxes. They'll also see which expenses they must pay and which expenses their employer covers. While your receipt doesn't specifically report this information, they can review the document with their employer.

You and your client keep a copy of the receipt to track profits and expenses. On your end, you'll see exactly what the customer bought. If your customer wants to make the same purchase again, you'll show them the receipt. You'll also refer back to this receipt if the customer tries to challenge the charges.

Your receipts show a profit record that you'll report on your taxes at the end of the year. Use this data to determine your business's success and how to improve your sales. If one product or service keeps showing up on receipts, that's what pushes the biggest sales. Likewise, if no one buys a particular item, consider phasing it out.
When do I use an itemized receipt?

Itemized receipts look like invoices, but you issue a receipt shortly after the client pays the bill. Never issue the receipt before they pay even if they promise to pay you as soon as possible. Otherwise, your records will have inaccurate information, particularly if the details change or the client doesn't pay you on time.

Never wait to issue a receipt. When you complete a transaction in person, fill out the paper receipt immediately before the customer leaves. For digital receipts, fill them out and send them to the customer on the same day. This keeps your dates straight and informs the customer so they don't see an unexpected charge in their checking accounts.
Why are itemized receipts important?

Like an itemized invoice, itemized receipts are important because they show customers that you're a professional, experienced business owner. You don't take their money and leave them to figure it out. Instead, you make an itemized list of each purchase for 100% transparency and include taxes and fees so your customer doesn't feel like you tricked them. You also show the customer that you keep track of every purchase instead of letting them slide.

When customers see your professionalism, they buy your products or services again. They also recommend you to friends and relatives because you know what you're talking about. If they're impressed, they'll leave positive reviews online, driving more traffic to your business. More traffic means more satisfied customers, leading to bigger profits.