Sales invoice template
Writing your sales invoices shouldn't be a chore. Instead, look professional and save time on your admin by using Invoice2go's free sales invoice template.
Download the best sales invoice template
If you're looking for a sales invoice template that's professional looking and easy to use, Invoice2go has you covered. You can customize our editable sales invoice templates to match your branding. We have a range of designs suitable for whatever industry you're in, whether you're a freelancer, a flower seller, or a fine art dealer.
Benefits of sales invoice templates
Designing your own sales invoices can be time-consuming, and you might still not get the results. Here are some of the advantages of using one of our downloadable sales invoice templates instead:
They save you time
You don't have to be a designer – that work is done for you
They are simple to edit
If you need to invoice on the go, you can edit it on your smartphone
They are repeatable, maintaining your company branding from invoice to invoice
Free invoice generator
If you just need to generate one quick invoice, try our free invoice generator and create an invoice in one simple click. Just upload your company logo, add your business details and your customer's contact information, and you're ready to go.
How do I edit a sales invoice template?
At Invoice2go, we design our sales invoice templates to be as easy to use as possible. You can create beautifully designed sales invoices in just a few steps by downloading one of our templates.
Select the template from our range of designs.
Choose your preferred format (Word, Excel, PDF, or Google Docs) and download it to your device.
Open the template and customize it to suit your business branding by adding your name and logo.
Add details into the information fields (descriptions, quantities, and prices)
Add in tax rates where required.
Save the sales invoice to a pdf format and email it to your customer. Alternatively, print it off and post it.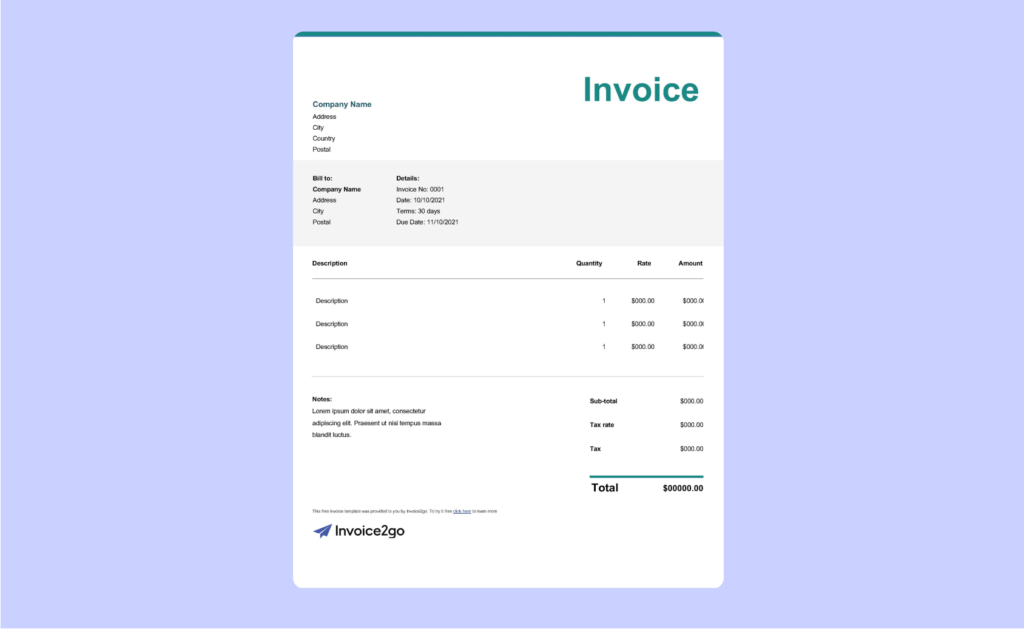 Sales invoice frequently asked questions
What is a sales invoice?

A sales invoice is the document that your business issues to its customers to outline details of the goods and services you are providing. They function as a record of sale and usually include:

Descriptions of the goods sold or services provided.
The date of sale and payment expected due date. Usually, this is 30 days, but there is some variation between 14 and 90 days. Occasionally, sales invoices are ordered ahead of the sale, with payment expected before the supply of goods or services; this is known as a proforma invoice.
Instructions on making payment—whether that is bank transfer, cash, PayPal, cheque, or even Bitcoin.

It is commonly asked what the difference is between a sales invoice and a sales receipt. A sales invoice is issued to customers prior to payment and a receipt is sent after payment is received. Here are our free sales receipt templates for you to use.
How do I write a sales invoice?

You can write your own sales invoice using various software, such as Word, Excel, or Google Docs. When doing so, you need to include certain essential things, such as:

Your business name and logo
Date of issue and a reference number
Customer's name and contact details
Delivery address if applicable
Details, pricing, and quantity of goods and services provided
Tax rates and delivery costs if required

However, all of this can drain your time when you want to concentrate on running your business. The most straightforward approach is downloading one of Invoice2go's easy-to-use sales invoice templates from our website.
What is the difference between a purchase invoice and a sales invoice?

Although they may appear the same, purchase and sales invoices are used differently. It's essential to understand the difference between the two.

The seller usually gives a sales invoice to the buyer during a transaction. It is used as a record of the purchase containing information on prices, quantities, discounts, and any other relevant information. In addition, it will include information on payments that have been received and any which are yet to be made.

A purchase invoice is something you give to the buyer after the purchase is complete to confirm details for the goods and services purchased.

Essentially, both documents serve the same function; to record information as the basis for financial statements.
What is on a sales invoice?

A sales invoice contains all of the details of a sale. This will include:

The seller's company name, address, and contact information
The buyer's name and contact details
Date and reference number for the transaction
Descriptions, prices, and quantities of all goods or services sold
Details of sales taxes
Terms and conditions, such as details of when ownership of goods passes to the buyer and any credit terms that apply

It's essential to ensure that all details are correct when sending your sales invoice, as errors can adversely affect your relationship with the customer and possibly leave you vulnerable to legal action.
How do I make a sales invoice?

There are various ways to make a sales invoice, depending on what software you are comfortable with and your business needs. You can use Word, Excel, Google Docs, or whatever suits you best. For example, for complex sales invoices with multiple products and quantities with extra sales tax calculations, you should use a spreadsheet, such as Excel. On the other hand, if your invoices are always straightforward with only 1 or 2 items, a basic Word document might suffice.

However, designing a sales invoice is laborious, time-consuming, and requires expertise you might not have. Therefore, a better solution is simply downloading a free sales invoice template from Invoice2go, freeing up time to spend on more productive activities like building your business and serving your customers.
Why are sales invoices important?

Sales invoices are vital to your business as they let you know what your clients owe you and are a critical data point in compiling financial statements. Knowing what your clients owe you is crucial. It is estimated that up to 60% of SMEs are regularly paid late by their customers, leading to cash flow issues and even some organizations going out of business.

Sales invoices can also help you gain insight into your budgeting as you will have a good idea of when money is coming in, what is selling, and where to allocate resources. Knowing what is selling best helps you target your marketing more effectively.