Modèle de reçu gratuit
Accédez à des modèles de reçus gratuits et personnalisables! Choisissez un modèle, modifiez vos renseignements et générez un reçu professionnel pour vos clients en quelques minutes.
Modèles de reçus téléchargeables et imprimables
Créer des reçus professionnels est plus facile que jamais grâce aux modèles de reçus gratuits d'Invoice2go, une entreprise Bill.com. Choisissez un modèle de reçu, téléchargez-le et personnalisez-le comme bon vous semble selon vos besoins. 
Qu'est-ce qu'un reçu?
Un reçu est un document délivré par une entreprise à son client pour prouver qu'une transaction a eu lieu. Les entreprises peuvent également utiliser les reçus pour suivre leurs ventes.
Pourquoi utiliser un modèle de reçu?
En utilisant un modèle de reçu, vous gagnerez beaucoup de temps et aurez l'assurance de créer un reçu professionnel et cohérent à chaque fois!
How to edit a receipt template
The simplest way to edit a receipt template is to download one of our editable receipt templates. Make sure you have one of the programs installed on your computer to edit one of our free receipt templates. Here are the steps to make our beautifully designed receipt template yours to use for your business:
Select a free receipt template above

Download the template in your desired format (Word, Excel, PDF, or Google Docs)

Open the receipt template

Personalize the receipt by adding your logo and business name
Edit the information fields with essential details
Save the receipt in pdf format
Send the receipt to your customer via email or other digital channels.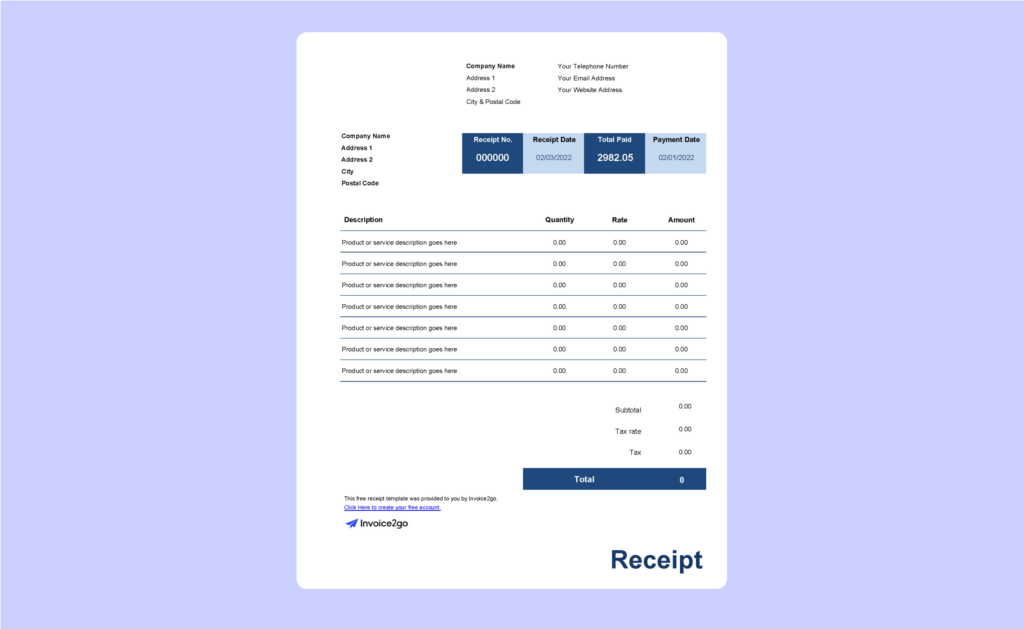 What information is on a receipt?
The look of every receipt issued by different companies may vary. Here is the information that you should include on every receipt:
Information about the business: business name, address, phone number, email and website URL, tax registration number
The name of each product or service along with the quality.
The sale price for each product or service
The total price of the sale
The rate of sales tax and the amount of tax
The total cost with tax included
The date and time when the sale took place
The payment method used
Add a receipt number
The name of the sales associate that completed the sale or service (optional)
Common types of receipts
There are different types of sales receipts that a small business can issue. Let's explore the types of receipt option that is best for you.
Sales receipt 
A sales receipt is a document that records a sale. It is more commonly used when products are sold to customers and payment has been received by the seller.
Rental receipt
A rental receipt is a document provided by the landlord when rent is collected from the tenant.
Cash receipt
A cash receipt is a proof of purchase issued when a buyer has made a cash payment.
Service receipt
A service receipt is similar to a sales receipt, except it is commonly issued by service providers such as contractors, laborers, lawyers, freelancers, etc..
Donation receipt
A donation receipt is a letter issued by a charity to notify the donor that their gift has been received. Donation receipts are used for tax credit purposes.
More free receipt templates
Here are more free receipt templates for you to choose from and download:
Télécharger un modèle de reçu gratuit : tout ce que vous devez savoir pour vous lancer
Comment créer mon propre reçu?

Vous pouvez créer votre propre reçu avec Word, Excel, Google Docs ou d'autres logiciels. Toutefois, cette étape peut prendre beaucoup de temps. La méthode la plus simple pour générer vos reçus est d'utiliser un outil de création de reçus en ligne ou un modèle de reçu. 
Pourquoi les reçus sont-ils essentiels pour la comptabilité?

Les reçus sont essentiels pour la comptabilité car ils permettent de se conformer aux règles de l'administration et de conserver une trace claire de vos achats et dépenses. En conservant les reçus de toutes vos transactions, vous serez à même d'optimiser la fiscalité de votre entreprise en bénéficiant de déductions.