Modèle de reçu de vente
Suivez vos paiements avec un reçu de vente. Nos modèles de reçus de vente gratuits offrent une présentation claire, des sections bien délimitées et tous les renseignements essentiels pour votre comptabilité.
Téléchargez un modèle de reçu de vente
Lancez-vous en téléchargeant le meilleur reçu de vente sur Invoice2go. Ces modèles de reçus offrent un moyen simple et rapide d'améliorer vos relations avec vos clients.
Qu'est-ce qu'un reçu de vente?
Un reçu de vente est une preuve de transaction que vous remettez à votre client lorsqu'il a payé pour vos services. Après avoir rempli le reçu de vente, il vous suffit de l'envoyer à votre client par courriel ou par voie postale. Ce document atteste que vous avez reçu le paiement et offre au client une trace écrite pour sa comptabilité. Vous devez également conserver une copie du reçu de vente pour vos comptes.
Pourquoi utiliser un modèle de reçu de vente
L'utilisation d'un modèle de reçu de vente vous permet de conserver une trace de vos transactions dans un format soigné et ordonné. Chaque document contient des renseignements sur la transaction, notamment la date et le montant du paiement. Conservez le reçu dans votre dossier pour pouvoir vous y référer au moment de déclarer vos revenus ou en cas de litige avec un client. L'envoi d'un reçu témoigne également d'un certain professionnalisme de votre part, ce qui incite le client à refaire appel à vous.
How do you edit a sales receipt template?
To edit a sales receipt template, download one of the templates below, then open the document in a word processing program. Save a clean copy so you don't have to re-download the receipt template every time. Afterward, copy the file and give it a descriptive file name so it doesn't get lost among the rest of your receipts.
Click on each text box to customize your sales receipt template, change the logo, colors, and layout. Update everything on the receipt, including the date, balance, and receipt number–your program may not update this information automatically. If you have multiple purchases on the receipt, add or remove rows as necessary.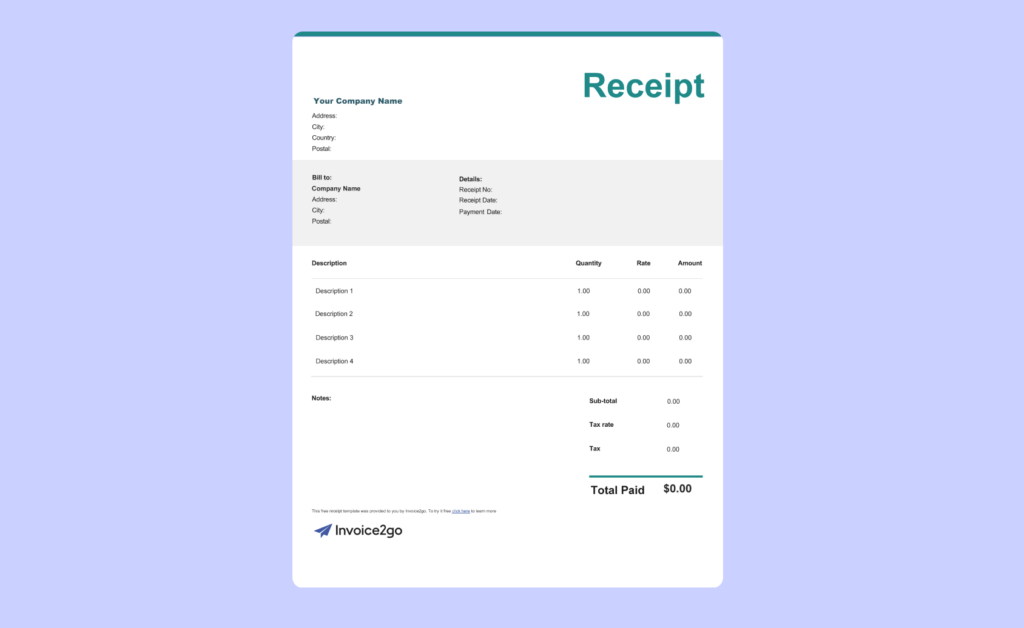 What information is on a sales receipt?
Your sales receipt may include the following information:
Company logo
Your personal or company ddress
Customer's name and address
Receipt number
Date that you received the payment
Receipt number
List of purchases with prices
Sales tax
Total balance paid
Payment method
Notes about the transaction
The layout is nearly as important as the information itself. Would you hire a business again if their "receipt" was an email with just the date and price? Your sales receipts should have clean, professional layouts that immediately show customers what they need to know. Use tables, branding, and neat content blocks to show your clients that you value their business.
Foire aux questions sur les reçus de vente
Comment créer un reçu de vente?

Pour établir un reçu, commencez par tenir un registre de chaque client. Utilisez une feuille de calcul pour noter le nom de chaque client, son adresse de facturation, son solde actuel et les biens vendus ou les services rendus. Indiquez la date de chaque service afin de ne pas facturer accidentellement deux fois le même service à un client. N'effacez pas les anciennes transactions, car vous pourriez avoir besoin de vous y référer plus tard.

Lorsque vous recevez votre paiement, reportez-vous à ce registre pour établir votre reçu. Téléchargez un modèle de reçu de vente gratuit sur Invoice2go, personnalisez les couleurs, ajoutez l'identité de votre entreprise et saisissez les détails. Inscrivez chaque paiement, quel que soit le montant. Même si votre client n'a payé que quelques dollars, vous avez tous deux besoin de savoir où est allé cet argent.
Quand faut-il utiliser un reçu de vente ?

You'll use a sales receipt every time a customer makes a payment. If they're paying in one lump sum, you can prepare the receipt ahead of time and send it right away. To make it easier, use Invoice2go to track your customers' payments directly through the platform. Invoice2go tracks each installment and gives your customers multiple payment options, including cash, check, PayPal and credit card. You'll also set up invoices and submit them directly with the software.

Sales receipts are particularly valuable if your customer pays in cash. Since cash doesn't have a digital record, they can't prove that they bought your service otherwise. Depositing it in your bank account won't help you because it doesn't record where you received the money. If you're not in front of a computer, make two copies of a paper receipt and add your copy to your records.
Pourquoi fournir un reçu de vente?

A sales receipt provides a payment record for both you and your customer. When your customer reviews their expenses, makes a budget, or needs to reorder your services, they'll check the sales receipt. The receipt has everything they need to know about the payment, including a list of services with prices, the date of the payment, and the billing address.

If your customer pays in installments instead of a single sum, receipts help them keep track of each payment. Your receipt also lists the current balance so they know how much they still owe you. This reduces the likelihood of missed payments, duplicate payments, and disputes about how much they paid.

On your end, the receipt provides a record of each transaction. If the customer doesn't pay the entire bill, you'll see how much they still owe–and send a reminder if necessary. Keep receipts for tax season so you can accurately report your income. You'll also check receipts when you track your monthly profits and expenses.

Receipts also send the message that you're an experienced business owner. If you don't send a receipt, customers wonder if you keep track of payments, making them more likely to dispute the balance. Building receipts shows clients that you track every payment, service, and client to keep your expenses in order. Your expertise impresses them, turning them into a repeat customer.

If you allow exchanges or returns, a receipt provides proof of purchase so customers can request their return. Think of it like shopping at the grocery store: they won't refund your item if you can't prove that you bought it in the first place. This provides added convenience because you won't have to dig through your payment history.