Plantilla de recibo de pago
Los recibos de pago permiten confirmar que su cliente ha pagado su pedido. Haga un recibo para usted y otro para el cliente para llevar una adecuada contabilidad. Manténgase al tanto de los pagos en efectivo fácilmente (y de todo tipo de pagos).
Descargue plantillas de recibos de pagos
Confirme los pagos en cuestión de minutos con la mejor plantilla de recibos. Invoice2go ofrece una plantilla de recibo con toda la información que necesita su empresa. Nuestros diseños son ideales para recibos digitales o en formato papel para que pueda completar transacciones donde desee.
¿Qué es un recibo de pago?
Un recibo de pago es un registro de una transacción que se entrega a sus clientes una vez pagan por sus servicios. A diferencia de las facturas, en las que se enumeran todas las compras individualmente, el recibo de pago indica el precio total sin especificaciones. Los recibos de pago también registran información básica como la dirección del cliente. Ambas partes se quedan con una copia del recibo.
¿Cuáles son los beneficios de usar una plantilla de recibo?
En lugar de enfrentarse a un documento de Excel o Word en blanco, comience con una plantilla de recibo. Las plantillas de Invoice2go ofrecen un diseño prolijo con bloques de contenido uniformes y texto escrito previamente. Todo lo que tiene que hacer es editar la plantilla para reflejar la transacción. La plantilla de pago y la plantilla de recibo de efectivo de Invoice2go son 100 % gratuitas para todas las personas, incluso si usted decide no invertir en nuestro software.
How do you edit a payment receipt template?
To edit your receipt template, download one of the templates below. Open your template in a program like Microsoft Word, and click on the text to edit each section. Add the date, payment method, amount, receipt number, and other important information. Make sure you record the date of payment, not today's date.
For consistent branding, adjust the colors, graphics, and logo on the receipt. You can also stick with a basic receipt to keep it clean and professional. After you've made basic alterations that apply to every receipt, duplicate the file so you can use the clean copy later. Otherwise, you'll have to re-download the template.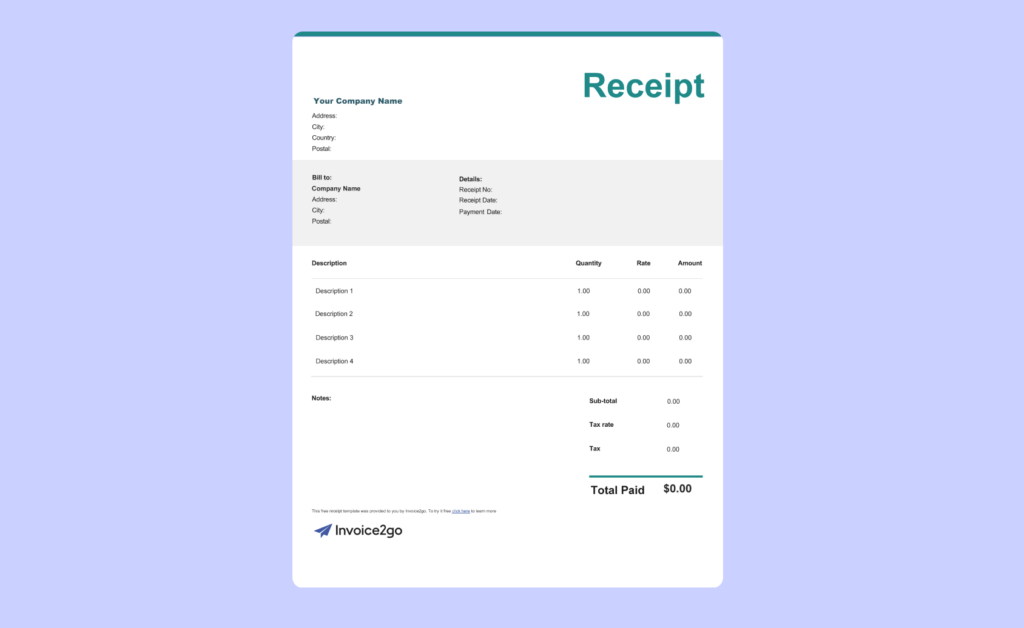 What information is on a payment receipt?
Payment receipts resemble checks with basic information that you can scan at a glance. A professional receipt contains the customer's name and address, your business's name, a brief description of services, the receipt number, the amount, the payment method, and the date the customer paid the bill.
If the customer doesn't pay the entire bill at once, the receipt displays the amount they paid and the remaining balance. Mark "Payment Receipt" or "Cash Receipt" at the top so you and the customer can easily find it in your records. The customer may sign the receipt as confirmation that they received it.
Preguntas frecuentes sobre recibos de pago
¿Cómo hago un recibo de pago?

Para hacer su recibo, comience por realizar un seguimiento de la información de pago. Registre el importe exacto en dólares, la fecha en que recibió el pago y el método de pago: efectivo, cheque, tarjeta bancaria o plataforma en línea como PayPal. Para tener todo en un solo lugar, guarde esta información en una hoja de cálculo de Excel.

A continuación, descargue una plantilla de recibo gratuita de Invoice2go. Agregue la información de su empresa y transfiera la información de pago a la plantilla. Si hace una copia impresa, escriba los detalles en la hoja. Envíe el recibo por correo electrónico al cliente o entréguele su copia impresa. Anote que emitió un recibo en sus registros.
¿Cuáles son las ventajas de entregar un recibo de pago?

A payment receipt provides a transaction record, reducing the risk of disputes. If a customer questions the transaction, pull the receipt out of your files to show them the amount, payment date, current balance, and confirmation that the transaction took place. Likewise, a lack of a sales receipt suggests that the customer never paid their balance.

A receipt helps your customer keep track of their progress for installment payments. Each receipt confirms the payment and states their current balance to know how much they owe you. With a clear payment record, you'll minimize the risk of a customer paying twice or sending the wrong amount. The client uses these receipts to track their expenses and plan a budget at the end of the month.

On your end, you'll use receipts to record your profits and ensure that your customers' payments are up to date. Use these receipts during tax season so you report the full amount. Never throw away old receipts–a customer could dispute a charge months or years after the transaction. You might also need these receipts to show proof of income when you take out a loan or buy a house. Consider using a receipt template to simplify receipt creation.
¿Cuándo debo enviar un recibo de pago?

You'll send a payment receipt shortly after the customer pays their bill. If you complete a transaction in person, you'll write the receipt immediately and give it to the customer. Use a carbon copy pad to make two copies instantly. Without a receipt, you won't be able to prove that an in-person transaction took place, especially with cash payments. Consider creating a cash receipt template to simplify this process.

For online payments, make the receipt and email it to the customer as soon as possible. Don't wait to send one receipt at the end if you're accepting installment payments. Instead, send your customer a receipt after each payment, so they track their payments and current balance. Keep your own digital copy so you can refer back to it.

If possible, make your receipt on the same day you receive the payment. Otherwise, you might forget the payment date and create inaccuracies in your records.