Free Receipt Template
Get access to customizable free receipt templates! Pick a template, edit your information, and generate a personalized receipt for your clients in minutes.
Downloadable & printable receipt templates
Creating professional receipts is now easier than ever using Invoice2go, a Bill.com company's easy-to-use free receipt templates. Pick a receipt template, download it, and get ready to customize it and make it your own. 
What is a receipt?
A receipt is a document issued by a business to its customer to prove a transaction has taken place. On the other hand, companies can also use receipts to track sales.
Benefits of using a receipt template?
Using a receipt template can save you lots of time and ensure each receipt looks professional and consistent – every time!
How to edit a receipt template
The simplest way to edit a receipt template is to download one of our editable receipt templates. Make sure you have one of the programs installed on your computer to edit one of our free receipt templates. Here are the steps to make our beautifully designed receipt template yours to use for your business:
Select a free receipt template above

Download the template in your desired format (Word, Excel, PDF, or Google Docs)

Open the receipt template

Personalize the receipt by adding your logo and business name
Edit the information fields with essential details
Save the receipt in pdf format
Send the receipt to your customer via email or other digital channels.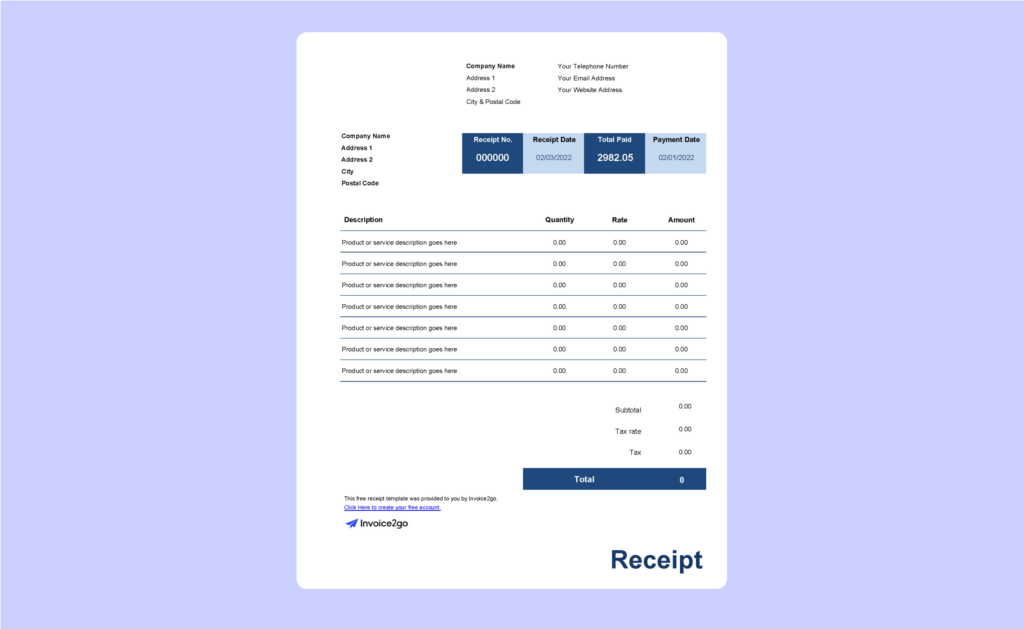 What information is on a receipt?
The look of every receipt issued by different companies may vary. Here is the information that you should include on every receipt:
Information about the business: business name, address, phone number, email and website URL, tax registration number
The name of each product or service along with the quality.
The sale price for each product or service
The total price of the sale
The rate of sales tax and the amount of tax
The total cost with tax included
The date and time when the sale took place
The payment method used
Add a receipt number
The name of the sales associate that completed the sale or service (optional)
Common types of receipts
There are different types of sales receipts that a small business can issue. Let's explore the types of receipt option that is best for you.
Sales receipt 
A sales receipt is a document that records a sale. It is more commonly used when products are sold to customers and payment has been received by the seller.
Rental receipt
A rental receipt is a document provided by the landlord when rent is collected from the tenant.
Cash receipt
A cash receipt is a proof of purchase issued when a buyer has made a cash payment.
Service receipt
A service receipt is similar to a sales receipt, except it is commonly issued by service providers such as contractors, laborers, lawyers, freelancers, etc..
Donation receipt
A donation receipt is a letter issued by a charity to notify the donor that their gift has been received. Donation receipts are used for tax credit purposes.
More free receipt templates
Here are more free receipt templates for you to choose from and download:
Download a free receipt template: the answers you need to get going
How can I make my own receipt?

You can create your own receipt using Word, Excel, Google Docs, or other programs. However, that can be very time-consuming. The easiest way to generate receipts is to use an existing receipt maker online or a receipt template. 
Why are receipts important for bookkeeping?

Receipts are essential for bookkeeping because they comply with the IRS rules and keep clear records of your purchases and expenditures. Having proper receipt documentation for all your transactions can help you maximize your possible tax deduction benefits for your business.