The small business owner's guide to e-banking
9 minutes
These days, just about every aspect of business can be conducted through your computer or mobile phone. If you're a small business owner, finding the right electronic banking platform to manage your accounts, facilitate financial transactions, and give you insight into your overall performance is essential.
Chances are that your personal bank already offers a few basic online banking services. Other online banks offer a wealth of benefits and services that can be great for your personal or business banking needs. This article explains the basics of online banking and highlights some features to look for from these financial institutions.
What is e-banking?
Electronic banking (or "e-banking") goes by a variety of other names, including:
Online banking
Internet banking
Web banking
Mobile banking
Digital banking
Similarly, "home banking" refers to conducting banking transactions from home rather than an actual bank. Home banking can include internet banking, though it can also extend to other electronic methods.
Most traditional banks already offer some form of digital service. For example, you can use the online banking services of your bank to do basic things like transfer money or pay bills online. Other banks offer an expanded set of banking products and even allow you to open up an account online.
Sometimes, these electronic banking services will simply be an extension of a traditional, brick-and-mortar banking location. However, consumers can now open an account with one of many virtual banks that have no physical branch locations.
Pros of e-banking
An online banking service offers plenty of benefits, regardless of whether you use these services for personal banking or managing your business funds. E-banking provides the following advantages:
Total convenience
You can only use the banking services of a physical branch during regular business hours. But online banking allows you to perform banking transactions 24 hours a day and from anywhere you have internet access.
This easy access means you can check your account balance, transfer funds, and even make deposits without visiting your local bank branch or wasting time standing in line.
Easy to get started
For most online banks, the application process is a breeze. You'll often only need your Social Security number if you're an American citizen, though nonpermanent residents can also open a bank account using their tax ID number.
In some cases, you may be asked to submit a photo of your driver's license, but an online bank will likely allow you to complete the application process from the comfort of your own home.
Better recordkeeping
Electronic banking ensures that you have a clear record of every transaction, which can be particularly important for business owners who need this data to maintain their books.
Higher interest rates
Online banks don't have to worry about the overhead costs of a physical bank branch. That enables them to offer higher interest rates on their checking and savings accounts, which they often use as a selling point to attract new customers.
Non-banking services
Depending on your platform, you may be able to take advantage of other financial services that go beyond traditional banking needs. For example, Invoice2go integrates its internet banking services with its other products, allowing you to send invoices, receive payments, and even generate reports.
These additional tools make this approach ideal for small business owners looking for the right tools to enhance their core business processes.
Access to ATMs
Internet banking customers can already take advantage of most major banks' automated teller machines (ATMs). Your internet banking platform may even reimburse you for any ATM fees you incur.
Cons of e-banking
While it's easy to celebrate the convenience of online banking, there are some drawbacks. To be clear, some of these drawbacks uniquely apply to online-only banking services. Many major banks provide solutions to minimize these drawbacks, but they still require some planning to work around.
Harder to make cash deposits
While most banks allow you to deposit checks and transfer funds electronically, cash deposits are another story. Restaurant owners and retail store managers will benefit from a brick-and-mortar location to make frequent cash deposits.
Online banks don't have their own locations or even their own unique ATMs. This lack means that internet banking can be challenging for those who regularly deal with cash.
Limits to financial transactions
Your online banking service may limit the number of financial transactions you can make on a given day. For instance, you may be limited regarding the amount of money you can deposit, or, more commonly, you may be restricted to $1,000 worth of ATM withdrawals per day.
For personal banking, these limits may not be prohibitive. But business owners may find such limits can stifle their ability to conduct business.
You may still need a traditional bank account
It's easy to open an online account, but you may still have to transfer money into your account from somewhere. This usually requires you to link your traditional and online bank accounts, which means that you might be unable to avoid having a traditional banking provider completely.
What to look for in an e-banking platform
For most bank customers, the pros of online banking outweigh the cons. But what kinds of features should you look for in your e-banking services? Here are some of the best features found on today's top online banking platforms:
FDIC insurance
The Federal Deposit Insurance Corporation (FDIC) provides insurance for your deposit accounts (e.g., checking, savings, money market accounts, and CDs). In an FDIC financial institution, you'll receive up to $250,000 worth of protection in the event of bank failure.
Not all banks offer this kind of consumer protection. Check the fine print of your online banking service to ensure you get the protection you need.
ATM locations
If you take advantage of the e-banking services offered by a major bank, you'll be able to take advantage of their network of ATMs. But electronic banking customers may also have access to approved ATMs, even if they're not from the same bank.
Check with your online banking provider to determine whether you have access to any ATM network and if they reimburse you for ATM fees.
Account fees
Most banks charge fees for their services. These fees apply to most accounts in the retail banking industry, and they often transfer to the world of online banking as well. Fees can vary widely, so research carefully. Common ones include monthly account maintenance fees, though these can be waived by maintaining a minimum monthly account balance.
Electronic banking products
What type of banking services does this online platform provide? Most banks offer a wide range of products and features, and many of them are also available in their electronic counterparts. Look for banking features such as:
Checking accounts
High-yield savings accounts
Certificates of deposit (CDs)
Money market accounts
Credit cards
Bank loans
Granted, not every online banking customer will need all these features, but these options may still significantly influence your choice of banking provider.
Internet banking tools
In addition to the banking products listed above, pay attention to the tools that your online banking service provides. The right constellation of features enables customers to perform a variety of banking tasks, such as:
Online bill payments
Automated payments for recurring bills (e.g., utility bills)
Transferring funds between accounts
Bank transfers
Wire transfers
Electronic funds transfers (EFTs)
These important tools and features can assist with your banking activities and facilitate electronic bill payment. For instance, with automated payments, you can automate your bill payments to submit your insurance payments on time, every time.
Additionally, look for mobile banking options, which will help with paying bills, transferring money, and other banking transactions directly from an app on your mobile phone (or other mobile devices).
Online banking security
For internet banking customers, online security is a significant concern. Most banks take active steps to protect user data and prevent accounts from being tampered with.
Read up on how your online banking provider handles digital security. You can also look into customer reviews to find clues regarding their overall reputation and ensure that your money is safe in their hands.
Investment and savings tools
Some mobile banking platforms will offer additional investment and savings tools that you can use for personal money management. These other e-banking services can help you track your spending, stay on budget, and even invest in additional products or mutual funds.
Customer service
No online banking platform is complete without a stellar customer service department. Most financial institutions offer customer support via telephone, texting, or online chat. Customer service representatives can help answer questions about a particular financial transaction, help you find errors in your bank statements, and assist you with online bill payments.
Reporting tools
Finally, you'll want access to reporting tools that help you keep track of all your account transactions. These tools may be particularly beneficial for small business owners, who can use this data to track their expenses, plan for taxes, and refine their business strategies.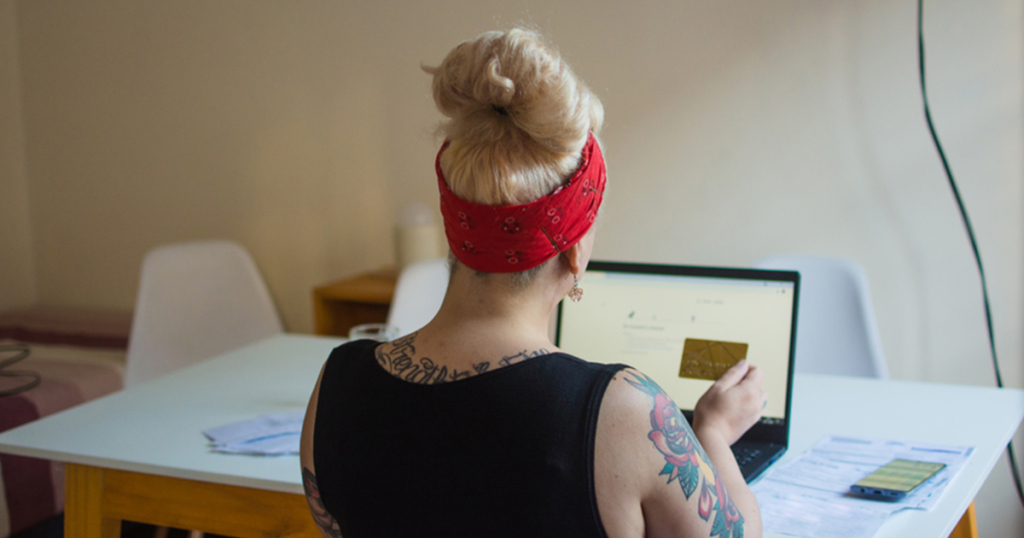 Business banking and more
Invoice2go offers some of the best online banking resources for small business owners. We pride ourselves on providing a suite of services that help with various financial transactions and related tasks.
Using our innovative platform, you can send invoices, collect payments, send automated customer reminders, and keep track of your finances, all from the convenience of your phone or other mobile devices.
Discover all these tools — and more — by signing up for a free trial. You'll have 30 days to explore these features and see how the Invoice2go platform can transform the way you do business.
Frequently asked questions
New to the world of internet banking? Here are some common questions that concern business owners:
Can I make cash deposits with an online banking account?
Unfortunately, you can't deposit cash using an online banking platform, at least not directly. You can deposit cash at another bank, then simply transfer funds from one account to another.

For example, suppose you operate a restaurant or retail store and need to make frequent cash deposits. In that case, you can rely on a brick-and-mortar location to make these deposits, then use the tools of an internet banking service after the funds transfer is complete.
How much does online banking cost?
Prices vary from one financial institution to the next. You can open a free online banking account in some cases, though you may have to maintain a minimum monthly balance.

But don't discount an internet banking platform simply because they charge fees. These fees may cover additional e-banking services that enhance your overall experience and help you manage your small business's finances.
Is online banking safe?
Admittedly, no internet banking platform will ever be invulnerable to hackers. But today's online banking services have actively protected user data, using firewalls, secure servers, and authentication methods to keep your account safe.

With that being said, mobile banking customers should still avoid accessing their accounts on public networks and make sure they're using the latest operating system on their computer or mobile device.

Additionally, it's best not to use public computers when performing banking transactions, and you should change your password every two months to protect your privacy.

If you are the victim of identity theft, contact the online banking facilities immediately to dispute any charges, and update your account to protect your identity and funds.