Modello di ricevuta di vendita
Tieni traccia dei pagamenti con una ricevuta di vendita. I nostri modelli di ricevute di vendita gratuiti offrono layout chiari, blocchi di contenuto e informazioni essenziali per i tuoi registri.
Scarica un modello di ricevuta di vendita
Inizia a scaricare il miglior modello di ricevuta di vendita da Invoice2go. Questi modelli di ricevute possono essere inviati ai tuoi clienti in modo facile e veloce.
Cos'è una ricevuta di vendita?
Una ricevuta di vendita è un registro della transazione che dai al tuo cliente dopo che ha pagato i tuoi servizi. Compili la ricevuta di vendita, poi la invii al cliente tramite posta elettronica o cartacea. Questa è una conferma che hai ricevuto il pagamento e fornisce al cliente un documento per i suoi registri. Terrai una copia della ricevuta di vendita anche per i tuoi registri.
Vantaggi dell'utilizzo di un modello di ricevuta di vendita
Un modello di ricevuta di vendita tiene traccia delle transazioni in un formato ordinato. Ogni documento ha informazioni sulla transazione, tra cui la data e l'importo del pagamento. Conserva la ricevuta nel tuo archivio, quindi consultala durante la stagione fiscale o in caso di controversia con il cliente. L'invio di una ricevuta mostra anche professionalità da parte tua, incoraggiando il cliente ad assumerti di nuovo.
How do you edit a sales receipt template?
To edit a sales receipt template, download one of the templates below, then open the document in a word processing program. Save a clean copy so you don't have to re-download the receipt template every time. Afterward, copy the file and give it a descriptive file name so it doesn't get lost among the rest of your receipts.
Click on each text box to customize your sales receipt template, change the logo, colors, and layout. Update everything on the receipt, including the date, balance, and receipt number–your program may not update this information automatically. If you have multiple purchases on the receipt, add or remove rows as necessary.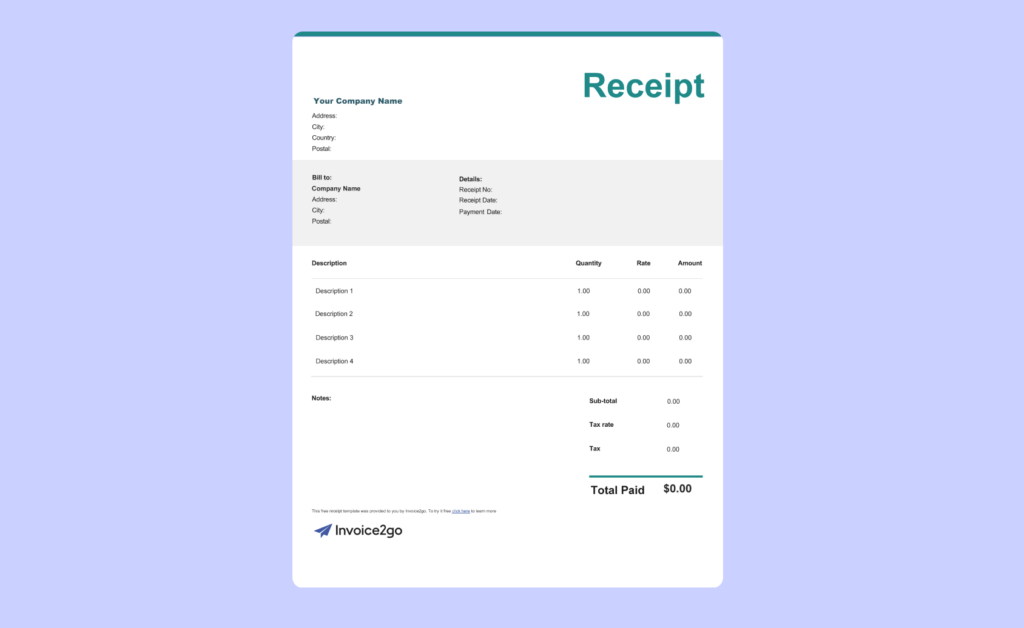 What information is on a sales receipt?
Your sales receipt may include the following information:
Company logo
Your personal or company ddress
Customer's name and address
Receipt number
Date that you received the payment
Receipt number
List of purchases with prices
Sales tax
Total balance paid
Payment method
Notes about the transaction
The layout is nearly as important as the information itself. Would you hire a business again if their "receipt" was an email with just the date and price? Your sales receipts should have clean, professional layouts that immediately show customers what they need to know. Use tables, branding, and neat content blocks to show your clients that you value their business.
Domande frequenti sulle ricevute di vendita
Come posso creare una ricevuta di vendita?

Per fare una ricevuta, inizia tenendo un registro di ogni cliente. Usa un foglio di calcolo per tenere traccia del nome di ogni cliente, dell'indirizzo di fatturazione, del saldo attuale e dei beni venduti o dei servizi resi. Inserisci la data per ogni servizio in modo da non addebitare ai clienti lo stesso servizio due volte. Non eliminare le vecchie transazioni; potresti aver bisogno di consultarle di nuovo in seguito.

Quando ricevi il pagamento, fai riferimento a questo registro per creare la tua ricevuta. Scarica un modello gratuito di ricevuta di vendita da Invoice2go, poi modifica i colori e l'identità visiva e compila le informazioni. Elenca ogni singolo pagamento; anche se il tuo cliente ha pagato un piccolo importo, entrambi avete bisogno di sapere dove sono finiti quei soldi.
Quando uso una ricevuta di vendita?

You'll use a sales receipt every time a customer makes a payment. If they're paying in one lump sum, you can prepare the receipt ahead of time and send it right away. To make it easier, use Invoice2go to track your customers' payments directly through the platform. Invoice2go tracks each installment and gives your customers multiple payment options, including cash, check, PayPal and credit card. You'll also set up invoices and submit them directly with the software.

Sales receipts are particularly valuable if your customer pays in cash. Since cash doesn't have a digital record, they can't prove that they bought your service otherwise. Depositing it in your bank account won't help you because it doesn't record where you received the money. If you're not in front of a computer, make two copies of a paper receipt and add your copy to your records.
Quali sono i vantaggi di fornire una ricevuta di vendita?

A sales receipt provides a payment record for both you and your customer. When your customer reviews their expenses, makes a budget, or needs to reorder your services, they'll check the sales receipt. The receipt has everything they need to know about the payment, including a list of services with prices, the date of the payment, and the billing address.

If your customer pays in installments instead of a single sum, receipts help them keep track of each payment. Your receipt also lists the current balance so they know how much they still owe you. This reduces the likelihood of missed payments, duplicate payments, and disputes about how much they paid.

On your end, the receipt provides a record of each transaction. If the customer doesn't pay the entire bill, you'll see how much they still owe–and send a reminder if necessary. Keep receipts for tax season so you can accurately report your income. You'll also check receipts when you track your monthly profits and expenses.

Receipts also send the message that you're an experienced business owner. If you don't send a receipt, customers wonder if you keep track of payments, making them more likely to dispute the balance. Building receipts shows clients that you track every payment, service, and client to keep your expenses in order. Your expertise impresses them, turning them into a repeat customer.

If you allow exchanges or returns, a receipt provides proof of purchase so customers can request their return. Think of it like shopping at the grocery store: they won't refund your item if you can't prove that you bought it in the first place. This provides added convenience because you won't have to dig through your payment history.