Modello di ricevuta gratuito
Ottieni l'accesso a modelli gratuiti e personalizzabili per le tue ricevute! Scegli un modello, modifica i dati e genera in pochi minuti una ricevuta personalizzata per i tuoi clienti.
Modelli di ricevute scaricabili e stampabili
Creare ricevute professionali è ora più semplice che mai grazie a Invoice2go, una società di Bill.com, che offre modelli di ricevute gratuite facili da usare. Scegli un modello di ricevuta, scaricalo e preparati a personalizzarlo e renderlo tuo. 
Cos'è una ricevuta?
Una ricevuta è un documento rilasciato da un'attività al suo cliente per dimostrare che una transazione ha avuto luogo. Inoltre, le aziende possono usare le ricevute per monitorare le vendite.
I vantaggi dell'utilizzo di un modello di ricevuta?
L'utilizzo di un modello di ricevuta può farti risparmiare un sacco di tempo e ogni ricevuta avrà un aspetto professionale e coerente, sempre!
How to edit a receipt template
The simplest way to edit a receipt template is to download one of our editable receipt templates. Make sure you have one of the programs installed on your computer to edit one of our free receipt templates. Here are the steps to make our beautifully designed receipt template yours to use for your business:
Select a free receipt template above

Download the template in your desired format (Word, Excel, PDF, or Google Docs)

Open the receipt template

Personalize the receipt by adding your logo and business name
Edit the information fields with essential details
Save the receipt in pdf format
Send the receipt to your customer via email or other digital channels.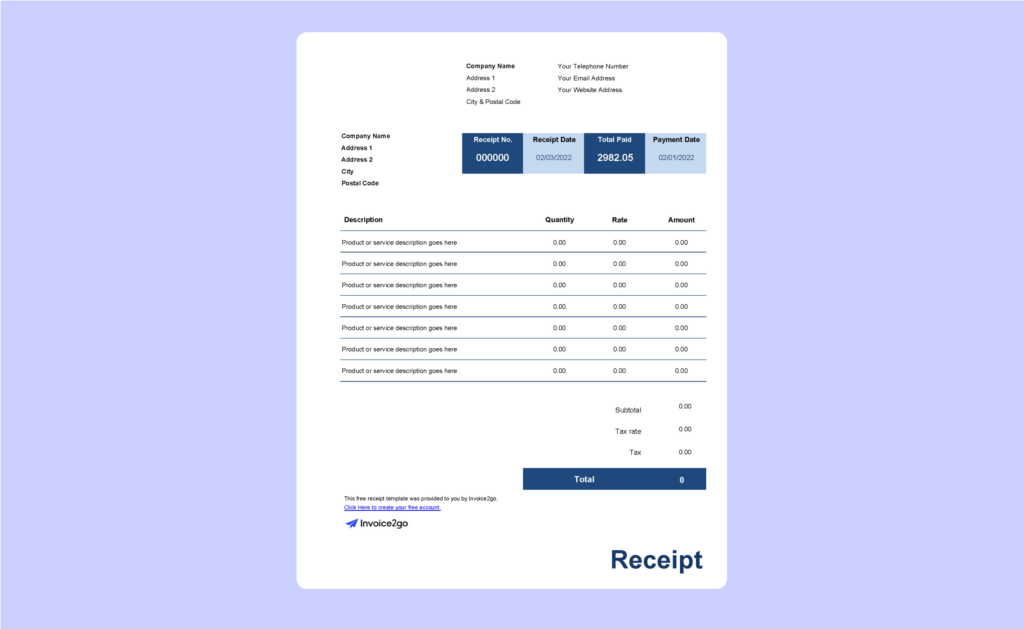 What information is on a receipt?
The look of every receipt issued by different companies may vary. Here is the information that you should include on every receipt:
Information about the business: business name, address, phone number, email and website URL, tax registration number
The name of each product or service along with the quality.
The sale price for each product or service
The total price of the sale
The rate of sales tax and the amount of tax
The total cost with tax included
The date and time when the sale took place
The payment method used
Add a receipt number
The name of the sales associate that completed the sale or service (optional)
Common types of receipts
There are different types of sales receipts that a small business can issue. Let's explore the types of receipt option that is best for you.
Sales receipt 
A sales receipt is a document that records a sale. It is more commonly used when products are sold to customers and payment has been received by the seller.
Rental receipt
A rental receipt is a document provided by the landlord when rent is collected from the tenant.
Cash receipt
A cash receipt is a proof of purchase issued when a buyer has made a cash payment.
Service receipt
A service receipt is similar to a sales receipt, except it is commonly issued by service providers such as contractors, laborers, lawyers, freelancers, etc..
Donation receipt
A donation receipt is a letter issued by a charity to notify the donor that their gift has been received. Donation receipts are used for tax credit purposes.
More free receipt templates
Here are more free receipt templates for you to choose from and download:
Scarica gratuitamente un modello di ricevuta: le risposte che ti servono per iniziare
Come posso creare la mia ricevuta?

Puoi creare la tua ricevuta usando Word, Excel, Documenti Google o altri programmi. Tuttavia, questa operazione può richiedere molto tempo. Il modo più semplice per generare ricevute è quello di utilizzare un generatore di ricevute online o un modello di ricevuta esistente. 
Perché le ricevute sono importanti per la contabilità?

Le ricevute sono essenziali per la contabilità perché rispettano le regole dell'Agenzia delle entrate e mantengono registri chiari degli acquisti e delle spese. Avere un'adeguata documentazione delle ricevute per tutte le transazioni può aiutarti a massimizzare i possibili vantaggi di deduzione fiscale per la tua attività.