Auto repair invoice template
An auto repair invoice template can help you keep your paperwork in line. Get access to our free invoice templates for your auto repair shop.
Download the best free auto repair invoice template
Invoicing is a challenging but essential component of running an auto repair business. Without effective invoicing, your books won't have the information you need and it can cause problems when tax season or an audit comes around.
This is why you should download the best auto repair invoice template available via Invoice2go. We provide a ready-to-go template in pdf, Excel, and Word format.
Benefits of using an auto repair invoice template
There are numerous benefits of using an auto repair invoice template, including efficiency, accuracy, and standardization.
It's simply convenient to take a proven auto repair invoice template and tweak it where necessary to suit your needs. Compared to designing an invoice template from scratch, it saves a great deal of duplicated effort.
Standardizing an auto repair invoice template helps your team build familiarity with a specific system. Knowing what to look for and where to put specific figures saves time, reduces error, and overall helps your business succeed.
An invoice template helps you present the best picture of your company to clients.
Invoice generator for your auto repair services
Have you checked out our auto repair invoice templates and found that they're not quite what you're looking for? If so, there's another option that's available for you. Our free invoice generator allows you to create an invoice easily without downloading a template. Simply edit the fields and generate your invoice.
How to edit an auto repair invoice template?
Follow these simple steps to edit an auto repair invoice template:
Download the invoice template in the format of your choice: pdf, word document, or excel
Open the file
Edit the template to include your logo, business details, customer details, and service details, including labor hours and materials.
Save a copy
Send it to your client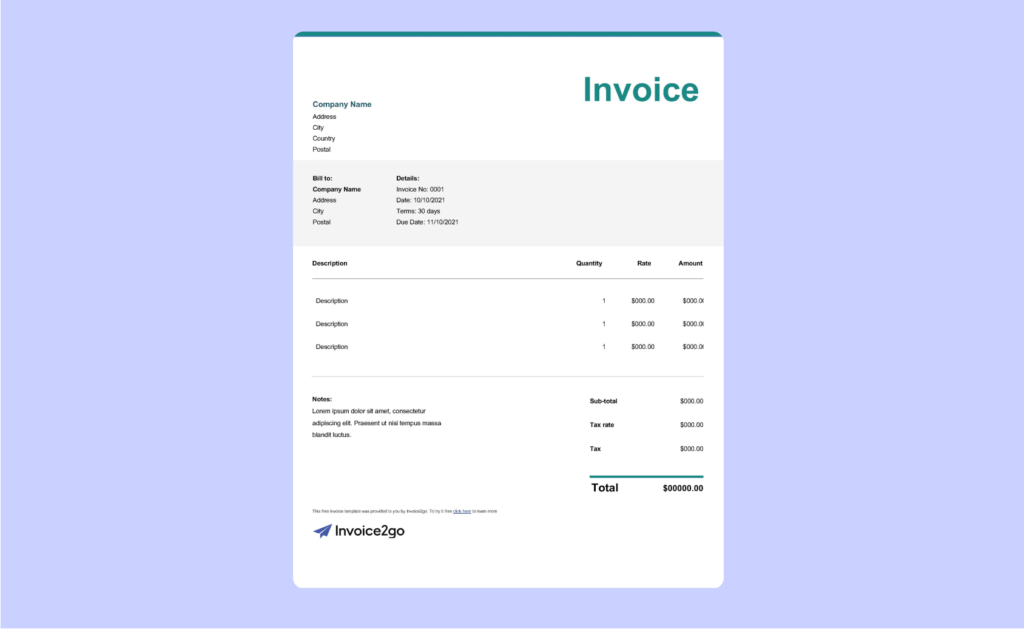 Auto repair invoice frequently asked questions
¿Qué es una factura de reparación de automóviles?

An auto repair invoice is a type of invoice that records the individual costs that make up an auto repair bill. The difference between an invoice and a receipt is that a company issues an invoice before the client has paid for the services.

Whereas a receipt works as proof of payment, an invoice can be a more complex, in-depth record of expenses. Invoices are essential to track your private expenses, claim tax deductions, and create a paper trail in the event of an audit. Here are free receipt templates you can use to create receipts for your clients.

An auto repair invoice will include information on the service provider, the client, and the services rendered. Labor hours, the necessary parts to complete repairs, and any materials spent in the process are typical elements of an auto repair invoice.
How to create an auto repair invoice?

There are several ways to create an auto repair invoice. For one, you can open up a text editor and write it out manually, although this is unnecessarily complex and labor-intensive.

Another way to create an auto repair invoice is by using an invoice generator that allows you to input line items, client information, and custom fields to generate the auto repair invoice you need.

However, creating an auto repair invoice from scratch is unnecessary. Instead, you can opt to take a pre-existing invoice template and use that for your invoice purposes. If it already has the fields and information you need, then you're ready to go immediately. On the other hand, editing a good template is much easier and quicker than creating an auto repair invoice on your own.

Invoice2go has features for auto repair businesses. Easily create invoices, accept payments online, send payment reminders, and track invoice statuses for your auto repair shop.
What to include on an auto repair invoice?

An auto repair invoice legally must have specific information, such as the company issuing the invoice, the recipient, and the payment date. Besides that, it needs to have the final amount of your services and the constituent costs that add up to the charge the client pays.

Other valuable elements to include on an auto repair invoice are your company's branding, descriptions of your services, and any custom fields that are relevant to the purchase.