Plantilla de recibo de contratista
Realizar un trabajo administrativo correcto permite proteger a contratistas y clientes por igual. Por ello, asegurarse de que todo esté correcto en los recibos de contratista resulta vital.
Descargue una plantilla de recibo de contratista
Si desea reducir el tiempo dedicado a la administración, puede descargar las mejores plantillas de recibos de contratista de Invoice2go. Disponemos de una amplia selección de plantillas completamente editables en formato pdf, excel o word. Simplemente descárguelas, personalícelas y utilícelas de acuerdo con sus necesidades.
¿Qué es una plantilla de recibo de contratista?
Las plantillas de recibos de contratistas son un documento base que incluye la información que desea tener de cada recibo de contratista que emite. Los recibos de contratista detallan todos los servicios que ha realizado un contratista, el importe que han cobrado y son un comprobante de la realización y pago de dichos servicios.
Benefits of using a contractor receipt template
Using a contractor receipt template has many benefits for your business, including:
They save time, avoiding the need to create a new document every time you send a contractor receipt.

Improve accuracy by concentrating on the essential information.

They look professional. Documents with a consistent look and format look more professional to your customers and clients.
How to edit a contractor receipt template
Editing one of Invoice2go's contractor receipt templates is an easy process. Simply select the proforma invoice template on the Invoice2go website and follow these steps:
Download the template in your preferred format—pdf, excel, or word document.
Open the file, then add your company logo and contact information to customize the header.
Add descriptions, quantities, and prices to lines as required.
If needed, add tax and shipping details.
Save in a non-editable format such as a pdf if you are sending it electronically.
Either print off and post or email it as an attachment.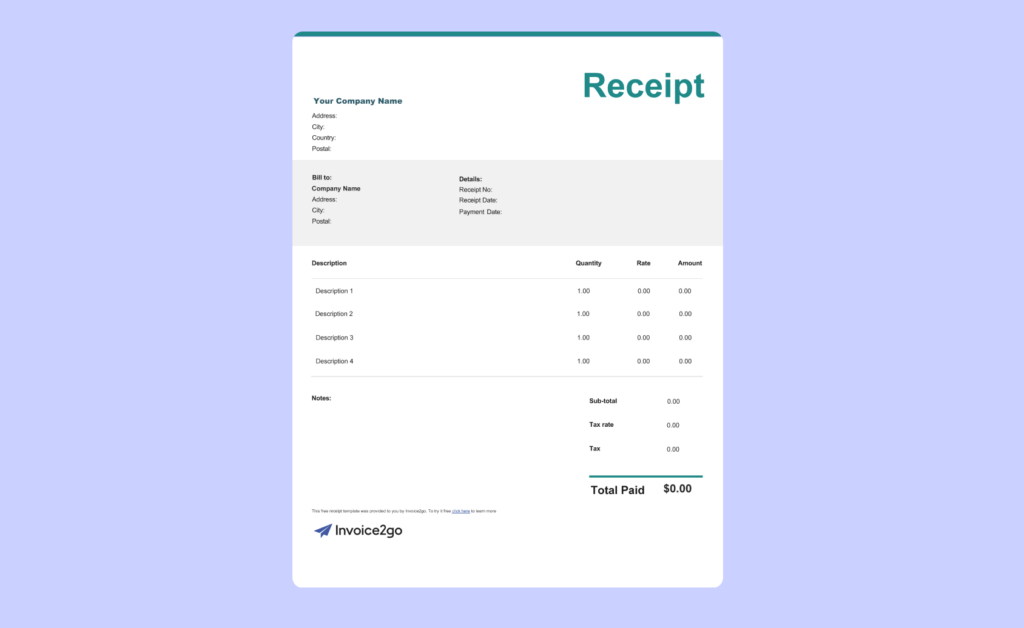 What information is on a contractor receipt?
As with any other commercial document detailing a financial transaction, there are some basic details that you need to include on every contractor receipt. These are:
Date the receipt was issued
Name, address, and contact details of the contractor
Name, address and contact details of the client
Complete details of goods and services provided, including descriptions, quantities, and prices
The date that goods and services were provided
Any taxes included
Labor costs, materials, and total cost
Additional details that you might need in a "notes" section could include contractual information such as warranty periods or service agreements.
Preguntas frecuentes sobre recibos de contratista
¿Cómo hago un recibo de contratista?

Depending on your preference, you can write a service invoice using software packages such as Excel, Word, Adobe PDF, or Google Sheets. It's essential to include enough information for the client to know precisely what they are paying for.

However, don't go into too much unnecessary detail, as this could result in a document that's hard to understand. Should you need to include complete technical or contractual information, this can be referenced within the receipt and sent as separate documents.

You can produce your contractor receipts by writing a new document for every job, but why go through a needlessly time-consuming and unnecessary process? Instead, you can make your life easier by downloading Invoice2go's easy-to-use service invoice templates.

Take a look at all of the other free receipt templates we have to offer. If you are looking for contractor invoice templates, we also have those available.
¿Cuáles son las ventajas de entregar un recibo de contratista?

Proporcionar un recibo de contratista brinda claridad para el cliente y el contratista. Esto es un beneficio neto, ya que mantiene a ambas partes en sintonía y sabiendo qué esperar. También es un documento útil si el cliente desea consultar nuevamente sobre los mismos servicios o servicios similares en una fecha posterior.

Otro beneficio que no se debe subestimar es la posibilidad de lucir un aspecto profesional ante los clientes. Por ejemplo, los contratistas que no ofrecen recibos de contratista pueden fallar en transmitir confianza y buena reputación, ya que es posible que los contratistas que no dejan rastros en papel estén intentando evitar el escrutinio en caso de un conflicto.
¿Por qué resultan importantes los recibos de constratistas?

Asegúrese de que su empresa de construcción funcione sin problemas. Los recibos de contratista son fundamentales para que ambas partes mantengan sus registros financieros actualizados. Sin duda, son algo que los auditores del fisco querrán verificar, por lo que su contador le agradecerá si puede ver los registros completos con los recibos de contratista.

Otro uso muy importante de los recibos de contratista surge en caso de conflicto después de que se completa el trabajo. Si un cliente no está conforme y reclama que no se hizo el trabajo, los recibos que muestren exactamente lo que se le facturó serán muy útiles a la hora de litigar. Por el contrario, si no hay recibos, es muy difícil que se resuelva un litigio, lo que puede hacer que se prolongue con honorarios legales adicionales.
¿Deben los contratistas entregar recibos?

La respuesta simple a esto es sí; los contratistas siempre deben proporcionar recibos. Por las razones descritas anteriormente, los contratistas y sus clientes están en mejores condiciones para presentar sus puntos de vista en caso de que surja un conflicto, y tienen todos los documentos necesarios organizados para fines contables.

Desde luego, el recibo de contratista debe ser claro y contener toda la información necesaria. Esto es mucho más fácil cuando trabaja con un software de facturación para contratistas que se encarga de las facturas y los recibos con profesionalismo como Invoice2go.