Modèle de reçu pour entrepreneur
Une bonne gestion des documents administratifs assure à la fois la protection des entrepreneurs et des clients. Générer des reçus conformes est donc essentiel.
Téléchargez un modèle de reçu pour entrepreneur
Si vous souhaitez réduire votre charge administrative, téléchargez les meilleurs modèles de reçus pour entrepreneur sur Invoice2go. Nous proposons un large choix de modèles entièrement personnalisables au format PDF, Excel ou Word. Téléchargez simplement un modèle, personnalisez-le et utilisez-le comme bon vous semble.
Qu'est-ce qu'un modèle de reçu pour entrepreneur?
Un modèle de reçu pour entrepreneur offre une base comprenant tous les renseignements à faire figurer sur les reçus que vous générez en tant qu'entrepreneur. Ces reçus indiquent tous les services qu'un entrepreneur a effectués ainsi que le montant facturé. Ils attestent que les services ont bien été effectués et qu'ils ont été réglés par le client.
Benefits of using a contractor receipt template
Using a contractor receipt template has many benefits for your business, including:
They save time, avoiding the need to create a new document every time you send a contractor receipt.

Improve accuracy by concentrating on the essential information.

They look professional. Documents with a consistent look and format look more professional to your customers and clients.
How to edit a contractor receipt template
Editing one of Invoice2go's contractor receipt templates is an easy process. Simply select the proforma invoice template on the Invoice2go website and follow these steps:
Download the template in your preferred format—pdf, excel, or word document.
Open the file, then add your company logo and contact information to customize the header.
Add descriptions, quantities, and prices to lines as required.
If needed, add tax and shipping details.
Save in a non-editable format such as a pdf if you are sending it electronically.
Either print off and post or email it as an attachment.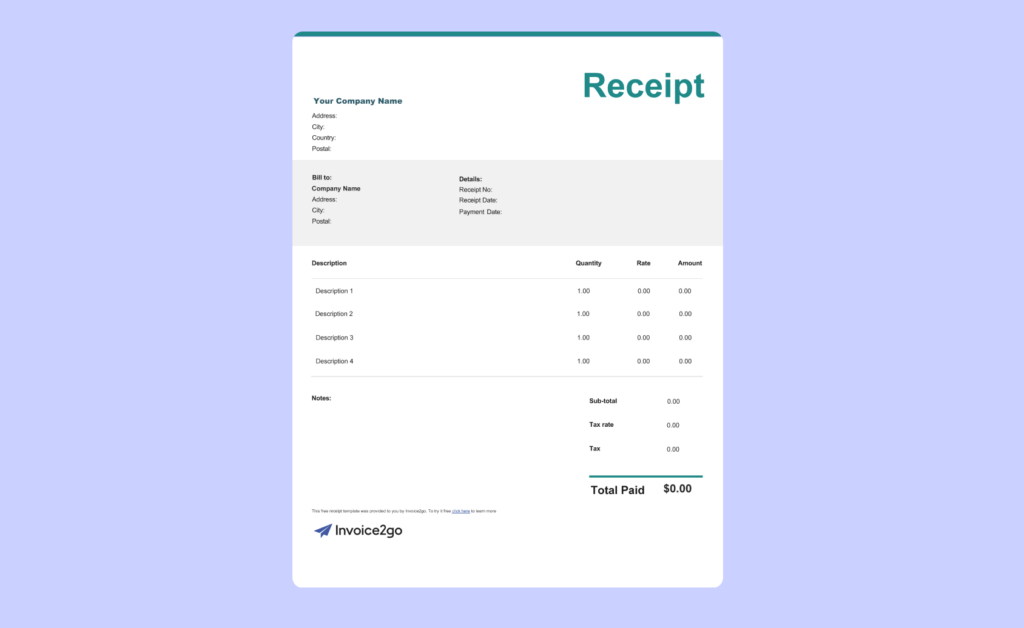 What information is on a contractor receipt?
As with any other commercial document detailing a financial transaction, there are some basic details that you need to include on every contractor receipt. These are:
Date the receipt was issued
Name, address, and contact details of the contractor
Name, address and contact details of the client
Complete details of goods and services provided, including descriptions, quantities, and prices
The date that goods and services were provided
Any taxes included
Labor costs, materials, and total cost
Additional details that you might need in a "notes" section could include contractual information such as warranty periods or service agreements.
Foire aux questions sur les reçus pour entrepreneur
Comment créer un reçu pour entrepreneur?

Depending on your preference, you can write a service invoice using software packages such as Excel, Word, Adobe PDF, or Google Sheets. It's essential to include enough information for the client to know precisely what they are paying for.

However, don't go into too much unnecessary detail, as this could result in a document that's hard to understand. Should you need to include complete technical or contractual information, this can be referenced within the receipt and sent as separate documents.

You can produce your contractor receipts by writing a new document for every job, but why go through a needlessly time-consuming and unnecessary process? Instead, you can make your life easier by downloading Invoice2go's easy-to-use service invoice templates.

Take a look at all of the other free receipt templates we have to offer. If you are looking for contractor invoice templates, we also have those available.
Pourquoi fournir un reçu en tant qu'entrepreneur?

Les reçus de construction assurent une plus grande transparence pour le client et l'entreprise. Les deux parties sont ainsi parfaitement accordées et savent exactement à quoi s'attendre, ce qui est un avantage de taille. Ces documents peuvent également s'avérer utiles si le client décide de refaire appel à vous pour des services similaires plus tard.

Un autre avantage à ne pas sous-estimer est le rôle que jouent les reçus dans le renforcement de votre image professionnelle auprès de vos clients. Par exemple, un entrepreneur qui ne remet par de reçus à ses clients risquerait de ne pas être vu comme sérieux et digne de confiance. Il pourrait s'agir d'une tentative d'éliminer les preuves pour se dédouaner en cas de litige.
Pourquoi les reçus sont-ils importants en tant qu'entrepreneur?

Assurez le bon déroulement de vos projets de construction. Les reçus d'entrepreneur sont essentiels pour que les deux parties puissent tenir à jour leurs comptes. Faites le bonheur de votre comptable en lui remettant des registres complets comprenant tous vos reçus d'entrepreneur.

Les reçus d'entrepreneur peuvent également s'avérer essentiels en cas de litige après la complétion des travaux. Si un client est mécontent et prétend que le travail n'a pas été fait, le fait de disposer de reçus indiquant exactement ce qui lui a été facturé s'avérera particulièrement utile au tribunal. À l'inverse, en l'absence de reçus, il sera très difficile de trancher l'affaire et celle-ci risque alors de traîner en longueur, avec tous les frais de justice supplémentaires que cela implique.
Les entrepreneurs doivent-ils fournir des reçus?

La réponse simple à cette question est oui : les entrepreneurs doivent toujours remettre un reçu. Pour les raisons évoquées ci-dessus, les entrepreneurs et leurs clients seront en bien meilleure position pour défendre leurs points de vue en cas de litige et disposeront de tous les documents nécessaires pour tenir leurs comptes.

Bien entendu, le reçu doit être aussi clair que possible et indiquer tous les renseignements nécessaires. Le plus simple est donc d'utiliser un logiciel de facturation pour entrepreneurs comme Invoice2go pour gérer automatiquement vos factures et vos reçus.