Free blank invoice template
Get access to our free blank invoice template and save time creating invoices from scratch!
Download blank invoice template
Our blank invoice template offers a simple way to create and send professional invoices to clients. Use this blank invoice template as the starting point to develop various invoices for different clients.
Benefits of using a blank invoice template
Manually creating invoices is easily one of the most tedious business processes. This is especially true when you're a solo entrepreneur and have to run other aspects of your business. Here are the top advantages of using free a blank invoice template:
They're easy to use:

with a blank invoice template, you only need to fill in the data fields such as the name and address of the client, date, invoice details, etc. 

Saves you lots of time:

How much time do you spend manually designing one invoice? Probably hours! The design is already done for you with an invoice template.

Allows you to generate professional-looking invoices on the go:

Due to the versatility of blank invoice templates, you can send invoices anywhere as long as you have the client information.

Most of them are free: Yes. You don't have to spend a fortune to get a professional invoice template.
Free invoice generator
Our free invoice generator gives you the ability to generate an invoice without downloading an invoice template. Simply edit the customizable fields, and generate your professional invoice.
How to edit an invoice template
Here's the best way to customize your free blank invoice template so that it reflects your brand personality;
Download the template in your preferred format (PDF, Word, or Excel)

Open it and add your business name and logo to personalize it.

Customize the information field with data that you consider important.

Save your invoice and send it to your client.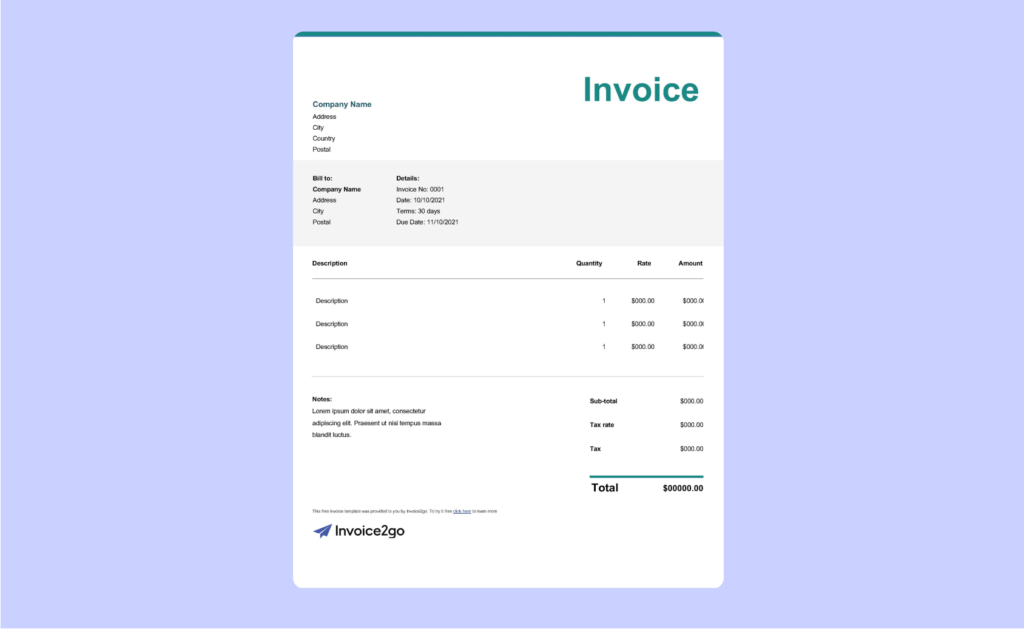 Other useful invoice templates
Invoice2go has made creating invoices easier than ever by providing a variety of invoice templates. Here are a few of our other invoice templates you can choose from based on industries:
Invoice template frequently asked questions
How do I get a blank invoice template?

We have a ton of free invoice templates for you to download in pdf, google docs, word, or excel. Microsoft Excel and Word also have free invoice templates, but our tool gives you more functionality and customizable features.
How to use a blank invoice template

You can use blank invoice templates to bill your clients on the go. Simply fill in the customizable fields with your business information and client details and email it to your customers. There are multiple types of invoice templates, and the one you choose should depend on your industry and payment terms.
How to make a blank invoice template

You can use our invoice generator tool to download a template that's most suitable for your company. It's an excellent option for small business owners looking for an efficient and accurate way of billing their clients. If your business sends out different invoices, the best option would be to download a customizable invoice and then tailor it to suit your billing needs.
Why is invoicing important?

Invoicing is an essential element of running a business; it's the best way of enforcing payment. Invoices are also considered highly professional and help with inventory management. There's just one challenge; most small business owners use manual invoicing, which is prone to errors. It's also tedious and a major hassle because it requires an employee to input mind-numbing data throughout the day.
What to include on an invoice?

Here are some of the most common information that needs to be included on an invoice: 

Invoice number

Business name and other company details

Contact details of the customer

Due date

Payment terms and payment details

Service or product details

Service or product information

Sales tax

Discounts

Any other important details
What are the different types of invoices?

There are multiple types of invoices, and the one you choose depends on the kind of work you're billing for. The main invoice types include;

Proforma invoice: You give it to the client before you start a project to estimate the total costs.

Interim invoice: It breaks down overall project costs into small digestible bits to help with cash flow management.

Final invoice: It's sent to a customer once a project is complete so that they can make payment.

Recurring invoice: This type of invoice is sent periodically for repetitive services.