Modèle de reçu de paiement
Les reçus de paiement permettent de garder une trace des transactions et attestent que votre client a payé pour sa commande. Optimisez votre comptabilité en générant un reçu pour vous et votre client. Suivez de près vos paiements en espèces ainsi que tous les autres types de paiements.
Téléchargez un modèle de reçu de paiement
Confirmez les paiements de vos clients en quelques minutes avec le meilleur modèle de reçu. Invoice2go propose un modèle de reçu gratuit avec toutes les informations dont votre entreprise a besoin. Nos modèles conviennent aussi bien aux reçus dématérialisés qu'aux reçus papier, vous permettant ainsi de réaliser des transactions où que vous soyez.
Qu'est-ce qu'un reçu de paiement ?
Un reçu de paiement est une preuve de transaction que vous remettez à vos clients une fois qu'ils ont payé pour vos services. Contrairement aux factures, qui énumèrent tous les achats individuellement, le reçu de paiement indique uniquement le montant total. Un reçu de paiement affiche également des informations de base comme l'adresse du client. Chacune des deux parties conserve une copie du reçu.
Pourquoi utiliser un modèle de reçu ?
Au lieu de partir d'un document Excel ou Word vierge, prenez une longueur d'avance en utilisant un modèle de reçu. Les modèles d'Invoice2go offrent une mise en page soignée avec des sections bien organisées et des informations pré-renseignées. Vous n'aurez plus qu'à modifier le modèle en fonction de la transaction. Les modèles de facture et de reçu de paiement en espèces d'Invoice2go sont entièrement gratuits pour tous, même si vous n'investissez pas dans notre logiciel.
How do you edit a payment receipt template?
To edit your receipt template, download one of the templates below. Open your template in a program like Microsoft Word, and click on the text to edit each section. Add the date, payment method, amount, receipt number, and other important information. Make sure you record the date of payment, not today's date.
For consistent branding, adjust the colors, graphics, and logo on the receipt. You can also stick with a basic receipt to keep it clean and professional. After you've made basic alterations that apply to every receipt, duplicate the file so you can use the clean copy later. Otherwise, you'll have to re-download the template.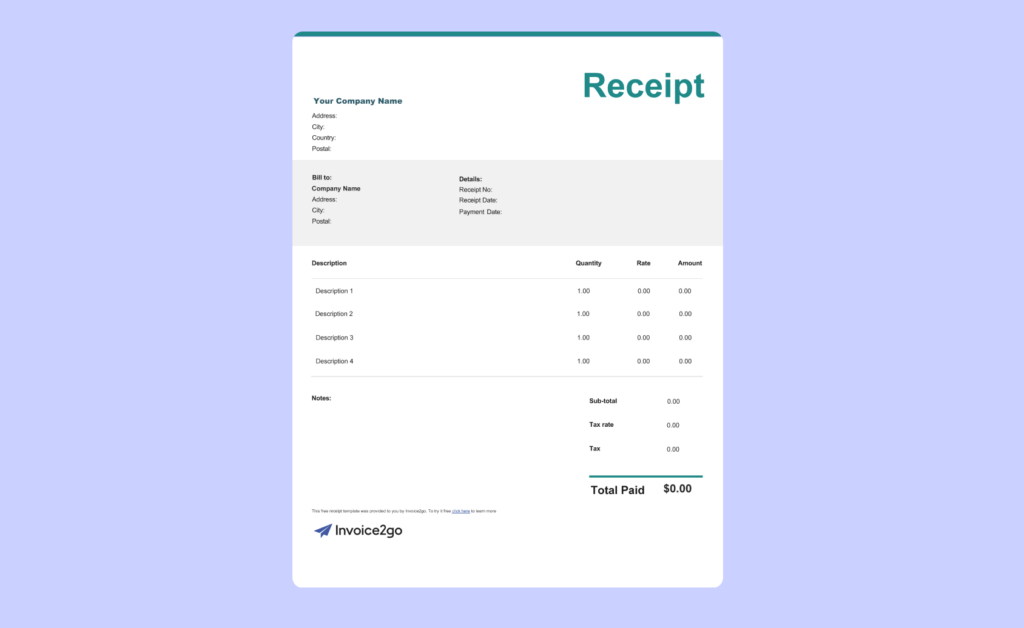 What information is on a payment receipt?
Payment receipts resemble checks with basic information that you can scan at a glance. A professional receipt contains the customer's name and address, your business's name, a brief description of services, the receipt number, the amount, the payment method, and the date the customer paid the bill.
If the customer doesn't pay the entire bill at once, the receipt displays the amount they paid and the remaining balance. Mark "Payment Receipt" or "Cash Receipt" at the top so you and the customer can easily find it in your records. The customer may sign the receipt as confirmation that they received it.
Foire aux questions sur les reçus de paiement
Comment créer un reçu de paiement ?

Pour créer votre reçu, commencez par enregistrer les détails du paiement. Notez le montant exact en euros, la date à laquelle vous avez reçu le paiement et le mode de paiement utilisé : espèces, chèque, carte bancaire ou plateforme en ligne comme PayPal. Conservez ces informations dans une feuille de calcul Excel afin de tout rassembler au même endroit.

Ensuite, téléchargez unmodèle de reçu gratuit sur Invoice2go. Ajoutez les informations sur votre entreprise et reportez les détails du paiement sur le modèle. Si vous faites une copie papier, inscrivez les détails sur la feuille. Envoyez le reçu par e-mail au client ou remettez-lui une copie papier. Notez que vous avez émis un reçu dans vos comptes.
Pourquoi fournir un reçu de paiement ?

A payment receipt provides a transaction record, reducing the risk of disputes. If a customer questions the transaction, pull the receipt out of your files to show them the amount, payment date, current balance, and confirmation that the transaction took place. Likewise, a lack of a sales receipt suggests that the customer never paid their balance.

A receipt helps your customer keep track of their progress for installment payments. Each receipt confirms the payment and states their current balance to know how much they owe you. With a clear payment record, you'll minimize the risk of a customer paying twice or sending the wrong amount. The client uses these receipts to track their expenses and plan a budget at the end of the month.

On your end, you'll use receipts to record your profits and ensure that your customers' payments are up to date. Use these receipts during tax season so you report the full amount. Never throw away old receipts–a customer could dispute a charge months or years after the transaction. You might also need these receipts to show proof of income when you take out a loan or buy a house. Consider using a receipt template to simplify receipt creation.
Quand faut-il envoyer un reçu de paiement ?

You'll send a payment receipt shortly after the customer pays their bill. If you complete a transaction in person, you'll write the receipt immediately and give it to the customer. Use a carbon copy pad to make two copies instantly. Without a receipt, you won't be able to prove that an in-person transaction took place, especially with cash payments. Consider creating a cash receipt template to simplify this process.

For online payments, make the receipt and email it to the customer as soon as possible. Don't wait to send one receipt at the end if you're accepting installment payments. Instead, send your customer a receipt after each payment, so they track their payments and current balance. Keep your own digital copy so you can refer back to it.

If possible, make your receipt on the same day you receive the payment. Otherwise, you might forget the payment date and create inaccuracies in your records.