Modello di ricevuta di pagamento
Le ricevute di pagamento servono a confermare che il cliente ha pagato il suo ordine. Crea una ricevuta per te e per il cliente ai fini della responsabilità. Rimani facilmente al corrente dei pagamenti in contanti e non solo.
Scarica un modello di ricevuta di pagamento
Conferma i pagamenti in pochi minuti con il miglior modello di ricevuta. Invoice2go offre un modello di ricevuta gratuito con tutte le informazioni di cui la tua attività ha bisogno. I nostri modelli sono adatti sia per le ricevute digitali che per quelle cartacee, così puoi completare le transazioni ovunque ti trovi.
Cos'è una ricevuta di pagamento?
Una ricevuta di pagamento è il registro di una transazione, che dai ai clienti dopo che hanno pagato per i tuoi servizi. A differenza di una fattura, che elenca ogni acquisto individualmente, la ricevuta di pagamento elenca il prezzo complessivo senza specifiche. Una ricevuta di pagamento registra anche informazioni di base come l'indirizzo del cliente. Entrambe le parti conservano una copia della ricevuta.
Quali sono i vantaggi dell'utilizzo di un modello di ricevuta?
Invece di fissare un documento Excel o Word vuoto, parti in anticipo con un modello di ricevuta. I modelli di Invoice2go forniscono un layout ordinato con blocchi di contenuto uniformi e testo predefinito. Tutto ciò che devi fare è modificare il modello affinché rispecchi la transazione. Il modello di pagamento e il modello di ricevuta di pagamento in contanti di Invoice2go sono gratuiti al 100% per tutti, anche se non investi nel nostro software.
How do you edit a payment receipt template?
To edit your receipt template, download one of the templates below. Open your template in a program like Microsoft Word, and click on the text to edit each section. Add the date, payment method, amount, receipt number, and other important information. Make sure you record the date of payment, not today's date.
For consistent branding, adjust the colors, graphics, and logo on the receipt. You can also stick with a basic receipt to keep it clean and professional. After you've made basic alterations that apply to every receipt, duplicate the file so you can use the clean copy later. Otherwise, you'll have to re-download the template.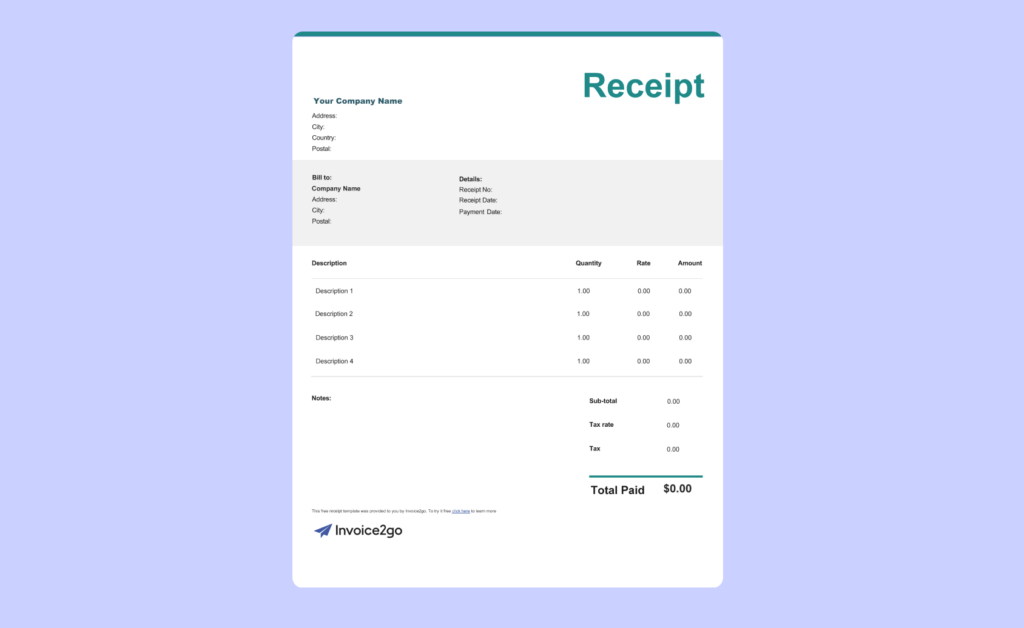 What information is on a payment receipt?
Payment receipts resemble checks with basic information that you can scan at a glance. A professional receipt contains the customer's name and address, your business's name, a brief description of services, the receipt number, the amount, the payment method, and the date the customer paid the bill.
If the customer doesn't pay the entire bill at once, the receipt displays the amount they paid and the remaining balance. Mark "Payment Receipt" or "Cash Receipt" at the top so you and the customer can easily find it in your records. The customer may sign the receipt as confirmation that they received it.
Domande frequenti sulle ricevute di pagamento
Come posso creare una ricevuta di pagamento?

Per creare la tua ricevuta, inizia a identificare i dati di pagamento. Registra l'importo esatto, la data in cui hai ricevuto il pagamento e il metodo di pagamento: contanti, assegno, carta o piattaforma online come PayPal. Conserva queste informazioni in un foglio di calcolo Excel, in modo da avere tutto in un unico posto.

Poi scarica gratuitamente un modello di ricevuta da Invoice2go. Aggiungi le informazioni sulla tua attività e trasferisci i dati di pagamento sul modello. Se crei una copia cartacea, scrivili sul foglio. Invia la ricevuta al cliente via e-mail o consegnagli una copia cartacea. Nei tuoi registri annota che hai emesso una ricevuta.
Quali sono i vantaggi di fornire una ricevuta di pagamento?

A payment receipt provides a transaction record, reducing the risk of disputes. If a customer questions the transaction, pull the receipt out of your files to show them the amount, payment date, current balance, and confirmation that the transaction took place. Likewise, a lack of a sales receipt suggests that the customer never paid their balance.

A receipt helps your customer keep track of their progress for installment payments. Each receipt confirms the payment and states their current balance to know how much they owe you. With a clear payment record, you'll minimize the risk of a customer paying twice or sending the wrong amount. The client uses these receipts to track their expenses and plan a budget at the end of the month.

On your end, you'll use receipts to record your profits and ensure that your customers' payments are up to date. Use these receipts during tax season so you report the full amount. Never throw away old receipts–a customer could dispute a charge months or years after the transaction. You might also need these receipts to show proof of income when you take out a loan or buy a house. Consider using a receipt template to simplify receipt creation.
Quando invio una ricevuta di pagamento?

You'll send a payment receipt shortly after the customer pays their bill. If you complete a transaction in person, you'll write the receipt immediately and give it to the customer. Use a carbon copy pad to make two copies instantly. Without a receipt, you won't be able to prove that an in-person transaction took place, especially with cash payments. Consider creating a cash receipt template to simplify this process.

For online payments, make the receipt and email it to the customer as soon as possible. Don't wait to send one receipt at the end if you're accepting installment payments. Instead, send your customer a receipt after each payment, so they track their payments and current balance. Keep your own digital copy so you can refer back to it.

If possible, make your receipt on the same day you receive the payment. Otherwise, you might forget the payment date and create inaccuracies in your records.