How to scale a business for sustainable success
9 minutes
Goldfish can grow inside a bowl, but they won't truly grow and thrive until they have a larger body of water to swim in. The same is true for your small business. Scaling a business creates a strategy for strong, sustainable business growth.
For small business owners, scaling your business allows you to leave the fishbowl and head out for open waters, where you can see your company flourish.
How do you get there from here? Slowly. Business scaling demands purpose and strategy. This guide will show you how to scale your business successfully to reach your fullest potential.
What does it mean to "scale" a business?
When you scale a business, you're devising a clear roadmap for sustained, manageable growth. Many entrepreneurs use the words "scaling" and "growth" interchangeably, but the difference lies with your strategy.
Growth happens anytime your revenue increases, but it can also create a demand on your resources and raise your overall expenses.
Scaling a business, on the other hand, is about increasing your revenue while keeping your costs to a minimum. This, in turn, allows you to accommodate future growth and control how your company evolves.
When is the best time to scale a business?
If the prospect of growth sounds appealing, you're not alone. But according to the Startup Genome Project, roughly 74% of startups fail due to "premature scaling." In other words, these companies are so eager for rapid growth that they overextend themselves, and their income can not sustain their overhead costs.
Instead of making this mistake, try to find clues that point to sustainable growth in your company's future. The following are indicators that you might be ready for slow and steady scaling.
You're struggling to keep up with demand
First, if you or your employees are having difficulty keeping up with the daily workload, it could be time to consider expanding your small business. The fact that you have potential customers indicates that you can scale your business safely with revenue to support new growth.
Your leads are increasing
Customer leads are another great indicator that you'll have a revenue stream if you begin scaling. Having customer leads might also prompt you to act soon before they take their business elsewhere.
You have long-term business goals
Small businesses might have specific long-term goals they wish to achieve. For example, if you run a small food truck, you may need to adjust your business plan if you want to grow to the point of operating a casual-dining restaurant. Scaling a business can help you reach goals that are unachievable with your current business model.
How to scale your small business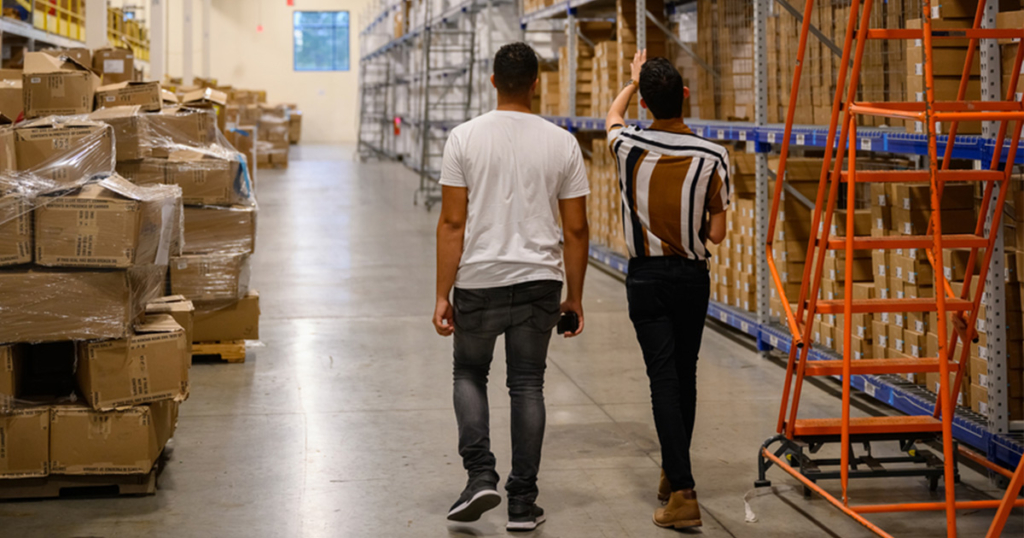 As a business owner, you'll need a clear plan to support growth as you scale your business. Here are some of the best methods for scaling a business.
1. Define your core values
First, clearly define your core values. What do you want to be known for? What motivates your business decisions?
Defining these values can serve as a guide as your business grows. No matter what changes occur to your company's structure, your focus will remain on the same principles that drove you in the early years of your new business.
This will also be important as your staff size increases. You'll want to ensure that all of the employees in your company — as well as the customers you serve — know what truly matters to you.
2. Plan ahead
The best business decisions are built on data. Before you move to scale a business, check that you're making decisions based on the best available information. Learn as much as you can about things like:
The number of customers you currently serve
Conversion rates for online customers
The way customers move through your sales funnel
What your clients say about your services
Additionally, you'll need to be able to increase sales among existing and new customers as your business grows. If possible, set some benchmarks to measure your success as well as a reasonable timeline for the scaling process.
3. Secure funding
Growing businesses have additional needs, such as equipment, technology, personnel, and marketing budgets. To cover these expenses, you may need more money.
You might consider small business loans or a business line of credit to fund your growing costs. Yes, you'll have to worry about repaying the loan with interest, but you're investing in your company's future. The revenue growth will cover the expenses you incur through business financing.
Don't forget that many lenders expect to see a business plan before loaning you any money. The planning phase (step 2, above) can help you modify your existing business plan to explain how you intend to handle growth as your company expands.
4. Simplify your internal processes
Before making sudden changes, you might want to invest in new technology to automate or streamline your core business processes.
For instance, if your business performs many repeatable procedures, you can invest in one platform that can handle these automatically. Or you can simplify these processes so they can be performed with minimal input from you or your employees.
The right tools can help you streamline your administrative tasks so you can handle a higher sales volume without substantially raising your costs. This means that investing in the right digital tools can pay high dividends over the life of your business.
For example, the software offered by Invoice2go allows you to send invoices, collect payments from clients, and review data all from one convenient software platform. Technology can save you time and make it easier for new employees to join your team and gain confidence in helping you run your business.
5. Invest in your team
Delegating is an essential leadership skill. If you already have employees, you likely already know the value of having a good team at your side. They're more than just an extra set of hands; they understand your business and can help you scale your company while you focus on the big picture.
With that being said, scaling your business will likely also mean you'll need new team members. When you're considering new hires, look for candidates whose skills complement your existing team. That way, you can rely on the best talent in every field, from sales to customer service to marketing and beyond.
6. Have a clear marketing plan
Scaling a business means attracting more customers on a near-daily basis. To do that, you'll need a clear marketing strategy. Consider a variety of approaches, including but not limited to:
Content marketing
Direct mail marketing
As you market your company, pay attention to the metrics. Some approaches will work better than others, so you'll want to focus on advertising methods that substantially increase traffic.
7. Prioritize customer service
Successful scaling requires more than simply moving more people through a sales pipeline. Place a high priority on satisfying the needs of each customer. Remember: customer perception can be the difference between failure and success.
Make sure your employees can devote a sufficient amount of time to each customer. Offer tips on developing customer relationships instead of simply trying to sell your products or services.
8. Always be improving
The most successful entrepreneurs don't simply make a plan and then stick to it. They learn from it and make course corrections based on the best available data. Your long-term success depends on your ability to adapt and make changes that benefit your company and its clientele.
As you continue to scale your company, you may need to adopt new strategies for managing your processes or new ways to market your business. But for most entrepreneurs, that's the fun part. Scaling a business gives you the unique privilege of molding your company into the success you always dreamed it could be.
Mistakes to avoid when scaling a business
Unfortunately, many companies fail to achieve sustainable growth. Here are some tips on avoiding common business mistakes so you can achieve your long-term goals for expansion.
Scaling too fast
If you scale too fast, your overhead costs can quickly outpace your income, causing you to run out of money. Instead, do your research to ensure you'll be capable of generating enough revenue to support a larger team as well as increased business costs.
Even if you are seeing a high sales volume, you may want to look back on at least one year's worth of financial data to ensure you're capitalizing on a growing trend rather than a passing phase.
Focusing on new customers and neglecting existing customers
Some businesses market to new customers so aggressively that they fail to meet the needs of their current customer base. Instead, ensure that your existing customers are well taken care of, then focus on adding additional customers to your mailing lists.
One benefit of keeping your existing customers satisfied is that they might provide you with online reviews, new leads, and other valuable resources that can help you market your business.
Not updating your business model
A well-written, up-to-date plan is more than a mere formality. It can keep you centered on what's important and help you develop a clear strategy as your company moves forward. Keep in mind that you may need to update your plan if you need to secure business funding.
Ignoring your company culture
More employees mean more responsibility. If you started with just a three-person sales team, you'll find yourself working in a very different company culture when you scale to 50 or more. You may need to hire managers or promote from within to maintain momentum and ensure your core activities are covered.
Technology that makes a difference
As your business grows, so do your needs. Invoice2go offers companies a way to manage their administrative tasks while requiring less labor and lower costs than manual work.
Our innovative system can help you send invoices, collect online payments, and keep tabs on your financial data all through a secure interface. Try it for free today by signing up for our free 30-day trial.
Frequently asked questions
Here are common questions that entrepreneurs ask about scaling a business.
What are the easiest businesses to scale?
Generally speaking, tech-based companies tend to be the easiest to scale. This is because digital content (such as software) doesn't require the same kind of physical processes to manufacture and ship.
This also applies to those who create digital marketing content, e-books, and other digital items. You can sell these directly through your website, and in most cases, you can scale your business simply by expanding your marketing channels or the number of available products.
If I hire more employees, do I have to pay them health insurance?
As a small business owner, you're not directly required to offer your full-time workers health benefits. But under the Affordable Care Act, once you hit 50 or more full-time workers, you must provide health insurance for up to 95% of your full-time team members. Failure to do so can result in tax penalties.  There may also be applicable state and local laws.

Make sure to check with your legal advisors to ensure that you are complying with all employment laws.  If health insurance is required, you should account for this when you're planning how to scale your company, as these added costs can impact both you and your dedicated workforce.
How do I scale up without burning out?
In the early days of your business, you could handle most of your tasks with no problem. As your business grew, you could cover other needs with a few core staff members. But as you scale even higher, your needs will multiply exponentially.

You must change your mindset from control to delegation. Remember: the greatest expression of authority is the ability to give some of that authority to others. Managers and other important leaders within your company can keep things running smoothly, and you'll feel less stress when every process doesn't end at your desk.