Modello di ricevuta per imprenditori
Preparare e organizzare al meglio i vari documenti protegge sia gli imprenditori che i clienti, quindi è fondamentale assicurarsi che tutto sia corretto sulle tue ricevute.
Scarica un modello di ricevuta per imprenditori
Se vuoi ridurre il tempo dedicato all'amministrazione, puoi scaricare da Invoice2go i migliori modelli di ricevute per imprenditori. Offriamo una vasta selezione di modelli completamente modificabili, disponibili in PDF, Excel o Word. Scarica, personalizza e utilizza in base alle tue esigenze.
Cos'è un modello di ricevuta per imprenditori?
Un modello di ricevuta per imprenditori è un documento di base che include le informazioni che desideri avere su ogni ricevuta che emetti. Le ricevute per imprenditori dettagliano tutti i servizi che un imprenditore ha prestato e quanto li ha fatti pagare, e sono la prova che questi servizi sono stati completati e pagati.
Benefits of using a contractor receipt template
Using a contractor receipt template has many benefits for your business, including:
They save time, avoiding the need to create a new document every time you send a contractor receipt.

Improve accuracy by concentrating on the essential information.

They look professional. Documents with a consistent look and format look more professional to your customers and clients.
How to edit a contractor receipt template
Editing one of Invoice2go's contractor receipt templates is an easy process. Simply select the proforma invoice template on the Invoice2go website and follow these steps:
Download the template in your preferred format—pdf, excel, or word document.
Open the file, then add your company logo and contact information to customize the header.
Add descriptions, quantities, and prices to lines as required.
If needed, add tax and shipping details.
Save in a non-editable format such as a pdf if you are sending it electronically.
Either print off and post or email it as an attachment.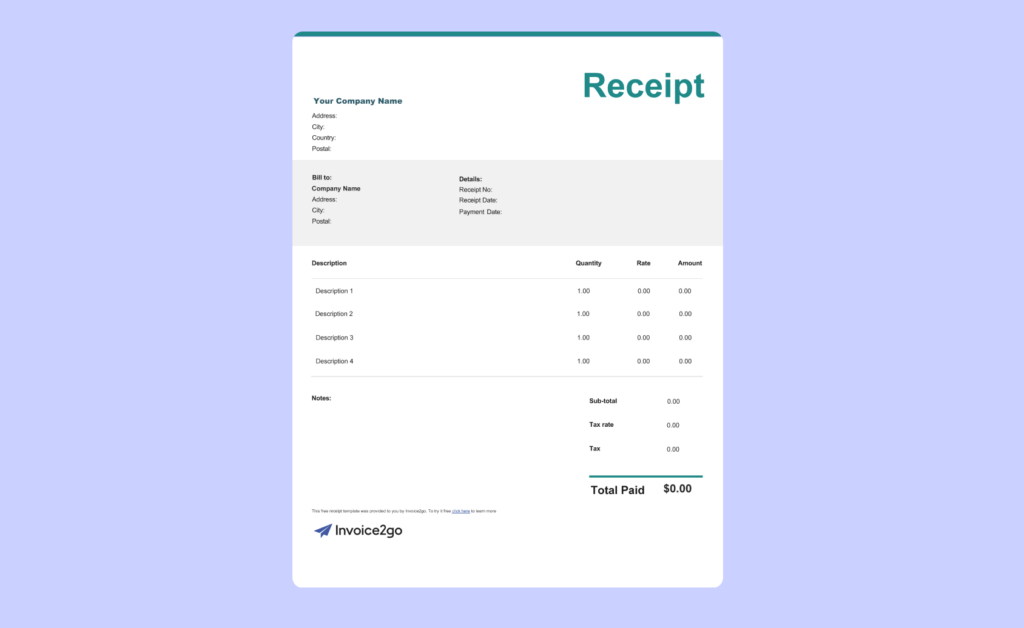 What information is on a contractor receipt?
As with any other commercial document detailing a financial transaction, there are some basic details that you need to include on every contractor receipt. These are:
Date the receipt was issued
Name, address, and contact details of the contractor
Name, address and contact details of the client
Complete details of goods and services provided, including descriptions, quantities, and prices
The date that goods and services were provided
Any taxes included
Labor costs, materials, and total cost
Additional details that you might need in a "notes" section could include contractual information such as warranty periods or service agreements.
Domande frequenti sulle ricevute per imprenditori
Come posso creare una ricevuta per imprenditori?

Depending on your preference, you can write a service invoice using software packages such as Excel, Word, Adobe PDF, or Google Sheets. It's essential to include enough information for the client to know precisely what they are paying for.

However, don't go into too much unnecessary detail, as this could result in a document that's hard to understand. Should you need to include complete technical or contractual information, this can be referenced within the receipt and sent as separate documents.

You can produce your contractor receipts by writing a new document for every job, but why go through a needlessly time-consuming and unnecessary process? Instead, you can make your life easier by downloading Invoice2go's easy-to-use service invoice templates.

Take a look at all of the other free receipt templates we have to offer. If you are looking for contractor invoice templates, we also have those available.
Quali sono i vantaggi di fornire una ricevuta per imprenditori?

Una ricevuta per imprenditori offre chiarezza al cliente e all'imprenditore. Questo è un vantaggio evidente in quanto mantiene entrambe le parti sulla stessa lunghezza d'onda. È anche un documento utile nel caso in cui il cliente voglia chiedere informazioni sullo stesso servizio o su servizi simili in un secondo momento.

Un altro vantaggio che non dovresti sottovalutare è l'immagine professionale che presenti ai clienti. Per esempio, un imprenditore che non emette ricevute potrebbe essere considerato poco affidabile; gli imprenditori che non vogliono una documentazione cartacea potrebbero tentare di evitare un controllo in caso di controversia.
Perché sono importanti le ricevute per imprenditori?

Assicurati che il tuo progetto di costruzione proceda senza intoppi. Le ricevute per imprenditori sono fondamentali per entrambe le parti per mantenere aggiornati i loro registri finanziari. Di certo l'Agenzia delle Entrate le vorrà vedere e il tuo commercialista sarà molto più contento se può vedere i registri completi che includono le ricevute per imprenditori.

Le ricevute per imprenditori sono utili anche nel caso di una controversia dopo che il lavoro è stato completato. Se un cliente non è soddisfatto e sostiene che il lavoro non è stato realizzato, le ricevute che mostrano esattamente ciò che è stato fatturato saranno essenziali in tribunale. Al contrario, sarà molto difficile risolvere un caso che potrebbe andare per le lunghe con spese legali extra.
Gli imprenditori devono fornire ricevute?

La risposta semplice è sì; gli imprenditori dovrebbero sempre fornire le ricevute. Per le ragioni descritte sopra, gli imprenditori e i loro clienti potranno presentare i loro punti di vista in caso di controversia, e avranno tutti i documenti necessari organizzati per scopi contabili.

Naturalmente, la ricevuta per imprenditori deve essere chiara e contenere tutte le informazioni necessarie. Questo è molto più facile se lavori con un software di fatturazione per imprenditori professionale come Invoice2go che si occupa di fatture e ricevute.