Plantilla de recibo de venta
Realice un seguimiento de los pagos mediante un recibo de venta. Nuestras plantillas de recibos de ventas gratuitas disponen de un diseño claro, bloques de contenido e información esencial para sus registros.
Descargue una plantilla de recibo de venta
Comience descargando la mejor plantilla de recibo de venta de Invoice2go. Estas plantillas de recibos permiten llegar a sus clientes de manera rápida y sencilla.
¿Qué es un recibo de venta?
Un recibo de venta es un registro de una transacción que se entrega al cliente después de que este pague por sus servicios. Rellene el recibo de venta y, a continuación, envíelo a su cliente mediante correo electrónico o en formato papel por correo ordinario. De este modo confirmará que ha recibido el pago y ofrecerá al cliente un documento para su contabilidad. También podrá guardar una copia del recibo de venta para su contabilidad.
Ventajas de utilizar una plantilla de recibo de venta
Las plantillas de recibos de venta realizan un seguimiento de las transacciones en un formato nítido y ordenado. Cada documento dispone de información acerca de la transacción, incluyendo la fecha y el importe del pago. Guarde el recibo y consúltelo para realizar la declaración de impuestos o en caso de tener algún litigio con un cliente. El envío de un recibo también demuestra profesionalidad por su parte y motivará al cliente a contratar sus servicios de nuevo.
How do you edit a sales receipt template?
To edit a sales receipt template, download one of the templates below, then open the document in a word processing program. Save a clean copy so you don't have to re-download the receipt template every time. Afterward, copy the file and give it a descriptive file name so it doesn't get lost among the rest of your receipts.
Click on each text box to customize your sales receipt template, change the logo, colors, and layout. Update everything on the receipt, including the date, balance, and receipt number–your program may not update this information automatically. If you have multiple purchases on the receipt, add or remove rows as necessary.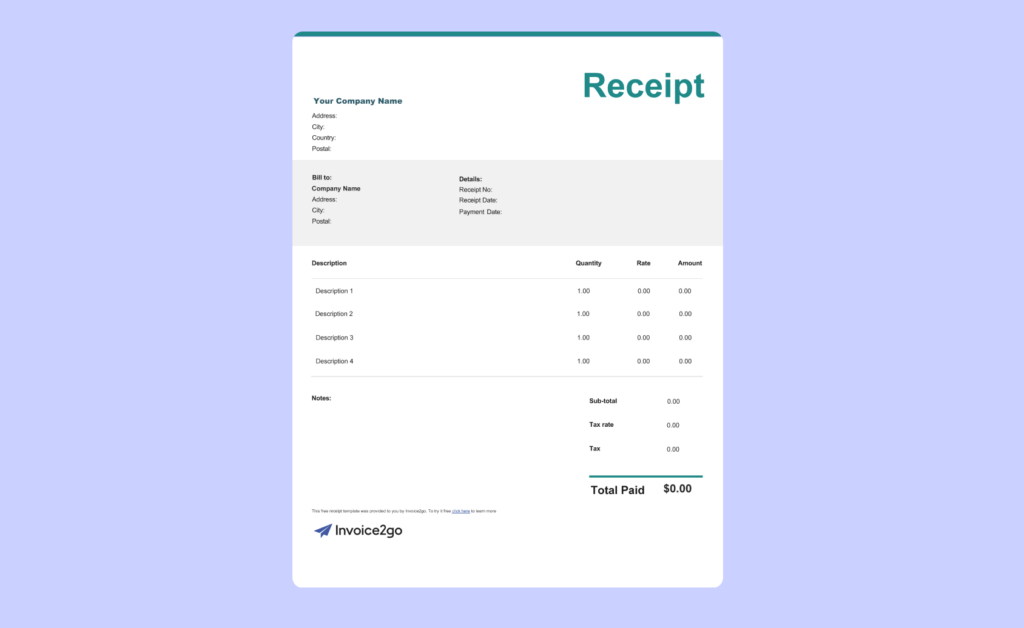 What information is on a sales receipt?
Your sales receipt may include the following information:
Company logo
Your personal or company ddress
Customer's name and address
Receipt number
Date that you received the payment
Receipt number
List of purchases with prices
Sales tax
Total balance paid
Payment method
Notes about the transaction
The layout is nearly as important as the information itself. Would you hire a business again if their "receipt" was an email with just the date and price? Your sales receipts should have clean, professional layouts that immediately show customers what they need to know. Use tables, branding, and neat content blocks to show your clients that you value their business.
Preguntas frecuentes sobre recibos de ventas
¿Cómo hago un recibo de venta?

Para hacer un recibo, comience por llevar un registro de cada cliente. Use una hoja de cálculo para realizar un seguimiento del nombre de cada cliente, la dirección de facturación, el saldo actual y los bienes vendidos o los servicios prestados. Incluya la fecha en cada servicio para evitar cobrar a los clientes el mismo servicio por error dos veces. No elimine transacciones anteriores; es posible que deba volver a consultarlas en otro momento.

Cuando reciba su pago, consulte este registro para hacer su recibo. Descargue una plantilla gratuita de recibo de venta de Invoice2go. Luego, aplique ajustes tanto en los colores como en la imagen de marca y complete la información. Enumere cada pago aunque sea mínimo. Incluso si su cliente pagó poco dinero, ambos necesitan saber a dónde fue.
¿Cuándo debo utilizar un recibo de venta?

You'll use a sales receipt every time a customer makes a payment. If they're paying in one lump sum, you can prepare the receipt ahead of time and send it right away. To make it easier, use Invoice2go to track your customers' payments directly through the platform. Invoice2go tracks each installment and gives your customers multiple payment options, including cash, check, PayPal and credit card. You'll also set up invoices and submit them directly with the software.

Sales receipts are particularly valuable if your customer pays in cash. Since cash doesn't have a digital record, they can't prove that they bought your service otherwise. Depositing it in your bank account won't help you because it doesn't record where you received the money. If you're not in front of a computer, make two copies of a paper receipt and add your copy to your records.
¿Cuáles son las ventajas de entregar un recibo de venta?

A sales receipt provides a payment record for both you and your customer. When your customer reviews their expenses, makes a budget, or needs to reorder your services, they'll check the sales receipt. The receipt has everything they need to know about the payment, including a list of services with prices, the date of the payment, and the billing address.

If your customer pays in installments instead of a single sum, receipts help them keep track of each payment. Your receipt also lists the current balance so they know how much they still owe you. This reduces the likelihood of missed payments, duplicate payments, and disputes about how much they paid.

On your end, the receipt provides a record of each transaction. If the customer doesn't pay the entire bill, you'll see how much they still owe–and send a reminder if necessary. Keep receipts for tax season so you can accurately report your income. You'll also check receipts when you track your monthly profits and expenses.

Receipts also send the message that you're an experienced business owner. If you don't send a receipt, customers wonder if you keep track of payments, making them more likely to dispute the balance. Building receipts shows clients that you track every payment, service, and client to keep your expenses in order. Your expertise impresses them, turning them into a repeat customer.

If you allow exchanges or returns, a receipt provides proof of purchase so customers can request their return. Think of it like shopping at the grocery store: they won't refund your item if you can't prove that you bought it in the first place. This provides added convenience because you won't have to dig through your payment history.