Free Invoice Template
Get access to customizable free invoice templates! Pick a template, edit your information and generate a professional invoice for your clients in just minutes.
Choose the best invoice template for your business
Looking to create the best invoice? We've got you covered. Creating professional invoices is now easier than ever using Invoice2go's editable free invoice templates. We have various sample invoice templates beautifully designed for a wide range of industries, including marketing, consulting services, freelancers, construction, and more.
Free Invoice Generator
Use our free invoice generator to make professional invoices with one click! Include your company name, business logo, phone number, customer details, and much more with our invoice maker.
Benefits of using an invoice template
While some businesses prefer to custom design their invoices, using an invoice template has its advantages. Here are the five benefits of using an invoice template:
You don't need to worry about designing
Easy to use
Convenient to generate invoices on the go
Saving a ton of time
Many invoice templates are free!
How to edit an invoice template?
The simplest way to create an invoice template is to download one of our editable free invoice templates. Here are the steps to make our beautifully designed invoice template yours to use for your business:
Select a template above
Download the template in your desired format (Word, Excel, PDF, or Google Docs)
Open the template
Personalize the invoice by adding your logo and business name
Edit the information fields with essential details
Save the invoice in pdf format
Send the invoice to your customer via email
An alternate route to editing an invoice template is to create them through word, excel or google sheet yourself. However, this process can be very time-consuming. If you are looking to generate one quick invoice, you can try our free invoice generator tool.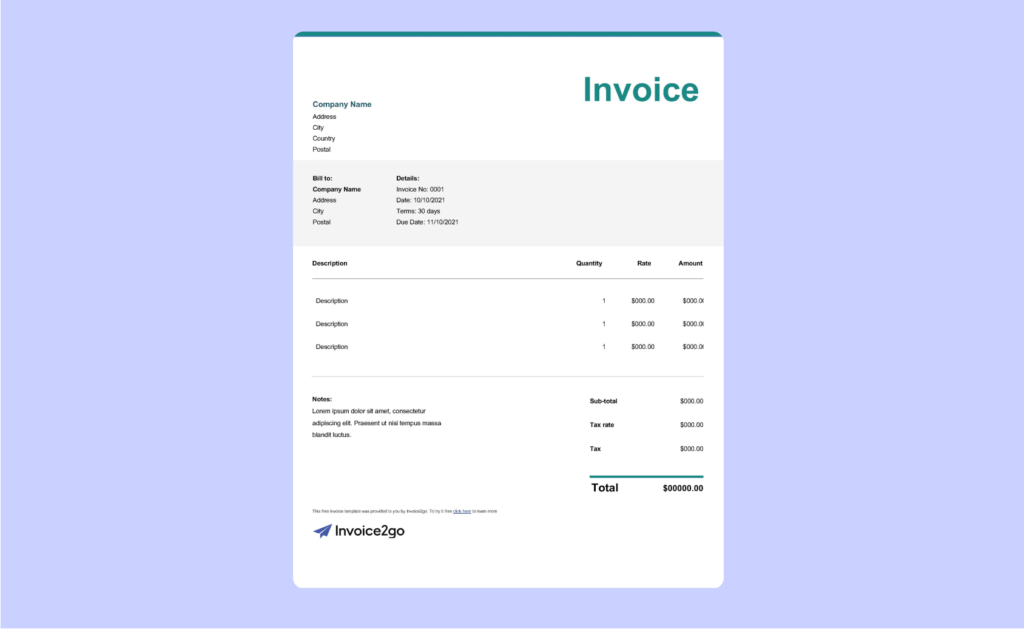 What an invoice should include?
Every invoice or bill template should include the following sections to give your clients as much clarity as possible.
Name of your small business
Seller contact information
Invoice number
Payment Terms
Due date
Bill to contact information
Product or service details
Sales tax
Discount
Notes
What are the different types of invoices?
There are many different types of invoices a small business can use. The invoice you choose to send to your clients will differ depending on the kind of work, the industry, and how often you plan to collect payment. Let's explore the invoicing option that is best for your small business.
Final invoice
A final invoice is given to a customer upon completion of a project, service, or product to request payment.
Proforma invoice
A proforma invoice is an estimate given to a customer before starting a project or service to provide them with a good idea of the total cost.
Interim invoice
An interim invoice is used to break down payments for larger projects to help small businesses manage either cashflow.
Recurring invoice
A recurring invoice is used for businesses that charge the same amount periodically for their services.
Commercial invoice
Businesses use commercial invoices when they sell products to customers internationally. The information on a commercial invoice is slightly different than a standard invoice. The details on a commercial invoice must include information that helps determine customs duties.
Collective invoice
A collective invoice is similar to a standard invoice, except it consolidates multiple smaller projects or services to be paid together. Collective invoices are beneficial for a small business owner to save on transaction fees.
Packing slip
Does your business ship physical merchandise? Easily convert an invoice into a PDF packing slip to keep track of package contents without including prices. This also comes in handy when sharing a job, client, or address with an employee without revealing pricing information.
More free invoice templates
Here are more free invoice templates for you to choose and download.
By Type:
By Industry:
Free invoice templates vs. Invoice2go software
Invoice templates are easy to use and can help create invoices faster. However, they cannot help streamline your business processes and enable growth. Find out how Invoice2go is the all-in-one tool that can help you run and grow your small business.
| | | Invoice2go | | Free Invoice Template |
| --- | --- | --- | --- | --- |
| Pricing | | Free 30-day trial | | Free |
| Track invoices and payments | | ✓ | | - |
| Get notified on payments | | ✓ | | - |
| Facturas periódicas | | ✓ | | - |
| Acepte pagos por internet | | ✓ | | - |
| Auto payment reminders | | ✓ | | - |
| Send out payment receipts | | ✓ | | - |
| Sync with your favorite accounting program | | ✓ | | - |
| | | | | |
Use Invoice2go's invoice software to send invoices, accept credit cards, track payment status, send automatic payment reminders, and get paid faster. Start your 30-day free trial, no credit card required.
Tips on how do you get your invoices paid faster?
Go Digital
Your business name is one of the most important elements of an official invoice template. It shows who you are and establishes your brand. Include your company logo for an extra professional touch. The Invoice2go app helps you create a simple logo if you don't have one already.
Send your invoice right when the job is done
Send your business invoices out as quickly as possible, while your services are still fresh in your client's mind. The quicker you send the invoice, the quicker you get paid.
Itemize your line items, don't generalize
Your client wants to know exactly where their money is going, and your invoice should communicate the nitty-gritty details of the job. Be specific rather than general with your line items. Instead of listing "materials" as a single expense, itemize each one on its own line, such as paint, nails, plywood, etc. It's also a good idea to attach receipts to back your claims. Don't risk having your client wonder if you're padding the bill.
Make it easy to pay
Offer your clients as many ways to pay as possible. You can drastically increase how quickly you get paid by accepting digital forms of payment like PayPal, debit, or credit. You only pay a small % fee for the assurance the money is on the way.
Shorten your payment terms
Don't be shy to tighten up the usual 30-day terms to something more like 14 days. Some clients will wait until the last possible moment to pay an invoice. Just be sure to communicate your payment terms in person, and on the invoice itself.
Set up automatic payment reminders
By using a tool like Invoice2go, you can set up automatic payment reminders to land in your client's inbox on the days you specify (i.e. on the due date, three days before the invoice is due, etc.) A friendly nudge can go a long way to getting you paid on time.
Download a Free Invoice Template: the answers you need to get going
What is an invoice and what is the best free invoice template?

An invoice is a document detailing the specifics of a business transaction between a buyer and seller. There is no particular invoice template that is better than another. The best invoice template is the one that best represents your business, industry, and products or services.
Where can I get an invoice template?

Invoice2go has designed many free invoice templates available for download in word, excel, pdf & Google Docs formats. Microsoft Word and Excel also provide free invoice templates ready for use.
How do I make a simple invoice?

Generate a simple invoice for free by using Invoice2go's invoice generator tool. This invoice generator tool is good for small business owners that are looking to generate quick or one-off invoices. If you are looking to generate multiple invoices, the best option is to download an existing free invoice template and customize it to suit your business.
Are there free invoice templates?

Download and customize free invoice templates from Invoice2go to impress your customers with a branded invoice. We have many invoice template formats to choose from, so choose the type that's right for you and your business invoice.
Can you make invoices with Microsoft Office?

Microsoft Word is a familiar program to many small business owners. Making it a popular choice to create documents and yes, invoices & bills as well. Here are the steps to take to find and create an invoice in Microsoft Word using their build in templates.

Open a new Word document and click new
In the top right search bar search for "invoice"
Choose and download your favorite invoice template
Customize and send to your clients