Plantilla de factura gratuita
¡Acceda a plantillas personalizables y gratuitas para crear recibos! Elija una plantilla, edite su información y cree un recibo personalizado para sus clientes en cuestión de minutos.
Plantillas de recibos descargables e imprimibles
Ahora resulta más sencillo que nunca crear recibos profesionales mediante las plantillas de recibos gratuitas de Invoice2go, una empresa de Bill.com. Escoja una plantilla de recibo, descárguela y prepárese para personalizarla. 
¿Qué es un recibo?
Un recibo es un documento emitido por una empresa para su cliente para demostrar que se ha producido una transacción. Por otra parte, las empresas también pueden utilizar recibos para realizar un seguimiento de las ventas.
Ventajas de utilizar una plantilla de recibo.
El uso de una plantilla de recibo le permite ahorrar mucho tiempo y asegurarse de que cada recibo tiene un aspecto profesional y uniforme en todo momento.
How to edit a receipt template
The simplest way to edit a receipt template is to download one of our editable receipt templates. Make sure you have one of the programs installed on your computer to edit one of our free receipt templates. Here are the steps to make our beautifully designed receipt template yours to use for your business:
Select a free receipt template above

Download the template in your desired format (Word, Excel, PDF, or Google Docs)

Open the receipt template

Personalize the receipt by adding your logo and business name
Edit the information fields with essential details
Save the receipt in pdf format
Send the receipt to your customer via email or other digital channels.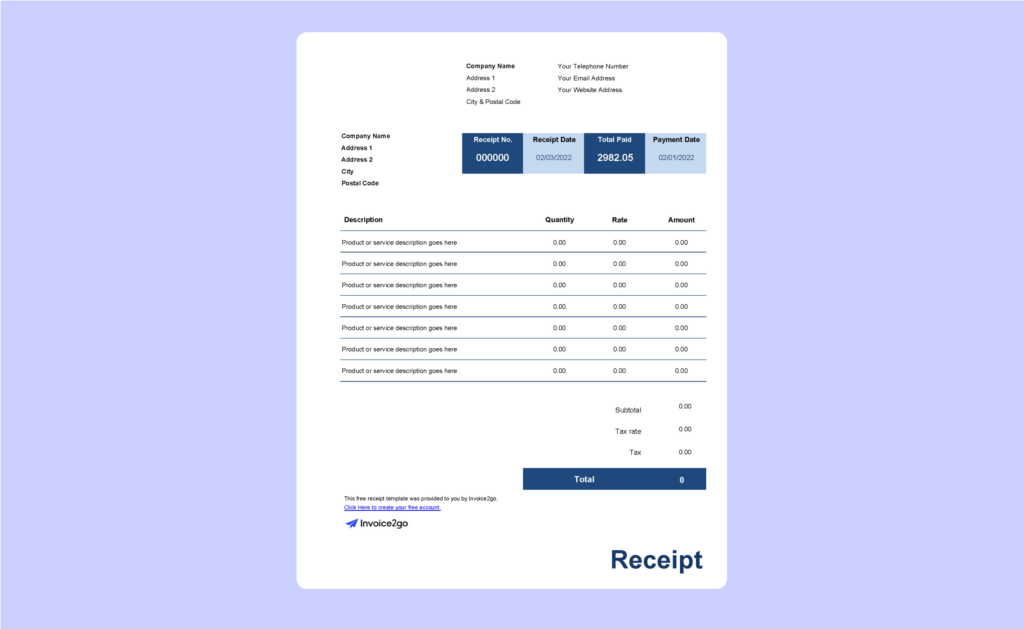 What information is on a receipt?
The look of every receipt issued by different companies may vary. Here is the information that you should include on every receipt:
Information about the business: business name, address, phone number, email and website URL, tax registration number
The name of each product or service along with the quality.
The sale price for each product or service
The total price of the sale
The rate of sales tax and the amount of tax
The total cost with tax included
The date and time when the sale took place
The payment method used
Add a receipt number
The name of the sales associate that completed the sale or service (optional)
Common types of receipts
There are different types of sales receipts that a small business can issue. Let's explore the types of receipt option that is best for you.
Sales receipt 
A sales receipt is a document that records a sale. It is more commonly used when products are sold to customers and payment has been received by the seller.
Rental receipt
A rental receipt is a document provided by the landlord when rent is collected from the tenant.
Cash receipt
A cash receipt is a proof of purchase issued when a buyer has made a cash payment.
Service receipt
A service receipt is similar to a sales receipt, except it is commonly issued by service providers such as contractors, laborers, lawyers, freelancers, etc..
Donation receipt
A donation receipt is a letter issued by a charity to notify the donor that their gift has been received. Donation receipts are used for tax credit purposes.
More free receipt templates
Here are more free receipt templates for you to choose from and download:
Descargue una plantilla de recibo gratuita: las respuestas que necesita para seguir avanzando
¿Cómo puedo crear mi propio recibo?

Puede crear su propio recibo mediante Word, Excel, Google Docs u otros programas. No obstante, este proceso puede resultar muy laborioso. La manera más sencilla de generar recibos es utilizar un marcador de recibos existente online o una plantilla de recibo. 
¿Por qué resultan importantes los recibos para la contabilidad?

Los recibos resultan esenciales para la contabilidad, ya que cumplen con las normas de Hacienda y permiten mantener registros claros de sus compras y gastos. Disponer de una documentación adecuada para todas sus transacciones puede ayudarle a maximizar posibles deduciones fiscales para su empresa.