Itemized receipt template
When your customers need specific information, itemized receipts detail the entire transaction. Review the receipt with your client so you're both up to date.
Download an itemized receipt template
Record transactions with the best itemized receipt template from Invoice2go, a Bill.com company . Download an itemized receipt template today and use it for every transaction going forward.
Was ist eine detaillierte Quittung?
Eine detaillierte Quittung ist ein Transaktionsprotokoll, das Sie Ihrem Kunden geben, nachdem er die Rechnung bezahlt hat. Im Gegensatz zu einer einfachen Quittung listet eine detaillierte Quittung jedes Produkt oder jede Dienstleistung zusammen mit dem Preis, der Menge und der Endsumme auf. Dieser Beleg fügt Steuern und andere Gebühren hinzu und gibt dann die Gesamtgebühr an. Beide Parteien bewahren die detaillierte Quittung für ihre Unterlagen auf.
Welche Vorteile bietet die Verwendung von detaillierten Quittungsvorlagen?
Die Verwendung einer detaillierten Quittungsvorlage spart Zeit und Geld, da Sie keinen Grafikdesigner einstellen oder sich selbst darum kümmern müssen. Stattdessen springen Sie direkt zum Bearbeitungsprozess. Unsere Experten haben die Invoice2go-Vorlagen unter Berücksichtigung der Anforderungen Ihres Kleinunternehmens entworfen. Während Sie Inhalte nach Bedarf hinzufügen und entfernen können, werden die wesentlichen Elemente in übersichtlichen Inhaltsblöcken angezeigt.
How do I edit an itemized receipt template?
Follow these steps to edit your itemized receipt template:
Download the Invoice2go template that you want to use.
Open the template in a word processing program.
Click on the text to edit it. If using a PDF editor, click on the box or above the line to add your text.
Edit the information that stays the same across every receipt, like your name and business address.
Add the logo and colors that match your branding.
Duplicate this file, so you don't have to make a new template every time.
Check your records, and add the transaction information to your template.
Save the template, print it out, or email it to your customer. Make another copy for yourself.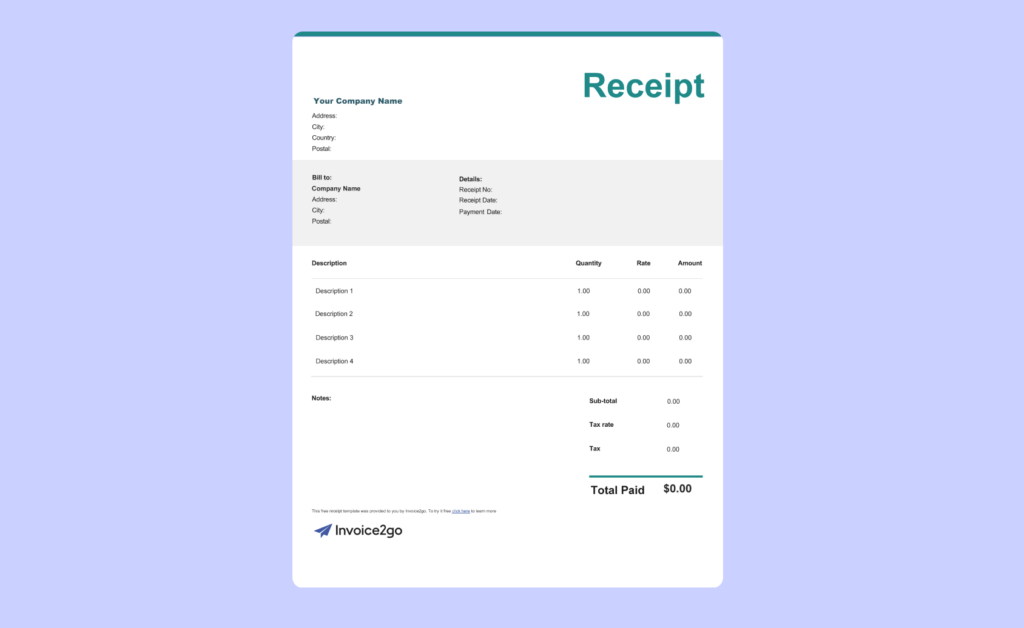 What information is on itemized receipt templates?
An itemized receipt lists every purchase individually, even small purchases that cost only a few dollars. Afterward, the receipt adds taxes, discounts and other costs like labor and shipping fees. It includes a receipt number and provides the total amount at the bottom, so the customer knows exactly how much they paid.
Other information may include the business address, customer's shipping address, payment method, purchase date, payment date and customer's signature. Some receipts have sections for specific purchases, like vehicles. Each receipt presents information in a clean, orderly layout so both parties can refer to it for budget and tax purposes.
Itemized Receipt Frequently Asked Questions
How do I make an itemized receipt?

Beginnen Sie mit einer Vorlage, die alle benötigten Informationen enthält. Allenfalls müssen Sie ein paar Änderungen vornehmen. Passen Sie die Vorlage an, damit der Beleg Ihr Unternehmen widerspiegelt. Beispielsweise müssen Sie möglicherweise ein Logo hinzufügen und die Farben ändern, damit der Beleg zu Ihrem Branding passt.

Übertragen Sie anschließend den Kaufbeleg auf Ihre Quittung. Sie können die Online-Einkäufe des Kunden überprüfen oder sehen, was Sie in Ihren Aufzeichnungen notiert haben. Stellen Sie sicher, dass Sie Add-Ons hinzufügen, die der Kunde später angefordert hat. Berechnen Sie anschließend die Umsatzsteuer und fügen Sie sie der Quittung hinzu. Fügen Sie danach Rabatte hinzu, um dem Kunden zu zeigen, wie viel er gespart hat.
What are the benefits of providing an itemized receipt?

An itemized receipt breaks down the entire purchase, showing customers exactly what they paid for. If they're unsure about a charge, they'll see where their money went, reducing the risk of payment disputes. The receipt also lists taxes and additional fees, which clients tend to forget about. They'll use this information to budget the next time they order your services.

If your receipt includes business expenses, the client determines what's taxable so they can report deductibles on their taxes. They'll also see which expenses they must pay and which expenses their employer covers. While your receipt doesn't specifically report this information, they can review the document with their employer.

You and your client keep a copy of the receipt to track profits and expenses. On your end, you'll see exactly what the customer bought. If your customer wants to make the same purchase again, you'll show them the receipt. You'll also refer back to this receipt if the customer tries to challenge the charges.

Your receipts show a profit record that you'll report on your taxes at the end of the year. Use this data to determine your business's success and how to improve your sales. If one product or service keeps showing up on receipts, that's what pushes the biggest sales. Likewise, if no one buys a particular item, consider phasing it out.
When do I use an itemized receipt?

Quittungen mit Einzelnachweis sehen aus wie Rechnungen, aber Sie stellen eine Quittung aus, kurz nachdem der Kunde die Rechnung bezahlt hat. Stellen Sie niemals die Quittung aus, bevor sie bezahlt haben, selbst wenn sie versprechen, Sie so schnell wie möglich zu bezahlen. Andernfalls enthalten Ihre Unterlagen ungenaue Informationen, insbesondere wenn sich die Details ändern oder der Kunde Sie nicht rechtzeitig bezahlt.

Warten Sie nie, bis Sie eine Quittung ausstellen. Wenn Sie eine Transaktion persönlich abschließen, füllen Sie die Papierquittung unmittelbar aus, bevor der Kunde geht. Für digitale Belege füllen Sie diese aus und senden Sie sie noch am selben Tag an den Kunden. Dadurch bleiben Ihre Daten auf dem Laufenden und der Kunde wird informiert, damit er keine unerwartete Belastung auf seinem Girokonto sieht.
Why are itemized receipts important?

Wie eine Rechnung mit Einzelnachweis sind Einzelnachweise wichtig, da sie den Kunden zeigen, dass Sie ein professioneller, erfahrener Geschäftsinhaber sind. Sie nehmen ihr Geld nicht an und überlassen es ihnen, die Rechnung aufzuschlüsseln. Stattdessen erstellen Sie für 100 %ige Transparenz eine detaillierte Liste jedes Kaufs und schließen Steuern und Gebühren ein, damit Ihr Kunde nicht das Gefühl hat, Sie hätten ihn ausgetrickst. Sie zeigen dem Kunden auch, dass Sie jeden Einkauf verfolgen, anstatt ihn schleifen zu lassen.

Wenn Kunden Ihre Professionalität erkennen, kaufen sie Ihre Produkte oder Dienstleistungen erneut. Sie empfehlen Sie auch an Freunde und Verwandte weiter, weil Sie von Ihrer Professionalität überzeugt sind. Wenn sie beeindruckt sind, hinterlassen sie online positive Bewertungen und machen so mehr Besucher auf Ihr Unternehmen aufmerksam. Mehr Betrieb bedeutet zufriedenere Kunden, was zu größeren Gewinnen führt.