Freelance invoice template
Use our freelance invoice template and generate invoices in seconds. Get paid, build a positive relationship with your customer, and move on to the next project.
Download our freelance invoice template
Don't create your freelance invoice from scratch. Take advantage of our free invoice templates. Customize this free invoice template as much as you want to reflect your business's needs.
Benefits of using freelance invoice templates
Here are a few reasons why you should use a freelance invoice template:
Save time and create a beautiful design

Easy to use with editable text rows and columns

Quickly invoice your customers by reusing the same invoice template without recreating it every time.
Free invoice generator
Create an invoice in minutes with our free invoice generator. Enter your service details, add your contact information and fill in relevant data, then hit download. Voila, you have a professional-looking invoice ready to send to your clients. Note that this invoice generator is not an invoice template. You'll have to re-enter the basic details every time. 
How to edit a freelance invoice template
Follow these steps to edit your freelancer invoice template:
Download the template that you want to use.

Open the template in the program that you selected.

Click on each section to edit the text. Enter your prices, completed services, contact information, and other pertinent details.

Add your logo and branding. If necessary, adjust the colors on the template to reflect your brand.

Save the invoice in your preferred format.
To speed up the process, save one template with your branding without additional details. Copy this document and edit it whenever you need a new invoice instead of downloading a new template every time.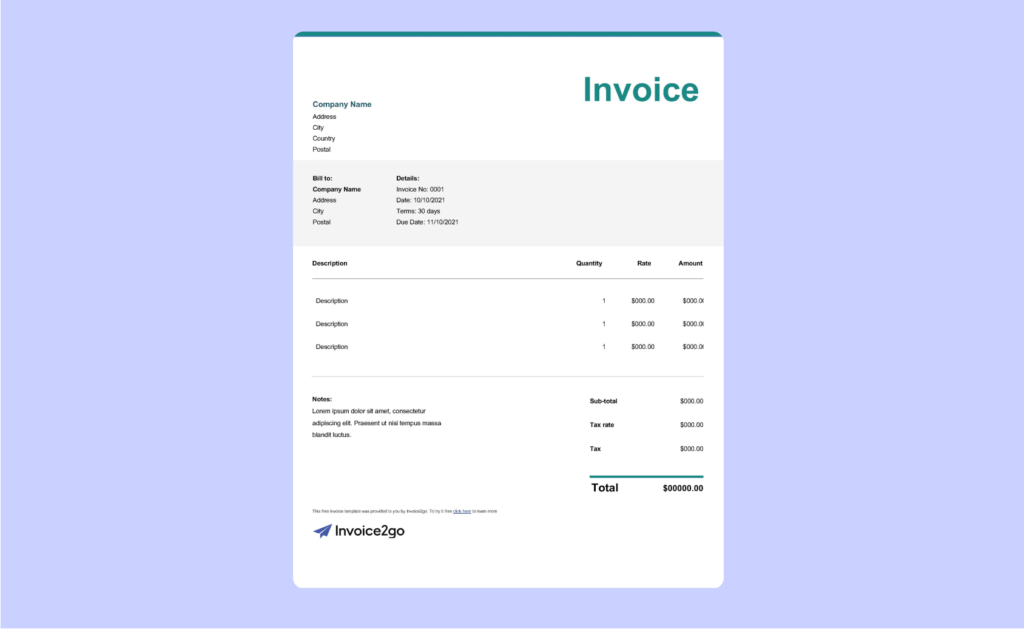 Freelance invoice frequently asked questions
How do I invoice as a freelancer?

Invoicing as a freelancer is no different than invoicing as a regular business. Much like other businesses, a freelance business would send their clients an invoice when services have been provided. It is essential to discuss invoice frequency and payment terms with your client before starting a project.
Do freelancers need invoices?

Freelancers need invoices because they don't get paid regularly like employees do. Instead, Freelancers bill their clients upon the completion of a project or task. An invoice looks more professional than a text or email and reminds customers that you're a legitimate business owner, not a friend who did a favor. They'll pay the bill and come back for more services.

As a freelancer, it's challenging to keep track of every project. Invoices record every service, making it easy for you and your customer to document the completed work. Customers see exactly what they bought, including taxes and extra fees, which reduces the risk of arguments and payment refusals.
Can you make invoices for freelance work?

Yes! You can make your own invoice or download a template. Include everything you need in your invoice: your name, address, contact information, price, total, and list of services. Freelancers don't need "official" invoices from a specific company–they just need an option that works for their business.

However, you'll need a professional invoice that gives customers the information they need in seconds. A sloppy, confusing invoice looks unprofessional and could result in missed payments. Download one of our free templates, or use a template generator to customize your invoice. You'll have a crisp, clear layout that you can customize as much as you need. Explore using a freelance invoicing software like Invoice2go to help with your invoicing and payment needs.
How do I send an invoice?

When you work with Invoice2go, you'll build and send professional invoices directly through the platform. Send your invoice through email, text message, Facebook Messenger, WhatsApp, and other platforms. Invoice2go has many great invoicing features for freelancers and self professionals. Track your invoices so you'll see the payment statuses at a glance. Just hit the "Resend" button if a customer needs a reminder.

If you haven't yet invested in Invoice2go, you can send invoices as an email attachment. Include a friendly greeting and note about the invoice to make the email more personal. Add your name, project title, and due date in the subject, so the customer doesn't accidentally overlook the email. If you have information that didn't fit in the invoice, include it in the email, so the customer has everything in one place.
When should I send an invoice?

You as the business owner, decide when to collect payment. If you prefer to get paid up-front, you'll send the invoice immediately, then get started after the customer pays their bill. If you'd rather wait until you've completed the project, you'll send the invoice at the end and get compensated for your hard work.

For long projects, you could break up payments and send multiple invoices. For example, you could accept half the payment after completing 50% of the project and then request the other half when you're finished. You could also offer a payment plan for expensive projects. Just keep track of the invoices, so your customer doesn't miss a payment or end up paying you twice.
What should be included in a freelance invoice?

In general, your self-employed invoice should include the following:

Your business's name, address, phone number, and email

A unique invoice number

The date you sent the invoice, payment terms, and payment due date

Your business's logo and branding

The services that your customer bought

The total price, including tax and extra fees

If applicable, a discount to remind your customer that you gave them a deal

Payment instructions and methods that you accept

A thank-you note at the end

Different businesses may have specific needs, so don't be afraid to customize your invoice and add new sections.