Cash Receipt Template
Developing and designing a high-quality cash receipt can seem like a bit of a daunting task, especially for an overworked business owner. Luckily, you don't need to do it all by yourself. Try out one of our templates to create your own cash receipt in minutes!
Download a free cash receipt template
Looking for the best cash receipt template for your business? Have a look at our receipt templates. All of our templates are easy to navigate and keep track of and they include all the necessary information for a seamless transaction. Simplify your record-keeping now with one of our cash receipt templates.
What is a cash receipt?
As the name suggests, your customers need to receive a cash receipt after they make a purchase from your business and pay in cash. You can either print receipts out or deliver them online using invoicing software. There is no set format for a cash receipt, as long as it includes all the key information that we've outlined below in the article.
What are the benefits of using a cash receipt template?
Small businesses owners are busy and bookkeeping is time-consuming. That's why a cash receipt template can come in handy. A good receipt template removes the hassle of having to manually write receipts, allows you to keep convenient records of your company's profits, and can save time by being automatically generated. Effortlessly stay on top of your cash payments.
How to edit a cash receipt template?
Editing a pre-made template is straightforward. All you need to do is delete the default information in the template and replace it with your own.
We highly recommend deciding on a template, editing at the start, and then using it consistently for all transactions. Switching up the template or making frequent edits can cause confusion within your company and can make it challenging to keep track of transactions. Also, a consistent look at your receipts makes you appear professional and organized. This leaves a great impression on your customers and makes it easier to organize their own records.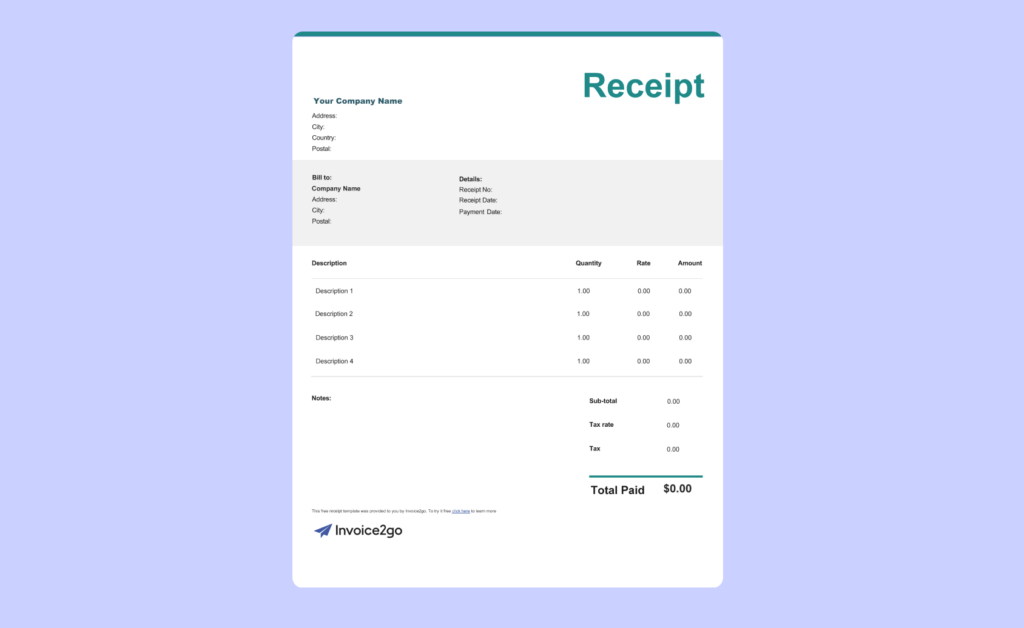 What information is on a cash receipt?
A cash receipt doesn't need to be complicated if it includes all essential information. This receipt form includes:
Date of the transaction
The cash receipt number
Customer information – name and street address
Payment amount
The services rendered
Who receives the payment
Signature of the payment recipient
Any relevant taxes
Those who receive many cash transactions understand how keeping track of all payment records can be quite a challenge. That's why choosing a high-quality cash receipt is so essential — you'll be able to access all your payment records easily and have all important data conveniently available to you.
Cash Receipt Frequently Asked Questions
How do I make a cash receipt?

You can write your cash receipt by hand, create your own digital version using writing software such as Microsoft Excel or Microsoft Word, or use a pre-existing template. We highly recommend pre-made templates because they can save you a lot of time researching how to create a cash receipt, help you avoid making mistakes such as not including all important information, and be easier to maintain long-term.
When to use a cash receipt?

You should use a cash receipt when you receive a cash transaction. Make sure you're using them consistently so that your record can be easy to organize and maintain.
What are the benefits of providing a cash receipt?

Cash receipts make it easy to track sales. This allows you to keep track of your inventory, develop an accurate prognosis of future sales, and keep your records organized for the upcoming tax season.
When do I send a cash receipt?

You should send a cash receipt just after a cash transaction takes place. It's essential to be strict with this, as delaying or forgetting to send some payment receipts can make your records much harder to navigate and cause you many avoidable problems in the future.
How do I make a cash receipt that looks well-designed and professional?

Using your own personalized cash receipts is a sure way to stand out from the crowd and make a great impression on your customers. For instance, you can choose a color scheme that's thematically consistent with your company's image or add your business logo.

You can use the same font as your website or add a few unique design details. Whatever you choose, you need to use a high-quality design to maintain consistent branding and a professional appearance.
Why should small business owners use a cash receipt template?

Small business owners know how important it is to keep track of every transaction. While online purchases and card transactions are easy to monitor, cash transactions can be more challenging to oversee.

Of course, when customers pay in cash, they need to receive a receipt. A professional-looking and well-designed cash payment receipt leaves a great impression on your customers and makes it easy to keep track of your business income.