Service Receipt Template
Providing a quality service receipt helps your customers track expenses and gives an impression of professionalism.
Download a service receipt template
Wir bieten vielseitige Belegvorlagen im Text-, Tabellen- und PDF-Format, die Beratern, Freiberuflern und serviceorientierten Unternehmen gerecht werden. Sie können damit aufgeschlüsselte Rechnungen ausstellen oder stündlich abrechnen. Ihr Unternehmen hat möglicherweise besondere Anforderungen für Belege. Wir bieten Ihnen mit unserer Belegvorlage eine nützliche Vorlage, die Sie an Ihre individuellen Abläufe anpassen können.
Was ist eine Servicebelegvorlage?
Es handelt sich praktisch um eine Belegvorlage, die Ihr Unternehmen für seine Transaktionen standardisieren kann. Sie können Ihren Papierkram rationalisieren und Dienstleistungen effizienter anbieten, indem Sie vorgefertigte Vorlagen in Textdokument-, PDF- und Tabellenformaten verwalten.
Kleine Unternehmen und unabhängige Freiberufler verwenden nicht immer Servicebelege, aber es hat viele Vorteile, sie in Ihre Transaktionen einzubeziehen.
Benefits of using a receipt template
Your first benefit from using a receipt template as a service provider is that it's much simpler and more convenient than making one from scratch. Designing a service receipt requires making decisions on font and spacing and requires more familiarity with editing software. Whether you find the template ideal or edit it, you'll also benefit from having a standardized receipt ready to go for transactions.
Why use a standardized receipt template?
Issuing a standardized receipt reduces the paperwork burden of each transaction and provides a sense of transparency to customers, as well as facilitates easy bookkeeping on their part. Finally, using a smart, clean receipt template with custom branding elements that customers can easily read provides an impression of professionalism.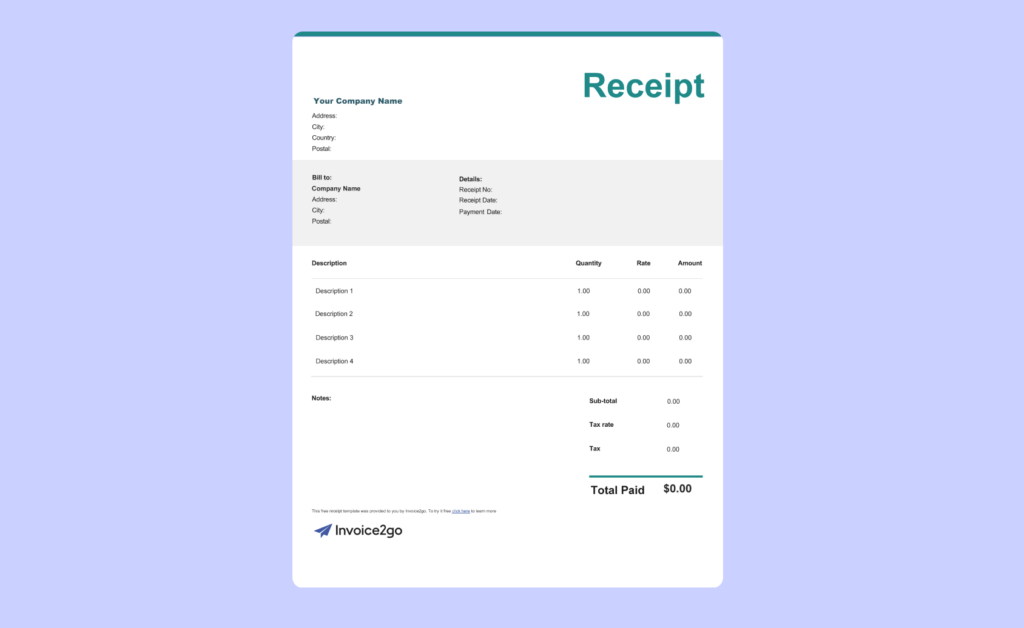 How to edit your receipt template
If you issue receipts digitally, you'll typically do so in pdf format. However, pdfs are difficult to edit, and you'll need to be able to edit the document to fill in the services and payment information. You'll also need to edit your original receipt template if the basic template needs alteration before it suits your company. Follow these steps to edit your template:
Download the text or spreadsheet version
Open the document in your preferred editor, such as Google Docs or Excel
Make the changes you have in mind and save your template
When you need to fill out the receipt template to issue a service receipt, take the following steps:
Open a copy of your template as a text document or spreadsheet
Fill in the empty fields as necessary with a unique receipt number, services rendered, costs, etc.
Select the "save as pdf" option to convert your word or text document into a pdf
Either send the pdf via email or print off a physical copy
What information is on a service receipt?
The first category of information is your company name, company logo, and contact information. This will be standard across all of your service receipts, while the other necessary information varies.
Each service receipt needs a unique number as well as your customer's information and issuance date. The final component of a service receipt is a list of services with line items, a service description and its specific cost, the total cost, tax, and payment method for your customer.
Service Receipt Frequently Asked Questions
How to write a service receipt?

Der erste Schritt beim Erstellen eines Servicebelegs ist das Einrichten einer Vorlage, die Sie problemlos für verschiedene Transaktionen duplizieren können. Oben oder unten im Dokument sollten wichtige Informationen wie der Name und die Kontaktinformationen Ihres Unternehmens, der Name Ihres Kunden und der Name des Empfängers enthalten sein.

Der Hauptteil des Dokuments sollte aus Zeilen bestehen, in denen Sie die von Ihnen erbrachten Dienstleistungen, Einzel- und Gesamtkosten sowie Steuern beschreiben. Schließlich müssen Sie das Ausstellungsdatum, das Datum, an dem Sie die Dienstleistungen erbracht haben, und eine eindeutige Belegnummer angeben.
What are the benefits of providing a service receipt?

Providing a service receipt helps customers by providing a record of expenses and serves as a formal end to a transaction. For the customer, receiving a service receipt has the benefit of helping them track expenses and understand the services they've paid for. These benefits circle back to you, as customers prefer to work with transparent, professional companies.
Why are service receipts important?

With a service receipt, your customers will have a clear record of the services that they paid for as well as the figures that contributed to the cost. This is important for accurate bookkeeping, expense records and can often be relevant come tax season.

Given how important service receipts are, consumers take them for granted and expect to receive one. Providing clean, organized service receipts is vital for small businesses to present a professional image to customers.
When should you issue a service receipt?

Ein Servicebeleg schließt Geschäftstransaktionen ab, nachdem Kunden eine Aufzeichnung ihrer bezahlten Services erhalten haben. Sie stellen Leistungsbelege aus, nachdem der Kunde Ihre Leistungen erhalten und bezahlt hat. Wenn Sie im Voraus berechnen, sollten Sie den Servicebeleg ausstellen, nachdem der Kunde bezahlt hat und bevor Sie die Dienstleistungen erbringen. Stellen Sie sicher, dass Sie vorher eine Servicerechnung ausstellen, damit Ihre Kunden wissen, wie viel sie Ihnen zahlen müssen. Hier sind einige unserer Vorlagen für Servicerechnungen.