Service invoice template
Running a small business has enough hassles and stress without creating your own service invoices. Our free service invoice templates help free up your time.
Download the best service invoice template
At Invoice2go, we have the best service invoice templates to download, whatever your business needs. They are fully customizable to suit your organization's brand and easy to edit. In addition, you can download them in one of 3 formats: pdf, Word, or Excel.
Benefits of using service invoice templates
There are several reasons why using a service invoice template is preferable to creating a new document every time you send a service invoice. This list shows a few examples:
Repeatability. It's best if every invoice that you send has a similar format.
Professionalism. Send invoices in a standard format shows your customers a professional look.
Avoid mistakes. Your service invoice template will include all of the essential information, meaning that there is far less chance of errors.
Saves time. Working from a template will save you a lot of time as you don't have to re-enter all the details.
Free invoice generator
If you don't want to download a template, maybe because you rarely send service invoices or you're short on time, you can use our free online invoice generator. The formatting will be the same every time, so there is no need to worry about that detail. Instead, you can simply go to our website, upload your company logo, enter your details and those of your customer, and enter all of the information you need to include on your services. Once that's all done, you can email the invoice directly from the website or download a pdf to print off and send later.
How do I edit a service invoice template?
The service invoice templates from Invoice2go are designed to be as easy to use as possible. However, before you edit your template and start using it, you should customize it to include your organization's logo and contact details and add your standard terms and conditions. Once you have done this, you can save it as your standard template, and you can then follow these simple steps each time you want to edit it and send a service invoice:
Add your customer/clients' business name, contact details, and address. A delivery address is not needed for a service invoice, but you may need details of where work is to be carried out.
Add details of each service performed on each line, including a complete description, quantities (if applicable), and prices or hourly rate.
Add in tax details where applicable.
Fill in totals. If you're using an excel template, this may be calculated automatically.
Add any extra details into the notes section. For example, this may include dates for completion and timescales if you are sending the invoice pro forma and any special terms and conditions.
Once this is all done, you simply save your service invoice as a pdf to send electronically or print it off to send in the post.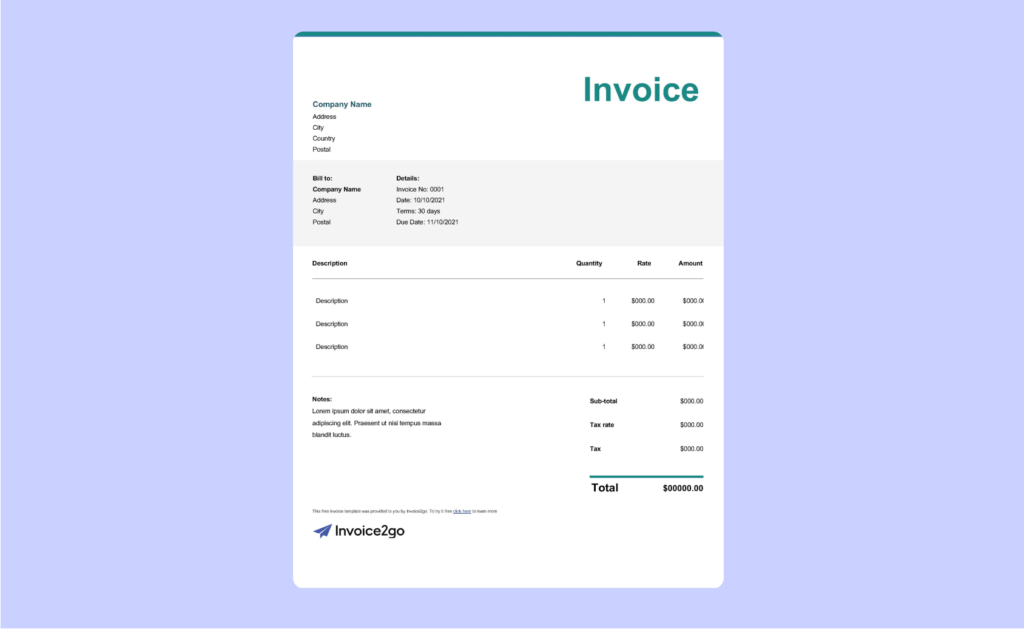 Service invoice frequently asked questions
What is a service invoice?

A service invoice is a document you send to your clients to request payment for services rendered. This keeps a record for your business of what payments you are expecting and lets your clients know exactly what they are paying for.

You can send service invoices in one of two ways. Firstly, you can send service invoices in advance of service provision as a pro forma invoice where payment is expected in advance. Alternatively, you can send them after completion to let clients know how much to pay and when to pay it.

An invoice is typically sent to the client prior to payment whereas a service receipt is sent after payment is received.
How do I write a service invoice?

You can write a service invoice using the software of your choices, such as Excel, Word, or Google Docs, depending on which you are most at ease. When writing a service invoice, you should include sufficient information for the client to know precisely what they are paying for without going into excessive detail, which may cause it to become unclear. If necessary, you can reference other documents to attach that include complete technical or contractual information.

Of course, you can do all of this yourself on every service invoice, but this is a time-consuming and unnecessary process that can be made much easier by simply downloading Invoice2go's easy-to-use service invoice template. If you are looking for other invoice templates, check out our free invoice template options.
What is the difference between a sales invoice and a service invoice?

In general, a sales invoice is used for requesting payment for physical goods or as proof of purchase. A device invoice is used when no actual physical goods change hands. You can use this for many commercial transactions such as:

Servicing domestic appliances such as water heaters or air-conditioning systems
Window cleaning
Gardening
Refuse collection

Of course, a sales invoice could also be a combination of physical goods and labor, such as if you are a landscape gardener who also provides the plants. In this case, you would use a service invoice with some sales elements. You can easily edit Invoice2go's service invoice templates to accommodate this.
What is the best format for a service invoice template?

The best format for your service invoice template will depend on the individual needs of you and your business. For example, if your invoices are simple and you want just to print off the template and fill it in by hand, a pdf format is adequate for your needs.

However, suppose your services are complex and broken down into multiple lines and quantities. In that case, a Microsoft Excel format will be more suitable, as it will use built-in formulas to calculate totals and sub-totals. You can also use Excel templates to pull data from other spreadsheets and databases to autofill your pricing from a pre-written list of services. However, this is pretty advanced, and you would need to be an Excel expert to do it.

Some people may just use a Word template because it is the software they are most used to working with. Each format that Invoice2go provides has its pros and cons, and it's up to you as the user to decide which best meets your needs and that you are most comfortable working with.