Free consulting invoice template
Your consulting business provides services for clients that need your time, advice and expertise. Save time by downloading a consulting invoice template from Invoice2go.
Download the best consulting invoice template
At Invoice2go, we develop solutions for building invoices, tracking payments so your business gets paid as soon as possible. We've used our expertise to create free invoice templates specifically for consulting firms
This consulting invoice template provides a framework for you to add services, prices, include notes, and contact information. Take your consulting business to the next level!
Benefits of using a consulting invoice template
There are many benefits to using a consulting invoice template.
The designs are crisp, clean and made to save time so you can focus on your project. Get a professional consulting invoice every time.
Helps streamline your invoicing process, allowing you to send the invoice in minutes, then receive your payment in hours.
Plenty of free invoice templates to choose from. Save money on hiring graphic designers for your consulting service.
Free invoice generator for your consulting business
Use our free invoice generator to create a quick, one-off invoice. You can change the currency if you're not asking for payment in U.S. dollars. Enter your information, upload your logo, then save the invoice as a PDF and send it to the client. Invoice2go allows you to send an email directly through the platform.
How to edit consulting invoice templates
Anyone can edit an invoice template regardless of their skill level. Follow these steps to edit your consulting invoice template:
Download your chosen template as a Word file, Excel file or PDF.
Open the template, and save it in your business folder. You might lose track of the file if you don't move it out of the "Downloads" section.
Click on the text to edit the header information. Include your business name and contact information, the client's name and data about the invoice.
If applicable, change the colors and fonts to reflect your company's branding.
Click on the text in the service list to add descriptions, rates and prices. Add and remove items on the list if necessary.
Calculate the total price with taxes, and add it to the final balance section.
Fill in any leftover information, like notes to the client.
When you're done, email your professional invoices to your clients. Include it in an attached file that they can view through the email provider, then download instantly.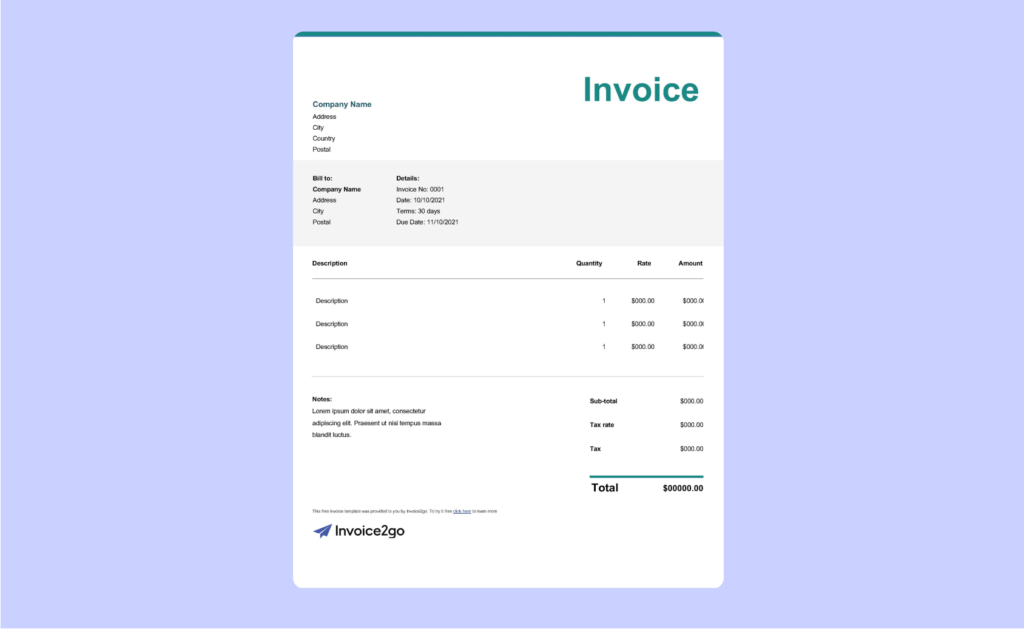 Consulting invoice frequently asked questions
What should a consulting invoice include?

Your consulting invoice isn't just a bill–it's a record of services that you'll refer back to later. Include the following in your consultant invoice:

Your business's name, address, phone number, website and email address
Your business's logo and additional branding
Your client's name and address
A unique invoice number
The date that you issued the invoice
The payment terms, including the due date
A list with every service rendered, plus the rate, price and tax percentage
A sub-total before taxes, the total amount of taxes and the final balance due
Notes to the customer, including a thank-you note

Make sure you keep a copy of the invoice for tax purposes. You'll also need a written invoice if the client tries to dispute the charges.
How do I write a consulting invoice?

Depending on your business model, keep a record of hours worked or services rendered. Don't throw everything together in a final total–instead, list each item on the invoice, then add them together to create the total at the end. This shows the client what they bought and how you came up with the final balance, reducing the risk of disputes.

If you give your client a discount, include this discount on the invoice to explain the reduced price. This also reminds your client that you gave them a deal, which makes them more likely to hire you in the future. Add a thank-you note at the end as a courtesy.
What is a consultancy invoice?

A consultancy invoice is a bill that you send your clients after you perform services. Since consultants offer services instead of products, you'll need a flexible document that includes hourly rates. Clients review the document and pay for the services with your accepted payment methods. Invoicing software for Consultants like Invoice2go keeps track of payments to make the process easier.
How do you charge for consulting?

Every consulting firm has a different business model. You could charge clients by the hour, accept a flat fee or split the bill and require payment when you reach each milestone. If you offer a specific set of services, a flat fee tells customers exactly how much they'll pay–which is attractive for clients on a tight budget. Charge extra fees when customers request add-ons.

Likewise, splitting payments keeps the project on track, shows clients that you're trustworthy and ensures that you'll get your flat fee. However, some clients need varied services over a long period of time. When you tailor your services specifically to your clients, charging by the hour ensures that you'll get paid for every minute that you work. Ultimately, you'll choose one payment option or a combination of the three to meet your clients' needs.
How do you bill clients for consulting services?

If you charge a flat fee, you'll simply keep track of the services that you performed, then list each service on the invoice. Remember add-ons and customized services if applicable. Total the prices, add taxes and give the client their final balance. When you charge for milestones instead of the whole process, you'll repeat this process on a smaller scale.

For hourly services, keep track of every hour that you worked, then multiply the total number of hours by your hourly fee. List your rates on the invoice so clients know how you totaled their balances. Hourly services add up quickly, so invoices provide a record that makes it harder for clients to dispute the charges.