Contractor Receipt Template
Getting the paperwork right protects contractors and clients alike, so ensuring that everything is right on your contractor receipts is vital.
Download a contractor receipt template
If you want to reduce time spent on admin, you can download the best contractor receipt templates from Invoice2go. We have a great choice of fully editable templates that are available in pdf, excel, or word format. Simply download, customize and use as needed.
What is a contractor receipt template?
A contractor receipt template is a base document that includes the information you want to have on every contractor receipt you issue. Contractor receipts detail all of the services that a contractor has performed and how much they charged and are proof that these services have been completed and paid for.
Benefits of using a contractor receipt template
Using a contractor receipt template has many benefits for your business, including:
They save time, avoiding the need to create a new document every time you send a contractor receipt.

Improve accuracy by concentrating on the essential information.

They look professional. Documents with a consistent look and format look more professional to your customers and clients.
How to edit a contractor receipt template
Editing one of Invoice2go's contractor receipt templates is an easy process. Simply select the proforma invoice template on the Invoice2go website and follow these steps:
Download the template in your preferred format—pdf, excel, or word document.
Open the file, then add your company logo and contact information to customize the header.
Add descriptions, quantities, and prices to lines as required.
If needed, add tax and shipping details.
Save in a non-editable format such as a pdf if you are sending it electronically.
Either print off and post or email it as an attachment.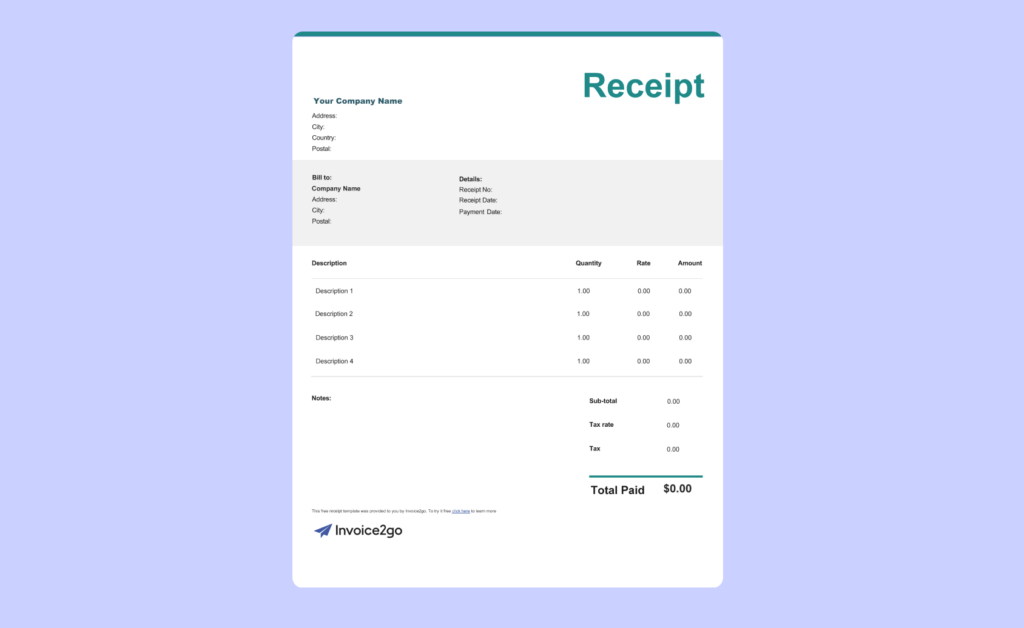 What information is on a contractor receipt?
As with any other commercial document detailing a financial transaction, there are some basic details that you need to include on every contractor receipt. These are:
Date the receipt was issued
Name, address, and contact details of the contractor
Name, address and contact details of the client
Complete details of goods and services provided, including descriptions, quantities, and prices
The date that goods and services were provided
Any taxes included
Labor costs, materials, and total cost
Additional details that you might need in a "notes" section could include contractual information such as warranty periods or service agreements.
Contractor Receipt Frequently Asked Questions
How do I make a contractor receipt?

Depending on your preference, you can write a service invoice using software packages such as Excel, Word, Adobe PDF, or Google Sheets. It's essential to include enough information for the client to know precisely what they are paying for.

However, don't go into too much unnecessary detail, as this could result in a document that's hard to understand. Should you need to include complete technical or contractual information, this can be referenced within the receipt and sent as separate documents.

You can produce your contractor receipts by writing a new document for every job, but why go through a needlessly time-consuming and unnecessary process? Instead, you can make your life easier by downloading Invoice2go's easy-to-use service invoice templates.

Take a look at all of the other free receipt templates we have to offer. If you are looking for contractor invoice templates, we also have those available.
What are the benefits of providing a contractor receipt?

Die Bereitstellung einer Auftragnehmerquittung verschafft Auftraggeber und Auftragnehmer Klarheit. Dies ist ein Nettovorteil, da beide Parteien gleichermaßen informiert bleiben und wissen, was sie zu erwarten haben. Es ist auch ein hilfreiches Dokument, falls der Kunde zu einem späteren Zeitpunkt erneut nach denselben oder ähnlichen Dienstleistungen fragen möchte.

Ein weiterer Vorteil, den Sie nicht unterschätzen sollten, ist ein professionelles Erscheinungsbild für Kunden. Beispielsweise wird ein Auftragnehmer, der keine Belege für Auftragnehmer anbietet, möglicherweise nicht als seriöses und vertrauenswürdiges Unternehmen angesehen. Auftragnehmer, die keinen Papierberg wünschen, versuchen möglicherweise, im Streitfall eine Überprüfung zu vermeiden.
Why are contractor receipts important?

Sorgen Sie für einen reibungsloseren Ablauf Ihres Bauvorhabens. Auftragnehmerquittungen sind für beide Parteien von entscheidender Bedeutung, um ihre Finanzunterlagen auf dem neuesten Stand zu halten. Steuerprüfer sehen sie sicher gerne, und Ihr Buchhalter wird viel glücklicher sein, wenn er vollständige Aufzeichnungen einsehen kann, die Quittungen von Auftragnehmern enthalten.

Eine weitere wichtige Verwendung von Quittungen von Auftragnehmern tritt im Streitfall nach Abschluss des Auftrags in den Vordergrund. Sollte ein Kunde unzufrieden sein und behaupten, dass die Arbeit nicht erledigt wurde, sind Quittungen, die genau zeigen, was ihm in Rechnung gestellt wurde, vor Gericht sehr nützlich. Wenn allerdings keine Quittung vorliegt, erschwert dies die Entscheidung eines Falls und kann zu zusätzlichen Anwaltskosten führen.
Should contractors provide receipts?

Die einfache Antwort darauf ist ja; Auftragnehmer sollten immer Quittungen vorlegen. Aus den oben genannten Gründen sind Auftragnehmer und ihre Kunden viel besser in der Lage, ihre Standpunkte im Streitfall darzulegen und alle für die Buchhaltung erforderlichen Dokumente zu organisieren.

Natürlich muss die Quittung des Auftragnehmers klar verständlich sein und alle notwendigen Informationen enthalten. Dies ist viel einfacher, wenn Sie mit einer professionellen Rechnungserstellungssoftware für Auftragnehmer arbeiten, die sich um Rechnungen und Quittungen kümmert, wie beispielsweise Invoice2go.