How to open an online business bank account
9 minutes
Small business owners can significantly benefit from having an online business bank account. In some cases, opening an account online can provide more options than just sticking with a traditional brick-and-mortar bank.
Today, we'll take a closer look at the best places to open a business bank account online, as well as the steps you'll need to take to open your account.
Why do you need a business checking account?
You might be tempted to use your personal checking account to cover your business expenses when you first start your business. However, it's a good idea to open a business checking account as soon as possible.
A business bank account offers several specific benefits, including:
Keeping personal and business assets separate so you're not liable for business debts
Providing separate records for personal and business taxes
Looking more professional when interacting with clients
Allowing business partners to use your business checking account
Giving you access to a business credit or debit card
Potential access to a pre-approved line of credit
Access to overdraft protection
If you open a business bank account online, it's easier than ever to maintain a separate business account.
Best places to open an online business checking accounts
Your first major decision will be to decide which financial institution offers the best tools and resources for your business banking needs. Below, we've covered some of the most popular online banking platforms for small businesses in 2022, highlighting a few of the best features of each.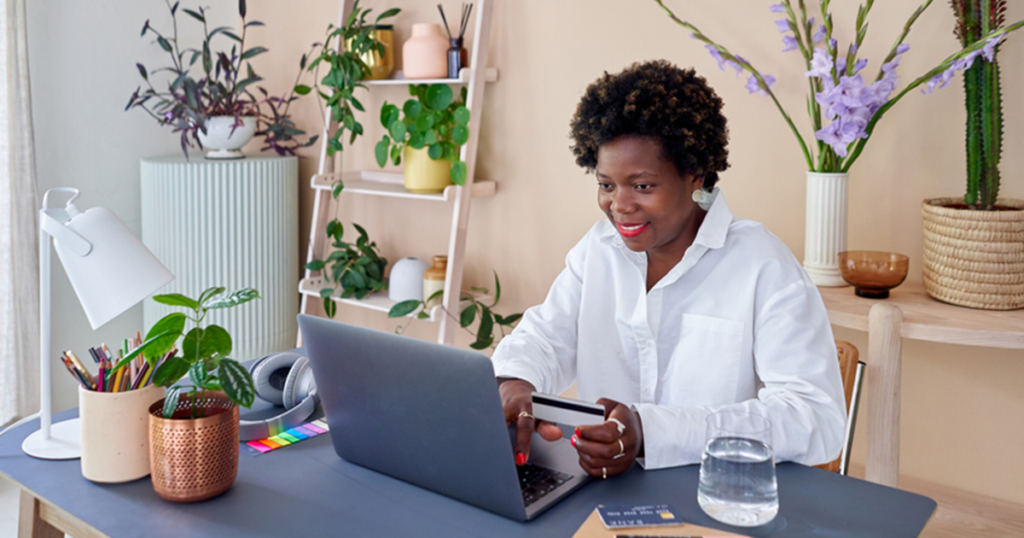 Bank of America
Retailers and other small business owners may prefer dealing with brick-and-mortar banks that have a local branch in their area. This makes it easier to make frequent cash deposits and get direct access to banking personnel.
Bank of America is something of a fixture in the banking world. Their online banking features include:
$100 minimum opening deposit
Up to $7,500 in fee-free cash deposits each month
Online banking tools
A user-friendly mobile app
QuickBooks integration
Deposit checks with Remote Deposit Online
Merchant services for small business owners
Unlimited fee-free transactions
Employee business credit cards
Additionally, Bank of America offers frequent financial incentives for new customers. For example, when you open a Bank of America business checking account and make qualifying purchases and deposits, you're entitled to receive a cash bonus. Similar incentives apply to the Bank of America business debit card and their credit cards.
As your business grows, you can upgrade from the Business Advantage Fundamentals account to the next level of banking (the Business Advantage Relationship account). This makes Bank of America a good option for growing companies.
Eligible account owners can also become part of the Preferred Rewards Program, which provides discounts on online business tools, as well as another opportunity to waive the monthly fee.
Chase
Those who appreciate a local bank branch might want to consider Chase for a business checking account. The Chase Total Business Checking Account offers some great features, making it an attractive option for those looking for online and mobile banking without abandoning a brick-and-mortar bank location.
Notable benefits and features include:
250 fee-free transactions each month
Unlimited electronic deposits
Up to $20,000 in fee-free cash deposits each month
Ability to accept credit card payments with Chase QuickAccept
Free online and mobile banking with online bill pay
No charge for incoming wires
Up to 2 outgoing wires at no charge per statement cycle
Chase charges a $15 monthly fee, though this fee can be waived for Chase Business Premiere Savings account customers. Having a business savings account at the same bank as your checking account can make it easier to transfer money back and forth between the two based on your business needs.
Chase is also a member FDIC, generating additional consumer confidence in the stability and security of their accounts. Chase also allows users to apply for a business credit card to make purchases for your company.
U.S. Bank
U.S. Bank represents another great option for opening an online business checking account, though the company also provides widespread branch and ATM locations coast-to-coast.
The company offers three different business checking accounts, each differing in the number of fee-free transactions offered and the methods of waiving the monthly maintenance fee.
For example, the U.S. Bank Silver Business Checking account offers 125 fee-free transactions per month, though users will still pay a fee of $0.50 per transaction once this limit has been reached. This is the only business checking account offered with no monthly fee.
The U.S. Bank Gold and Platinum business checking accounts allow 300 and 500 fee-free transactions, respectively, though each plan comes with monthly maintenance fees. These fees can be waived if certain conditions are met.
What makes U.S. Bank stand out a bit from competitors is that their Gold business checking account offers a 0.01% APY interest rate on accounts with balances of $20,000 or more. This might make them an attractive option if your small business needs to hold a larger checking account balance for any reason.
Axos
Axos offers customers a 100% online business checking account. The company has no physical locations, and users can still use ATMs and enjoy unlimited ATM reimbursements.
Axos customers appreciate the following features of this online banking platform:
$1,000 minimum opening deposit
No minimum balance requirements
No monthly maintenance fee
First 50 checks are free
This makes Axos one of the best free online business checking accounts, though services may be limited compared to some of their long-term competitors.
LendingClub
LendingClub Tailored Checking offers some great online and mobile banking tools that are great for small business leaders. Features include:
Unlimited fee-free transactions
0.10% APY on account balances over $5,000
No transaction fees at their network of ATMs
1% cash back on business debit card transactions
The low threshold interest options might be desirable for business owners looking to make some passive income.
BlueVine
BlueVine provides a business checking account online that's particularly well-suited for entrepreneurs who want to earn interest while avoiding fees. BlueVine's features include:
No monthly fee
Zero minimum opening deposit
No minimum balance requirements
Unlimited fee-free transactions
Fee-free cash withdrawals at any ATM in the MoneyPass network
Mobile check deposit
Plus, users earn 0.6% on account balances up to $100,000, which makes this a great option for users who want to earn some interest without maintaining a minimum account balance.
Kabbage
Kabbage is another great place to open a business checking account online. The company also offers checking accounts that generate interest.
Kabbage customers can enjoy the following benefits when they open an account online:
No monthly fee
Zero minimum balance requirement
No transaction fees
No overdraft fees
Fee-free ATM access within the Allpoint network
Cash deposits available at Green Dot locations
1.10% APY on an account balance of up to $100,000
This makes Kabbage a solid option for those looking for online and mobile banking options.
Invoice2go
Invoice2go a Bill.com company offers a variety of banking tools in addition to our other innovative products and services. Our customers have access to fee-free banking options that allow their customers to pay through secure online channels.
Thanks to a partnership with Blue Ridge Bank, your clients can make secure ACH transfers that allow you to have the money in your account within two business days.
Additionally, our customers enjoy benefits such as:
Zero fees for bank transfers
No fees for deposits
No minimum account balance requirements
A business debit card
Our customers can make fee-free debit card purchases and access over 55,000 ATMs nationwide.
Best of all, the banking tools integrate with our invoicing platform, allowing you to automatically match customer payments with your invoices, saving you time and hassle. Automated notifications keep you informed about the status of any payments, so you always have control over your cash flow.
You can also run payroll through our platform, staying organized financially.
How to open a business checking account online
To open a small business checking account online, you'll have to follow the procedure outlined by each individual company. In some cases, you'll be able to complete the application process online in a matter of minutes, though some brick-and-mortar banks may ask you to come in to provide the necessary forms. You can apply for a business checking account over the phone in other cases.
Regardless of the method you use, there will be some basic steps that business checking account applications will have in common:
1. Input your personal details
First, you'll need to provide your personal details. These usually include:
Full name
Date of birth
Driver's license number
Social Security number
You may also be able to use a current passport as additional identification if you cannot provide the above details, though this may depend on the bank you're applying at.
2. Input your business details
Next, you'll need to provide the details about your business. Typically, you'll need to include such information as:
The name of your business
Your business address
Your business license
The name(s) of any co-owners or business partners
Your EIN or tax ID number
Business formation documents (e.g., articles of incorporation, partnership agreement, etc.)
If for any reason your business will be operating under a different name (known as a "Doing Business As" or DBA name), you'll need to provide a DBA certificate.
3. Select the type of business bank account you want
Depending on the bank, you may need to specify which business account you want to open. For instance, some banks offer more than one business checking account, so you'll have to select the bank account that best suits the needs of your small business.
4. Wait for approval
Don't be discouraged if you don't receive instant approval. While the application process is very quick, it can take several days to review and approve your account application. While there's no real way to accelerate this process, you can avoid any roadblocks by ensuring you provide all of the required information during the application process.
5. Make your initial deposit
Once you're approved, you may be asked to make a minimum opening deposit. Again, the amount of this deposit varies by bank. In some cases, the deposit you make can help you to avoid a monthly maintenance fee.
6. Get information on additional business services
Finally, you'll want to spend some time familiarizing yourself with any business tools you have access to after opening a business checking account online. Many of these features can be accessed through your bank's mobile app. You may even find some tutorials to help you learn to use these tools quickly and easily.
More than just a bank
Invoice2go is more than just a banking platform. We offer all of the great features you'd get from today's banking centers, but we also provide state-of-the-art solutions for invoicing and other business processes.
Sign up today to see these features in action!
Frequently asked questions
Still have some questions about online banking? Here are some of the most common questions we hear:
What documents do I need to open an online business account?
You'll need documentation for both your personal data as well as your business. Here's a quick checklist to help you out:

- Driver's license/passport
- Social Security card
- EIN
- Business formation documents
- DBA certificate (if applicable)

You can enter this information online or in person, depending on your bank.
What is the "combined average monthly balance"?
Your combined average monthly balance is the average amount of money you have in your account on each day of a given month. Banks use this data when waiving monthly maintenance fees, so it's usually a good idea to maintain a strong daily account balance.
Which is the easiest bank to use to open a business account?
Some customers will prefer the human touch of a brick-and-mortar branch location, though others may prefer the online-only options above. Instead of choosing your bank based on the application process, try to think of the long-term needs of your business and plan accordingly.