The best general contractor estimating software for 2022
9 minutes
General contractors work under pressure. The construction industry can be competitive, and most customers expect fast, accurate estimates before they're willing to commit to a construction project. You can provide this data using the latest in construction estimating software.
This article will offer some software advice on the advantages of relying on these tools and explore some of the best general contractor estimating software available today.
Types of project management software
Not all construction software is created equal. While we'll be focusing on estimating tools, many developers offer a variety of software solutions geared specifically to the needs of construction professionals.
The software provider will include multiple tools in the same package in many cases. Understanding these project management tools can help you focus on what you need for your construction business.
Bidding software
Bidding software allows users to:
Create project bids and proposals
Schedule projects
Schedule subcontractors
Manage clients
Analyze past bids and project data
This type of construction software can help you win bids and secure new clients. It is often incorporated in some way into construction estimating software platforms.
Bid management software
Bid management software obviously overlaps with the bidding process, but bid management tools are focused on overseeing existing bids rather than generating new ones. Sometimes, these features will be wrapped together in estimating and bidding software, though these are separate processes.
Takeoff software
Takeoff software is aimed at pulling data from digital blueprints and spec sheets. This information can then be used to generate the final cost estimates, so it's often used in conjunction with other forms of estimating software.
Estimating software
Construction estimating software typically includes a whole package of digital tools that can be used to create line-by-line costs for both labor and supplies.
The most basic estimating tools include:
Summary templates
Preloaded formulas and calculations
Regional databases for material costs
Estimating software is an umbrella term that includes many of the other digital tools listed here, providing a comprehensive package that construction companies can use for various project needs.
Scheduling software
Finally, many forms of estimating software contain resources for project timetables and employee scheduling, which can further streamline your administrative tasks and help you to keep track of billable hours.
Best construction estimating software of 2022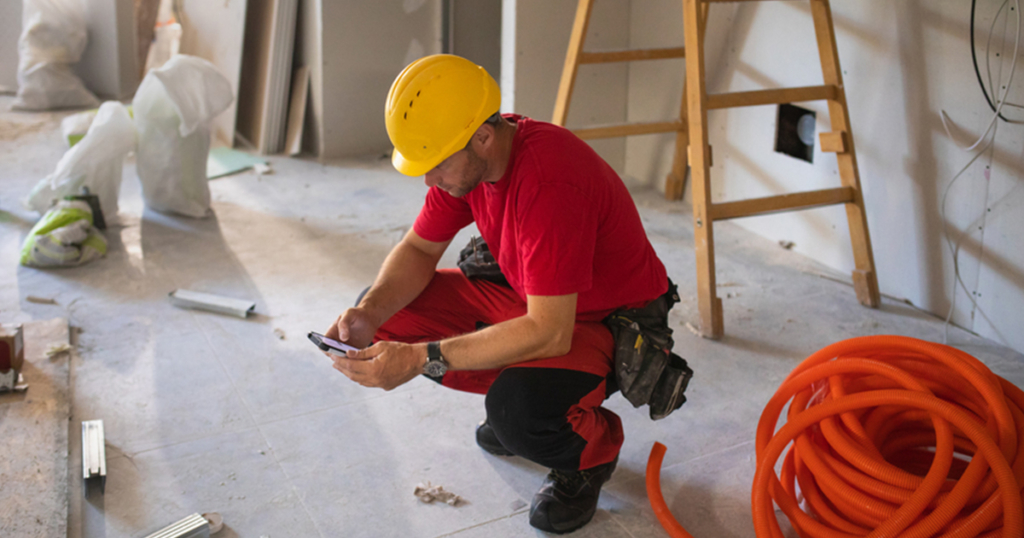 With the right project management software, general contractors can increase their efficiency and expand their workload. The following are some of the best construction estimating software tools available today:
Invoice2go
Invoice2go, a Bill.com company offers digital solutions for invoicing, banking, and more. We also bring our innovative tools to the construction industry. Our estimating software is designed to help general contractors create professional estimates and win bids while on the go.
Additionally, our software allows users to accept upfront deposits, which have shown to win 11% more projects than a general contractor that doesn't take an initial deposit.
These features can even integrate with our other business products, providing a comprehensive solution for construction businesses looking to streamline their estimating and invoicing processes. We help to create cost-effective solutions that can improve every aspect of your business.
Buildxact
Buildxact is an easy-to-use tool marketed to residential contractors. Users can take advantage of a set of core features including:
Bid management
Project scheduling
Equipment costs
Profit insights
Users can also use the built-in tools to coordinate with team members and provide up-t0-date, accurate bids based on item availability and customer requests.
Buildxact integrates with accounting software platforms such as Xero, MYOB, and Quickbooks, providing a comprehensive tool for construction management.
ProEst estimating software
Though a bit pricier than its competitors, ProEst ranks among the most advanced tools in the industry. ProEst estimating software provides a cloud-based estimating solution with a wide array of project management features, including:
Labor and material costs
Supplier pricing database
Bidding management
Reporting
If you're a general contractor, you can leverage the tools included in this software to assemble a professional-looking bid proposal and manage every part of your construction projects.
Users will also gain access to customer relationship management (CRM) tools. The software integrates with multiple accounting platforms, including QuickBooks, MYOB, and Procore.
ProEst is a more expensive option, but the service supports unlimited users and provides quality customer service. This might be an excellent option for growing construction firms, though it's important to note that the software is not specifically designed for the needs of specialty tradespeople, like HVAC contractors.
STACK
STACK provides estimating and takeoff solutions for general contractors of any business size. With STACK, users can use the digital takeoff features to upload plans and create detailed, accurate estimates to secure bids.
STACK also gives users access to prebuilt reports that provide additional project data, including equipment and labor costs and the cost of supplies. This helps business owners to provide more accurate estimates for each construction project.
Specialty contractors will be pleased with the features available to tradespeople that include:
Plumbers
Roofers
Electrical contractors
Landscapers
Masons
STACK's project management software has several plans that cost several thousand dollars per year. General contractors can also build a customizable plan to support their business.
Each plan includes training and customer support. Users can test out this software by signing up for a free trial.
EasyEst
As the name suggests, EasyEst ranks among the most user-friendly construction estimating software platforms currently available. The only catch is that the software must be downloaded and run on a Windows operating system.
Once the estimating software is installed, users gain access to a variety of features that help with the estimating and bid process. You can even organize items and group fields together to streamline putting together professional proposals. The estimating software also allows you to use standard formulas and other features to calculate project costs.
EasyEst is available for an affordable one-time cost. This allows you to install the program on two computers. This might make this estimating software ideal for solo entrepreneurs or small teams of construction professionals.
PlanSwift
General contractors have come to rely on PlanSwift for its digital takeoff and construction cost estimating features. A general contractor can use this software for commercial or residential construction projects, but it also works for subcontractors in various construction trades.
Users can manage construction projects by creating a digital blueprint to more accurately assess square footage, pitches and angles, and other measurements in a matter of seconds, all through an intuitive drag-and-drop interface.
This estimating tool can also be used to provide detailed estimates that include material and labor cost estimates, allowing construction contractors to put together a complete total for their clients. Users can also import data from PlanSwift to your MS Excel spreadsheets, letting them manage labor and overhead costs for various construction projects.
How much does this construction estimating software cost? PlanSwift has several tiers that cost a few thousand per year. Higher tier plans with PlanSwift also provide training to help users better utilize the advanced features.
Projul
Projul offers a variety of pricing plans for its estimating software, though this cost is determined by the number of users you'll have on your account. All plans allow users to manage unlimited projects through a mobile or desktop version of the software.
Projul offers document management tools that allow you to store photos and documents to its cloud-based platform, making it easy to retrieve information from past projects.
General contractors who need an accounting solution will be happy to learn that Projul syncs to and from QuickBooks, making it easier to manage the construction cost estimating process.
Projul's pricing plans are on the cheaper side and depend on the number of users associated with your account. Users can also expect a discount if they pay annually rather than paying once per month.
RSMeans Data Online
Custom home builders may want to take a look at RSMeans Data Online. This software provides an estimating solution that allows users to calculate items like:
Square footage
Labor and material costs
Unit line item estimates
The advanced features allow general contractors to produce detailed, accurate project estimates. The software will alert you to changes in the cost of materials. You can even use the software to manage future projects, using material and labor estimates up to three years in the future.
RSMeans Data Online pricing depends on the features you use, which means that users can customize their plans based on the needs of their company or even their individual construction project. Users can create a free account through the company website and even access a free trial to explore these features.
CoConstruct
CoConstruct provides a comprehensive management solution to general contracting firms, offering project management and task-tracking tools that you can access through the cloud or mobile app.
This software is also useful for those looking for estimating software that integrates with other software applications. CoConstruct syncs with platforms like:
QuickBooks
Microsoft Outlook
Facebook
Google Calendar
Flexible price plans start at a discount, allowing users to learn the basics. From there, users can choose from price plans that cost a few hundred dollars per month.
All plans allow an unlimited number of users, but costs vary based on the number of projects you're actively managing.
Sage
Sage also features multiple solutions for different aspects of your construction business, allowing you to provide detailed estimates and manage the costs and tasks associated with each of your projects.  
For example, Sage allows users to automate their purchase order process to save time and ensure complete accuracy.
Sage also includes a feature called Liberty Reports, which enables you to connect Sage to Microsoft Excel and use it to analyze data and generate reports.
Sage offers flexible pricing, but it's one of the pricier software packages available today. Still, users may find value in the task-tracking and analytical features, providing a full range of business tools for a construction company.
Build something great with Invoice2go
Before starting your next construction project, consider the resources available through Invoice2go. We provide comprehensive solutions to help businesses reach their full potential. Our state-of-the-art tools can help you win more bids and get more done.
Frequently asked questions
Do you still have questions about how estimating software can improve your construction business? Here are some of the most common questions we hear:
Do any construction estimating systems have a free version?
Because of the advanced features of this software, there is currently no free software available for assembling construction estimates. However, most of the options listed above offer a free trial, allowing users to test out these features before committing to the full package.
Does construction estimating software require an internet connection?
Most of today's best software packages require some form of internet connection to access their cloud-based features. The positive side of this is that it allows you to secure bids on the go, using an app on your phone or mobile device.

The exception to this is EasyEst, which allows users to use the program after downloading it to their Windows-based PC. An online connection will still be necessary to download the program.
Can specialty trades (HVAC, electrical contracting, etc.) use estimating software?
Specialty contractors may or may not be able to use some of the software listed above. For example, STACK provides solutions for various construction trades, while ProEst does not support HVAC contractors. Depending on your trade, you may need to investigate estimating software that matches your skillset.