Your expert guide to small business employee training
10 minutes
Believe it or not, your staff members might welcome the opportunity to receive additional employee training! Younger employees in particular are looking for mentors, not managers. As a small business owner, you have a unique opportunity to invest in your employees. In return, you'll help them develop the skills that can give your organization a competitive edge.
Small businesses can provide training to their employees through outside programs, but performing your own training will give you more significant input into the skills and knowledge your staff acquires. If this sounds daunting, then this article is designed to get you started! In it, we'll help you to develop a routine that you can use for years to come.
Types of employee training
Not all training programs look the same, nor do they serve the same needs. The following are some of the basic types of training that you might need to introduce in your workplace:
Onboarding (for new employees)
Safety and compliance
Technical
Products and sales
Workplace policies (e.g., diversity, harassment, etc.)
While you might think that all staff members should receive instruction in each of these diverse areas, some departments will likely benefit more from specialized attention. Keep this in mind as you're creating your program, as this will help you accent the benefit your employees receive.
The benefits of employee training
Training programs demand time and money, which are precious commodities for small business owners. But several ways providing these opportunities can be good for your bottom line.
Lower staff turnover
During the so-called "Great Resignation" of 2021, many companies that successfully retained their existing employees did so by offering educational and advancement opportunities specific to their industry.
The reason is simple: by providing your team members with more than just a paycheck, you help cultivate a greater sense of loyalty and purpose. When you teach your staff members a new skill, they're more likely to stick around for the long term.
Lower business costs
It's usually more cost-effective to employ a single skilled worker than to try to staff multiple positions with unskilled ones.
Training your employees is an efficient use of your human resources, increasing overall productivity and eliminating the "rookie mistakes" you might expect with new employees.
Better recruitment
Small businesses looking to hire new employees might make their training program a part of their recruitment pitch. As we noted, many of today's job seekers are looking for a company that can offer professional development opportunities to grow their skillset and expand their horizons.
How to develop your own training programs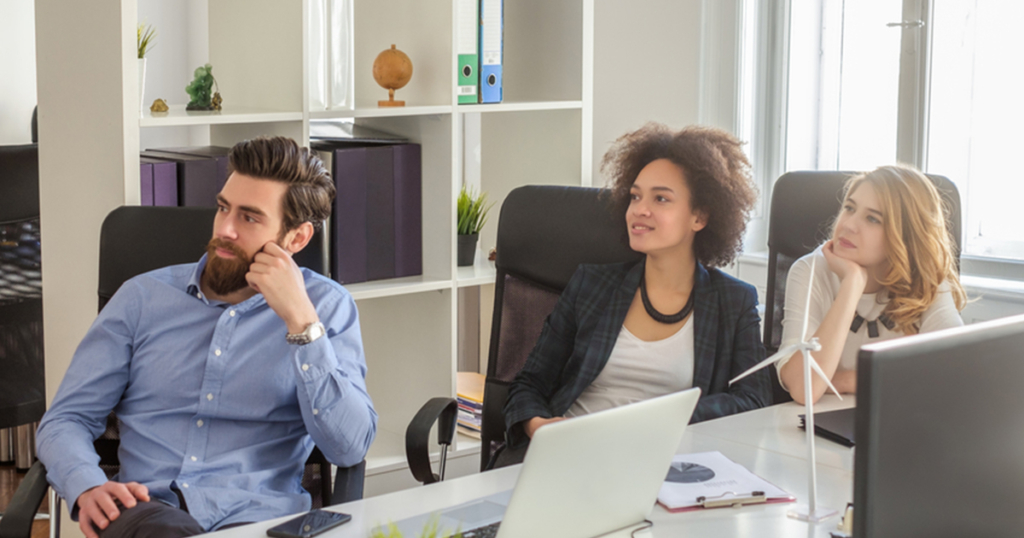 Many employers choose to develop an in-house training program. This allows you to focus on the skills specific to your company and work with your employees on a more individualized basis.
If you're interested in creating your own program, the following guide can be a starting point. Here are the steps to take:
1. Define your goals
First, determine the objectives for your training program. Depending on your industry, you may offer specific opportunities to introduce new skills to your staff members.
For example, web development companies may need to teach their employees a new programming language or software tool. The point is your future goals will largely shape your teaching strategy. They will also help you determine whether your finished plan is successful.
2. Create a training plan
Once you decide on the skills you want to focus on, you're ready to create a training plan. This means that you'll have to make key decisions about things like:
Whether to provide individual training or try to teach a whole team
Which educational resources you plan to use
The evaluation process you'll use to determine when training is complete
Remember, some training plans will be situational. For example, you might require a brief training period when hiring a new employee but then find other training opportunities for your regular workers down the line.
3. Choose the right trainers
Who will perform the training? Professional trainers tend to be the most reliable, but they're also the most expensive. And if you're trying to teach skills that are unique to your company or industry, you might be better off relying on yourself or your own employees to train other members of your team.
Your existing staff might best execute some training plans. It makes sense to have senior employees train new hires, especially if the two staff members work in the same department.
If you're introducing a new topic or an advanced training option, then you might consider running the program yourself for the first time to get a feel for how they work, then hand it over to a trusted senior employee in the future.
4. Devise a schedule
Every training plan needs to have a clear beginning and end. You'll have to find the right balance between the demands of the training program and the day-to-day needs of your business.
Some companies may make these opportunities a part of their weekly (or even daily) routines. Others might need to set aside time regularly to ensure employees receive the proper training.
For new employees, this is a little simpler. Most of your new hires can receive a training session or two as part of their first day or week of their employment.
Again, the amount of training a new employee needs might vary by industry. In some cases, new workers might learn best by jumping right in and receiving hands-on training in the office or on the sales floor.
5. Review and revise
When your training plan is complete, you'll need to review its success and benefits. Did you achieve your training goals? Are your workers more proficient in a particular skill than they were before? Did your employees respond to the training positively, or was the program more difficult than trying to get your kids to eat their vegetables?
Answering these questions will help you identify the strengths and weaknesses of your training procedures, highlighting areas to improve or eliminate in future sessions.
Tips to optimize employee training
How can you get the most benefit from your employee training program? Here are some tips to help you provide training that enriches your small business while you train workers.
Lead by example
Small business owners should seek to create a culture of learning, where training is an expected part of the culture. Pursue learning opportunities of your own by participating in conferences, taking business courses, or reading books on leadership.
This might sound like homework, but it doesn't have to be boring. Choose subjects that you're interested in. Then, find ways to incorporate the lessons you're learning when interacting with your employees, showing them the benefit of specific training options.
Standardize training programs
After creating a training plan, seek to standardize it as much as possible. The training routine should be easily repeatable. Every employee who works for you will receive the same training if you're successful. This is especially true for new employee training, where the contents of your training might include boilerplate forms on workplace safety, explanations of benefits, and company policies and procedures.
The advantage of a standardized plan is that it makes it easier for other employees to teach one another. In some cases, self-motivated individuals might be able to work through a training program at their own pace.
Offer incentives
Even if a training opportunity sounds good to you, your employees might not necessarily jump at the option to take advantage of it right away. Employers might consider nudging reluctant employees in the right direction by incentivizing their workplace training options.
The incentive you offer might depend on the nature of the training itself, but you can consider such things as a small bonus check or gift card for the first five employees who complete the program.
Identify gaps in skill sets
What skills should your training routine focus on? You might start by evaluating the skills represented by your existing employees and looking for ways to shore up any weak points.
If it's been a while since you last trained your employees, it might be time for a refresher course to keep your team's knowledge up-to-date.
Be sensitive to different learning styles
Not everyone learns the same way or at the same pace. Some trainees may be visual learners, while others learn best by doing.
Younger generations may be more receptive to certain communication styles or tools than their older counterparts. Finding the right tools can make your job easier when you seek to work with employees from diverse backgrounds or age groups.
Emphasize cross-training
Sharing skills across different departments can ensure that small business employees possess a wider range of talents, resulting in a more robust workforce.
Cross-training can also eliminate gaps in your company's productivity. For example, if your lead accountant is on an extended vacation, you will have other staff members who can fill in when needed.
Look for outside opportunities
You don't have to do it all yourself. Your business can provide employees with new educational opportunities simply by connecting them to opportunities in the community or on the web. If you're not sure where to start, contact your local Chamber of Commerce or other business contacts. They might connect you to resources and events that you can use to teach your employees.
Better yet, you might find online training resources such as videos, webinars, podcasts, and more. Your employees can work through these materials at their own pace and even share their newfound knowledge with the rest of your staff.
Resist the temptation to multi-task
Rome, as they say, wasn't built in a day. While we earlier emphasized the need to cross-train your employees in different areas, that doesn't mean you encourage them to multi-task. Recent research has suggested that juggling too many things at once has led to a decrease in employee productivity.
How can this impact the way you train your employees? You'll need to intentionally decide to focus on one learning objective at a time and proceed at a pace that lets each employee learn the skills they need to perform their job duties well.
Focus on your employees, not your overhead
Invoice2go, a Bill.com company might not provide resources to help you train your workers, but we can help you manage your time so that you can make your staff a higher priority. Our invoicing, banking, and other small business tools can streamline the way you operate.
Try it out for free. When you sign up for our free trial, you get unlimited access to our resources, tools and templates for 30 days. During that time, you'll see how our innovative platform can revolutionize how you do business.
Frequently asked questions
Every industry has its own requirements about how workers develop new skill sets. But here are some of the most common questions we hear when it comes to teaching your employees new skills:
Who should pay for employee training?
When a particular skill is required, employers will have to foot the cost. In some cases, this means that the business owner will have to pay for the cost of the training itself and the time their employees spend in the program.

However, if the program is purely voluntary (meaning that the employee won't lose their job for failing to finish it), then the cost might fall to the employee.
How much does it cost to train an employee?
These costs can vary considerably by industry, especially in businesses that demand highly-specialized skills. The Association for Talent Development reports that businesses spend $1,252 on employee training on average. This reflects the cost per employee. This is another reason business owners seek to reduce the cost of their programs to get the greatest return on their investment.
How often should you train employees?
Typically, employees will receive some type of onboarding session after they're initially hired. This is usually a one-time orientation process. Once this is complete, you may need to provide additional professional or technical development at regular intervals. For instance, some industries may be required by OSHA (the Occupational Safety and Health Administration) to train employees regularly.