Everything you need to know about PPC marketing
11 minutes
When you run a business, you can't simply create a website and hope your company shows up in your customers' search results. Most businesses take a more proactive approach through pay-per-click (PPC) marketing.
According to Small Biz Genius, data reveals that PPC advertising generates 50% more conversions than other forms of digital marketing. That means there's a lot of power to be drawn from creating a PPC campaign. This guide will introduce you to the basics of PPC marketing and offer some tips for honing your digital ad campaigns.
What is PPC marketing?
Pay per click (PPC) marketing is a marketing model in which an advertiser pays a fee every time a user clicks on their ad content. When you use a search engine, you'll see ads displayed at the top of the search results. These are paid search ads designed to encourage you to click to learn more about the company or product.
Advertisers love the PPC model because it's a relatively cost-effective method of online advertising. In the pay-per-click model, you'll pay for the number of clicks you generate on your ad, which allows you to match this strategy to your marketing budget.
PPC vs. search engine marketing
PPC ads are actually part of a larger set of internet marketing strategies commonly called "search engine marketing" or SEM. Sometimes, the terms "SEM" and "PPC" are used interchangeably, but PPC should be understood as a sub-category of SEM marketing as a whole.
Search Engine Optimization (SEO) refers to the practice (and art!) of ranking organically based on specific keywords.
For example, if your business specializes in athletic wear, you'll want to ensure that your online content includes words like "sportswear" or "running shoes." This approach ensures that your business rises to the top of your customers' search engine results page, helping you reach a wider audience.
Advantages of PPC advertising
If organic forms of search engine advertising can be done for free, why should small business owners invest in paid advertising? The reason is simple: PPC campaigns are more effective than getting discovered organically.
Here are some of the top advantages of PPC ads:
They're cost-effective
A PPC campaign gives you total control over how much you're willing to spend. And since you'll only pay per click, you'll ensure that you're only paying for visitors who are searching for the products/services you provide on your website or landing page.
They produce fast results
If you're a new business, it can take months or even years before you start ranking on most search engine results pages organically. Paid search marketing gives your company a much-needed boost and helps you achieve a greater sense of legitimacy than other search campaigns.
They produce conversions
"Conversions" means that customers leave their contact details or make a purchase after visiting your webpage. Research shows that PPC ads generate 17% of all web conversions, which can give your company a much-needed boost in revenue.
PPC ads focus your marketing efforts
Consider how a PPC ad differs from a billboard by the highway. A billboard can be seen by everyone, but a PPC ad focuses only on those who are already searching for the services or products you offer. This targeting lets you better connect with your audience and produce ad copy that connects with your customer base.
Major PPC platforms
PPC ad placement is all about location. There are several PPC platforms that you might consider using, including:
Google Ads
Google Ads (formerly known as Google AdWords) is arguably one of the most comprehensive pay-per-click platforms in use today. With Google Ads, you can run search ads and shopping ads on Youtube, Gmail, and the Google Display Network.
To run shopping ads through Google, you'll first need to set up a Google Merchant Center account. You can use this interface to upload your products manually, but you can also connect a product feed from your website.
Microsoft Advertising (Bing ads)
Microsoft Advertising works in a similar manner to Google Ads. The tools available through Microsoft Advertising allow you to create Bing ads that are displayed on the Bing search engine, as well as on Yahoo and AOL.
Like Google Shopping Ads, users will need to set up a Bing merchant center account to upload their products and ad content to the network. Bing ads are generally not as effective as Google Ads, but they still may help you connect to a broader audience by increasing visibility on multiple search engines.
Facebook ads
Social media also offers PPC ads, with Facebook being the most notable. The nice thing about Facebook is that they have multiple types of advertisements to choose from. For example, business owners can upload video ads that grab attention and generate more clicks.
Facebook also supports what are known as "native ads," which refers to ad content that blends into the social media newsfeed. This feature allows you to upload blog posts or other content that grabs viewers' attention and ultimately drives users to your company's landing page.
Because Facebook is a social networking site, it's easy to design an ad campaign that targets specific users or even geographic areas, which can help you produce a targeted ad with a high degree of specificity.
AdRoll
AdRoll can actually be used to display content on Google Ads as well as Facebook. But what makes this service unique is that it's a remarketing platform. This designation means that after visitors view your online content, you can retarget them on other sites.
For example, imagine someone clicked on your social media blog post about fair trade coffee. AdRoll ensures that the same user will see your ads on other search engines or social media sites, further enhancing your visibility.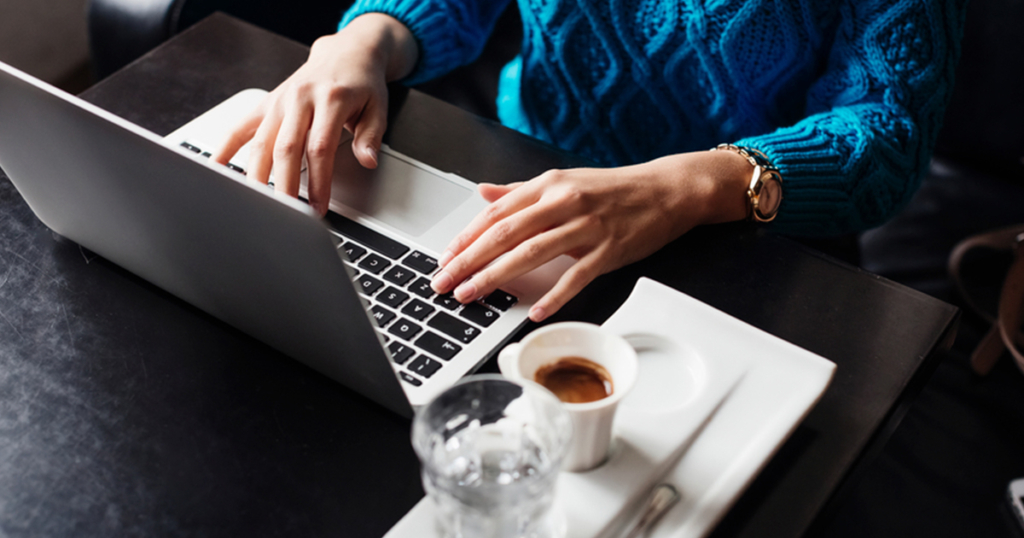 How to create a successful PPC campaign
The most successful PPC campaigns require careful planning. This guide will walk you through the steps of designing your own PPC campaign and help you refine your strategy moving forward.
1. Set a goal
First, you need to set a specific goal for your ad campaigns. This goal will keep you focused throughout the process, and it will also help you evaluate the effectiveness of your campaign once you're through.
Common goals include:
Increasing sales
Generating new leads
Building brand awareness
The first two goals are easy enough to measure. You'll know you're successful when you've made more money or captured new customer data. But you can also determine brand awareness by measuring traffic on your website or seeing more social media engagement.
2. Build a quality landing page
Your "landing page" refers to the part of your website you want visitors to land on when they click on your paid ad. Depending on your goals, your landing page might simply be a particular product page or a sub-section of your online store.
In other cases, you might want to build a quality landing page that encourages visitors to make a purchase or leave their contact details for future marketing campaigns.
Most search engines will deliver a quality score that measures your overall performance, which includes your landing page quality. This setup means that you can improve the quality of your campaign by improving the quality of your PPC landing pages.
3. Choose your campaign type
Next, you'll need to determine what type of PPC campaign you want to run. For example, common types of PPC ads include:
Search ads (text ads that appear on search engine results pages)
Display ads (ads placed on ad networks like Google Ads)
Social ads (paid advertising on sites like Facebook or Twitter)
Google shopping ads (a carousel on the search page that includes your products)
Remarketing (targeting those who have already visited your landing page)
The type of campaign you choose depends on your goals and your target audience. Which digital platforms are your customers more likely to use? This information can help you design a campaign that makes the most of your marketing budget.
4. Separate your ad groups
Campaigns and ad groups can sometimes be used interchangeably, but typically an ad group is found within a broader PPC advertising campaign. PPC campaigns are generally designed to have a specific goal, while your ad groups refer to specific groupings of ads.
If you're trying to sell specific products, separating your ad groups can actually be a useful strategy.
For example, if you sell cosmetic products, you could design multiple ad groups around terms like "eye makeup," "nail polish," etc. These ad groups help you keep your products (and their associated landing pages) organized and can also help you better evaluate the effectiveness of your campaign as a whole.
5. Perform keyword research
Each ad group you create needs to be assigned a specific keyword or a set of relevant keywords. This requirement exists even if you only have one ad group to work with. These keywords are designed to reflect the language your customers might be using in their search queries, which in turn improves your chances of being discovered on the web.
You can also add negative keywords for even greater control. Negative keywords prevent your business from showing up if a customer searches for a particular word or phrase. For example, if you sell men's dress clothing, you can use negative keywords such as "t-shirts" or "casual wear" to prevent visitors from visiting your website.
While keywords should match the content of your site, there's more than one approach to integrating relevant keywords into their PPC campaigns. Common keyword match types include:
Broad match (allows for misspellings and synonyms)
Modified broad match (only triggers for words with a + sign in front)
"Phrase match" (produces results for words that appear before/after the keyword)
[Exact match] (includes the keyword phrase and only close variations)
Again, each of your ad groups will receive a unique keyword, so it may even be helpful to use a variety of terms and phrases to maximize your visibility.
6. Write your ad copy and creative assets
To maximize your campaign, you want to make sure the words and images in your ads resonate with your target audience. Learning the basics of effective copywriting can be a valuable asset to your business and marketing efforts. The good news is that you don't have to be an expert writer to get good results. Here are some essential tips:
Put yourself in your customers' shoes. What is their goal or problem they're trying to solve? Write your copy to reflect what they're trying to accomplish. Focus less on your business and more on the benefits you provide to your customer.
 If possible, use numbers and statistics to catch your readers' attention.
Put your best copy first. When writing your ad, always start with your most important and compelling messages to your customers.
In addition, you want to make sure that your ad images look great if you're using any. Canva offers free tools that can help you design an attractive ad. If you have a bigger budget, you can use sites like Upwork to hire a freelancer to create a professional design for your campaign.
7. Measure and adapt
As with any marketing campaign, you'll want to spend time evaluating how well your pay-per-click ads have performed. This analysis is actually one of the benefits of online advertising since it's easy to measure how many clicks you've received.
If you've used Google Ads, for example, you can use the Google Ads interface to see information such as your ad rank and other important details.
Other search engines will provide you with similar tools, delivering a quality score based on your keyword relevance, your landing page quality, and your overall performance. Google Analytics can likewise be used to evaluate the traffic on your website or landing page.
Before you place your next ad, spend some time reviewing this data. It may be that you can adjust your ad placement or ad copy to increase your rankings and the overall success of your PPC advertising strategy.
Supporting small business success
Invoice2go offers tools that can be used to simplify your admin and make it a breeze to invoice and accept payments. Try our tools for free. Sign up for a 30-day trial, and see how our innovative tools can transform your business.
Frequently asked questions
Here are some of the most common questions about PPC campaigns:
Which search engines support PPC ads?
Google Ads allow your company to appear in the search engine's sponsored links. This coverage includes the main Google search engine, Gmail, and Youtube. Microsoft advertising ensures that your ads appear on sites like Bing and Yahoo.
What is the cost per click for a PPC ad?
There's actually no one-size-fits-all pricing model for this online advertising model. In fact, this often occurs via an "ad auction," which determines your eligibility for displaying paid ads.

With Google Ads, for instance, you can set a maximum "bid," which establishes an upper limit of what you're willing to spend overall. With that being said, most Google ads cost around $1 or so per click.
What are ad extensions?
Ad extensions are links that give additional information about your business. This information might include your phone number, physical location, reviews, or links to other pages on your website.

These extensions can provide additional information on your PPC ads and can help you provide additional information to your target audience.