How to choose the right payment methods for your business
9 minutes
These days, there are more ways than ever for you to get paid as a small business owner, from tried-and-true cash and checks, to newer methods like Venmo and Zelle, and everything in between.  
More payment options can mean more opportunities to grow your business. In a 2022 survey conducted by Thryv and Payments Dive, 73% of consumers said that payment options impact their decisions when comparing two similar businesses. Customers increasingly want digital and contactless methods–and more small business owners are meeting the demand. 
The overall preferred option today? Card payments–including credit, debit, and prepaid cards–have taken a clear lead.
But should you adopt these options just because your customers might prefer them? What about fees and security? In most cases, we think these payment methods could benefit small business owners. Fees can be minimized and deducted at tax time. There's also growing evidence that offering electronic payments can speed up the checkout process and provide additional security, which could attract new customers.  
We'll zoom in on some of the most popular options to help you figure out which would best connect with your target market, so you can create a seamless, stress-free customer experience.
Want to see how Invoice2go can expand your payment options and help you get paid faster?
The most common types of payment methods
Here's a breakdown of some of the most common payment methods, along with the pros and cons of accepting each:
Credit and debit card payments
A credit card lets you spend against a line of credit that you need to repay according to the card issuer's payment terms. A debit card, on the other hand, lets you spend against a bank account where you've already deposited funds. 
Pros of accepting card payments: 
Customers may spend more when paying by card, and high credit limits enable them to make large purchases. Many shoppers are also incentivized by credit card reward programs. 
Research shows that consumers prefer to pay by card, so accepting card payments can make them more likely to do business with you.  
Credit card fees and finance charges can be tax-deductible.
Accepting card payments can be a competitive advantage, acting as the deciding factor between for customers to choose your business over competitors
Accepting card payments signals to customers that your business is legitimate. It fosters a sense of trust that can help increase likelihood of purchase.
Cons of accepting card payments: 
Although credit card processing fees and finance charges are tax-deductible, you'll need to pay them upfront. 
You'll need to open a bank account that allows your business to accept card payments, known as a merchant account. 
Card payments open up the possibility of chargebacks–when a dissatisfied customer asks their credit card company to reverse a transaction, rather than directly requesting a refund from you. 
You may be on the hook for fraudulent transactions, which can impact your business. Here are steps you can take to protect your small business from fraud.  
ACH payments
Automated Clearing House (ACH) payments allow you to transfer money between bank accounts. 
Pros of accepting ACH payments:
ACH transfers are often free. 
Their automated nature makes them ideal for subscriptions and other recurring charges.  
Unlike wire transfers, ACH charges are reversible. But they need to meet certain criteria and happen within five days of the transaction. 
Cons of accepting ACH payments:
To receive ACH payments, you'll need to collect and verify your customer's bank account info, which could require some back-and-forth. 
Unless your bank offers same-day ACH payment processing, most ACH transfers take 3 to 5 business days. That's because banks typically process ACH payments in batches, accepting payment requests at specific cutoff times.  
There might be limits to the amount of money you can transfer in a day and/or month.
In general, a bank needs to be based in the US to send and receive ACH payments–not all overseas banks have the infrastructure for them.
Cash
Cash remains the simplest and most direct form of payment.
Pros of accepting cash payments:
Every customer can use it.
Businesses pay no fees to accept cash payments.
A cash payment is yours as soon as the customer hands it to you. 
Cons of accepting cash payments:
Many customers don't carry enough cash to make large payments.
Storing cash on your premises is a security risk. 
Cash can only be used for in-person purchases.
Counting cash and making change can be time-consuming.
Something to consider: Cash use has dipped during the pandemic, according to the 2022 Diary of Consumer Payment Choice. The researchers traced this trend to shifts in consumer behaviors, including a drop in the percentage of those who preferred to pay by cash–which corresponded with a rise in the percentage of those who preferred to pay by credit card. 
Online payments
With online payment platforms like PayPal and Venmo, you can send money and make payments from your computer or mobile device. 
Pros of accepting online payments:
They can help you get paid faster. While waiting for a check from a client can take weeks, you can get paid online instantly or 2 to 3 business days at most. 
Customers can easily make purchases from you, regardless of their location, or the time of day.
They don't require you to hire cashiers or other employees to manage sales. 
Since many payment service providers let you set up automatic recurring payments, they can make running a subscription or membership-based business easier.  
Cons of accepting online payments:
Like any payment method, they carry security risks, including hacking, fraud, and identity theft. 
As software-based solutions, online payment platforms can be susceptible to glitches and downtime.  
You'll need to pay processing fees, which tend to hover around 2% to 3%, plus a couple of cents, per transaction. Some platforms also charge monthly fees.
Online payment services might be a valuable addition to your sales process, especially if you're an eCommerce merchant. Invoice2go allows you to securely accept online debit and credit card payments. 
Checks
Today, many consumers don't even own a checkbook. But checks still have their place, depending on the type of business you own.
Pros of accepting checks:
There are no convenience fees associated with checks.
They remain a common B2B payment method. If your business gets paid by other businesses, accepting checks could make them more willing to work with you. 
Cons of accepting checks:
Checks, like any payment method, aren't 100% secure. The US has been experiencing a wave of check fraud since last August. 
Checks are usually sent by mail, which can take 3 to 4 days. Then, they usually take 1 to 2 days to clear into your bank account after being cashed. All of this processing time can decelerate your cash flow.
Users must purchase paper checks.
You run the risk of checks bouncing due to customers having insufficient funds, or committing fraud–and collecting payment from them can be a hassle. 
Checks make the most sense if your business allows customers to pay by mail and/or make large purchases.
Gift cards
Customers can use gift cards issued by your business just as they would cash. 
Pros of accepting gift cards:
First-time customers who shop at your store because they've received a gift card could become repeat customers. 
Gift cards can help improve your cash flow, allowing you to get paid before delivering products or services. 
Cons of accepting gift cards:
With gift cards, you might need to be a bit more diligent about bookkeeping, since you can't record them as revenue until after a recipient redeems them.
Adding a gift card system could create more opportunities for bugs (read: frustrated customers).   
Offering gift cards can help drive new business. For instance, an existing customer might give gift cards to friends or family members who wouldn't have known about your business otherwise. 
Digital wallets
Digital wallets are mobile apps that store users' payment details and let them pay using their smartphone–no cards needed. Some of the most common digital wallets include Venmo, Cash App, Google Pay, and Apple Pay. PayPal also has a digital wallet function. 
Pros of accepting digital wallets:
Cons of accepting digital wallets:
There are fees associated with digital wallets. For some digital wallets, they can cost the same as those you'd incur if the customer had used a physical card, according to CardFellow's blog. But for other digital wallets, there can be additional fees. 
Digital currency
Digital currency, such as Bitcoin, is a newer form of currency, publicly traded on decentralized networks known as blockchains.Some companies are adapting to the crypto trend by allowing customers to pay using Bitcoin or other forms of cryptocurrency.
Pros of accepting cryptocurrency:
Accepting cryptocurrency payments could attract younger, tech-savvy customers.
Since cryptocurrency isn't tied to specific countries, you can accept crypto payments from around the world.
Cryptocurrency fees are lower than those of many payment processors, according to the US Chamber of Commerce, with some Bitcoin exchanges charging less than 1% per transaction. 
Cons of accepting cryptocurrency:
Cryptocurrency, though gaining traction, still hasn't achieved mainstream adoption. It's likely that only a small percentage of your customer base uses it to make purchases. 
The value of cryptocurrency is unstable.
Business owners must regularly convert crypto into cash.
If you accept crypto, you may need to pay a capital gains tax, according to Inc. 
If you're looking to position your business as cutting-edge, you might want to consider accepting digital currency. But most small businesses are probably better off waiting until adoption of crypto is more widespread, and just keeping an eye on it for now. 
The bottom line
Whatever payment methods you settle on, remember that the goal is to make it easy for customers to pay you. That means you might want to consider letting them choose from a variety of options. Invoice2go allows you to offer multiple payment methods and can even send automated reminders, so your customers pay their invoices promptly.
Ready to stop waiting on late payments, and let your clients pay you right from your invoice–their way?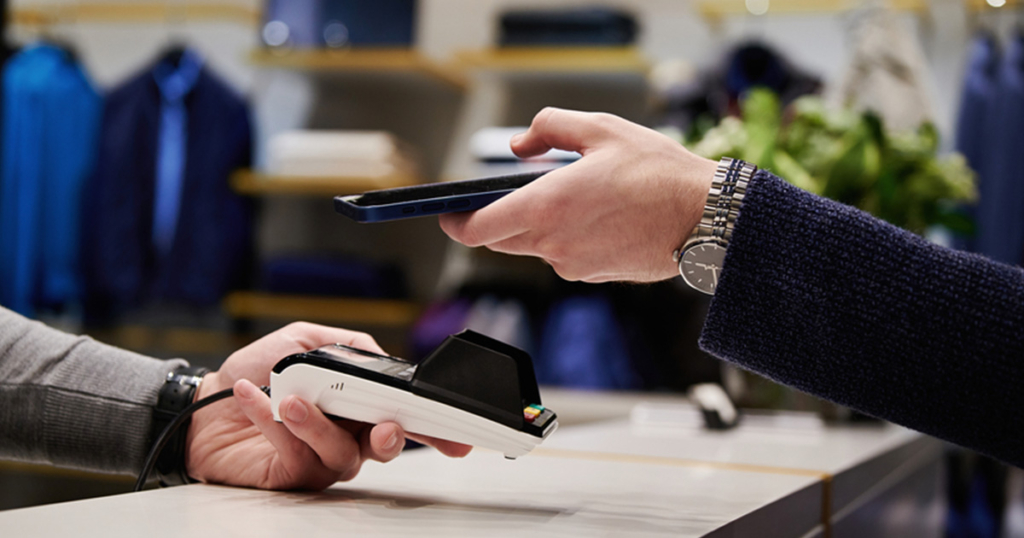 Frequently asked questions
While payment methods change all of the time, here are answers to some of the most common current questions regarding forms of payment:
Which payment method removes money from your bank account immediately?
Debit cards are the fastest form of payment since they remove money directly from a customer's bank account. ACH transfers into your bank account can also be fast, but even an ACH direct debit might not happen until the next day. PayPal transfers are fast, too though money is deposited into your PayPal balance rather than your checking account.
Which payment method helps you reduce fraud?
No payment method is without flaws, but credit cards are generally regarded as offering the best security and protection for in-store and online purchases. Merchants will have to pay a processing fee for every transaction, but this can be worth it to benefit from the fraud protection offered by major credit card issuers.