10 keys to success in business
Everyone dreams of achieving success overnight. But as the late Steve Jobs once noted, "Most overnight successes took a long time."
Running your own business takes determination, and it takes guts. According to data from the U.S. Bureau of Labor Statistics, most businesses fail within their first five years. Only one in four businesses make it to the 15-year mark.
So how do you achieve success? There's no one answer, of course, but there are some habits that you can adopt to make your company more fruitful. Here are 10 keys to success in business that can help your company grow and help you reach your potential.
1. Successful business starts with a plan
One of the most important keys to success is a well-researched business plan. A proper plan will set the tone for everything you do in business and be the yardstick by which you measure success.
Additionally, if you ever need funding for a new business project, your lender will likely ask to see your plan before approving a loan.
What should my business plan include?
Business plans generally include the following features:
Executive summary (highlights key points of the plan)
Business description and structure
Market research and strategies
Management structure and personnel
Financial documents
Appendix (optional, used to highlight additional data about your company)
Writing down your plan makes your business idea concrete and will help you determine the course of the rest of your business activities.
Tips for a successful business plan
A business plan is one of the most important keys to business success. Here are some tips to get the most from your plan:
Plan for five years into the future
Be specific but also concise
Back up your plan with careful, up-to-date research
Get input from friends or another business owner
Don't be afraid to refine your plan as you go. New businesses especially will need room to adapt and evolve as the company grows, so your plan should be flexible enough to make these types of adjustments.
2. Stay organized
Being a business owner demands a certain collection of organizational skills. For most business owners, this includes creating a daily to-do list to help them stay focused. There are many project management apps and services that can help you with this, though some business owners prefer the satisfying feel of marking something off on a piece of paper.
Staying organized also means thinking beyond the day-to-day. Organization means that you have a clear system for keeping business records, maintaining your books, and keeping track of your cash flow. Staying on top of everything is a large part of business success.
It's also helpful to distinguish between your short-term goals and long-range plans. By staying organized, you'll be better equipped to divide and conquer, meaning you can break up larger projects into smaller, more manageable tasks that can be completed over time.
This segmentation will help you stay focused and keep you from feeling overwhelmed by the sheer number of tasks that accompany small business ownership.
3. Keep detailed records
Your accounting and bookkeeping practices won't help you achieve success on their own, but they can save you from a major business failure.
Maintaining detailed records of your company's finances will ensure that you always understand exactly where you stand, financially speaking, and these records will also help you when it comes time to pay your taxes.
Having the records to back up your income and expenses will make it much easier to report your earnings, receive deductions, and comply with all existing tax codes.
Records that every business owner should keep
What kinds of records should business owners be saving? Here are a few of the top accounting and business records that you should hang onto:
Bank statements
Invoices
Office supply expenses
Vehicle/mileage expenses
Marketing expenses
Receipts for other business-related expenses (meals, travel, etc.)
Past tax returns
The good news is that having electronic copies of many of these records (such as electronic invoices) can help you maintain good records without cluttering up your workspace.
4. Know your audience
Many entrepreneurs make the mistake of going right to the stage of developing a final product or service. Sure, it's great to be able to showcase your business idea through a final, fully-realized product, but it's only a valuable idea if it connects with the needs of your target market.
Successful business people spend time learning as much as they can about the needs, habits, and desires of their potential customers. Instead of asking "How can I sell this product?" start by asking "What do people need?"
Asking this question will help you focus on the needs of your customers and not just the features of your product. This approach might require you to do some preliminary research before moving forward with your idea, but it can help you refine your strategy so that you'll have a greater shot at business success.
Identifying your customers' needs will also help you develop a clear marketing strategy. First, it will help you highlight product features that your customers are likely to find desirable. Second, it will help you determine what marketing methods work best for your target audience (social media, email, direct mail, etc.).
5. Stay flexible and creative
With luck, your first business venture will be a roaring success. But if you're like most entrepreneurs, you won't succeed right away.
One of the most important keys to business success is also the most painful: rejection. But the most successful people experience rejection, learn from it, and use it as an opportunity to grow.
For example, when you debut your initial product to your friends or family, you might receive a lukewarm reception. Try to listen to them and invite constructive criticism that you can use to refine your process.
You may discover that by listening to others, you'll develop creative ideas that meet specific commercial needs. Opening yourself up to new ideas isn't just a good startup strategy but one of the best long-term positive habits that you can embrace if you wish to succeed in business.
6. Take calculated risks
Ever heard the phrase "the paralysis of analysis?" Any business owner will need to spend some energy thinking through analytical issues and financial plans, but if you're not careful, you could spend so much time thinking about the worst-case scenario that you neglect your company's ultimate goal.
Research well. Learn as much as you can about your industry, your customer base, etc. But don't be afraid to be bold and decisive. Sometimes this means you'll need to spend money to fund new ideas or to invest in a new piece of technology.
The point is simple: Taking calculated risks can help you maintain momentum. Not every risk will lead to success, but as we noted in the other keys, even failures can be learning opportunities.
It's true that you may lose money in the process. This possibility is why it's important to do as much research as you can rather than jumping blindly into the dark. Remind yourself that success comes from navigating a path of risks and rewards and that your risk today can lead to tomorrow's reward.
7. Learn from your competitors
It's unlikely that your business idea is so rare that others aren't providing similar products or services. Many successful businesses seek out their competitors, whether they be other small businesses or even large corporations.
Specifically, look at details like:
What key service do they offer?
What is their marketing strategy?
How do they navigate tough situations?
What are their customers saying in their online reviews?
How much money do they earn?
For example, restaurant owners might look at other local restaurants to better understand the success of their competitors and also explore ways that they might set their own business apart from other small businesses.
Remember, you don't have to duplicate everything that they do in order to succeed. But one of the keys to business success is learning from successful peers and finding ways to adapt their strategies into your operations.
8. Focus on great customer service
One of the greatest keys to success in business is also one of the oldest: Put people first. The most successful companies understand it's imperative to stay focused on the needs of the customer.
This truth might initially sound obvious, but you'd be surprised at how easily new businesses can get distracted by their administrative details and daily to-do list and neglect customer service.
You can help achieve business success simply by putting your clients first. Chances are that your customers will remember the connection they made to your company and be more likely to come back rather than visit a competitor.
This retention is all the more important as we enter the age of digital communications. If your business has an email address or social media account, make sure to check your messages daily (including your spam folder). A successful business will respond to customer inquiries within 24 hours or even less.
9. Successful businesses hire the right people
In the early days of your small business, you might be totally fine serving as a solo entrepreneur. But as you start making money, your needs will grow, and you'll find that you can't do it all.
One of the keys to business success lies in your hiring process. You'll need to create a clear path for onboarding and training new workers and ensuring that they understand the goals of your small business and the services that you provide.
Admittedly, it will cost more money to hire employees. But a successful business owner understands that the right workforce can bring great advantages, such as:
Sharing the workload so you can focus on growing your small business
Bringing new, creative ideas to the table
Possessing business skills that you might lack
Helping you expand your small business or a key service
In other words, your team can be one of your greatest assets, helping you achieve business success by handling administrative tasks so you can stay focused on long-term goals.
Of course, hiring the wrong people can have the opposite effect and may even jeopardize your company's public reputation. This possibility is why it's important to create a clear hiring and firing policy so that you'll have recourse when put in tough situations by an employee who isn't pulling their weight.
10. Find the right balance between work and rest
Here's what your business coach might not tell you: It's not all about making money. If you're not careful, you might become so focused on your business success that you neglect the other important things in your life, like family, friends, and your own mental health. Achieving business success won't matter much if you're too stressed out to enjoy it.
No matter what type of business you're in, make it a point to take a day off. Turn off your cell phone if you have to, and find something to do that's completely unrelated to management or your cash flow.
You'll likely discover that you're more successful when you're rested. Taking time away can be something of a reset button for your emotions and help you return to work refreshed and more willing to engage in the world of business.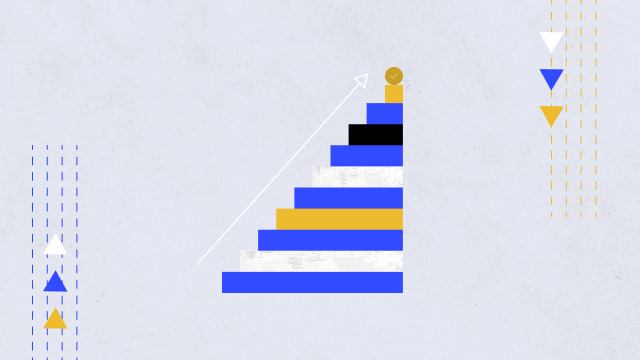 How Invoice2go can help you achieve business success
These keys to business success can help you create a business strategy that maintains and grows your business. But along the way, you may find it helpful to lean into technology as a way to help your business succeed.
At Invoice2go, we provide state-of-the-art services designed to help small businesses connect with their clients and get paid faster. For example, our invoicing software lets you create invoices that reflect your small business and get paid electronically, so you never have to worry about outstanding bills.