How to accept credit card payments on Invoice2go in 3 simple steps
Did you know that you can easily accept credit card payments with Invoice2go Money Card Payments? Today we're going to show you how, step by step.
Word on the street with many business owners is that card payments are too complicated and expensive to accept. However, we have reason to believe it's just a bad rap. In fact, card payments can be pretty helpful for your small business.
How, you ask? Here are just a few ways card payments help set you up for success:
155% of consumers now prefer to pay by card. Accepting this payment method allows you to reach more customers. Customers also tend to spend more when paying by card.
You can securely accept card payments directly from invoices that you send over email or SMS. This often means you'll get paid faster, especially since card payments typically clear into your bank account within 2-3 business days. Faster payments = better cash flow.
There are strategies to reduce and avoid fees. For example, you can pass card fees on to customers or deduct them at tax time.
Curious about giving card payments a shot? Here's how to set them up in 3 easy steps.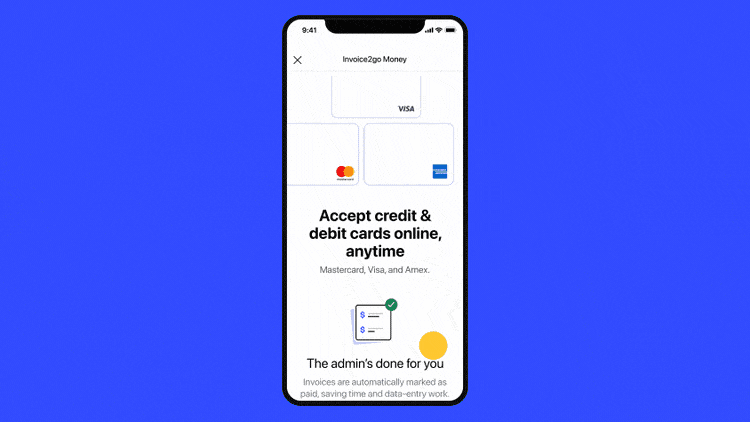 Step 1: Set up Invoice2go Money Card Payments
To start accepting MasterCard, Visa, and American Express, go to client payment options. Tap Set up where it says Card payments towards the top of the screen. 

Next, you'll see some of the ways card payments can help you simplify admin and get paid faster. Review the information, then scroll down to the bottom of the screen and tap Apply now. 
After that, you'll be asked a few quick questions as part of a security check–to ensure no one fraudulently applies on your behalf. Fill them out, click submit, and voila! Your application will be reviewed shortly!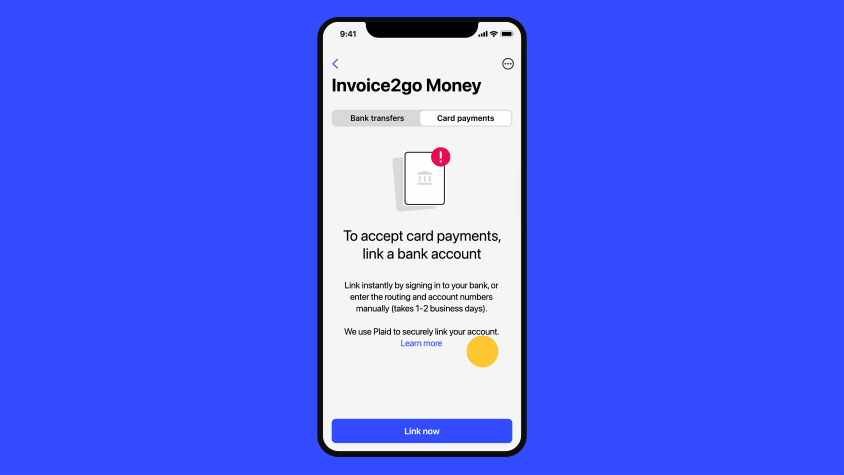 Step 2: Link your bank account
Congratulations–you've been approved! Now it's time to securely link your bank account with Invoice2go Money Card Payments, so we can transfer funds from card payments into your account.

Before you start this step, you'll want to be sure you have your bank login credentials handy as well as your bank routing and account number, just in case.

Rest assured, your information will be kept private and secure. Invoice2go uses Plaid to safely and securely connect your bank account. Plaid is trusted by other leading technology companies like Venmo, Stripe, and Expensify to securely connect apps and banks.

When prompted to link your account, tap Link now. Then, tap Continue. You'll then see a screen from Plaid asking how you'd like to link your bank account. Choose from Instant or Manual.

Instant works with most banks and enables you to quickly and securely link your bank account by entering your bank log in credentials. Plaid encrypts any credentials or account information you enter while linking your bank account. This information is encrypted end to end, so Plaid and Invoice2go will never be able to view your bank login ID or password.
If you're not able to set up with Instant–no worries! Manual is also easy to set up. Here you'll be asked to enter your bank's account number and routing number. You can usually find this on the bottom of a check or in your bank's online portal. Keep in mind that your bank information is encrypted end to end, so connecting is private and secure.

After you enter your account and routing number, you'll receive two small deposits into your bank account over the next 1-2 days. Once you receive those deposits, enter the amounts into Plaid, and ta-da! Your bank account is linked and you're set to accept credit and debit cards.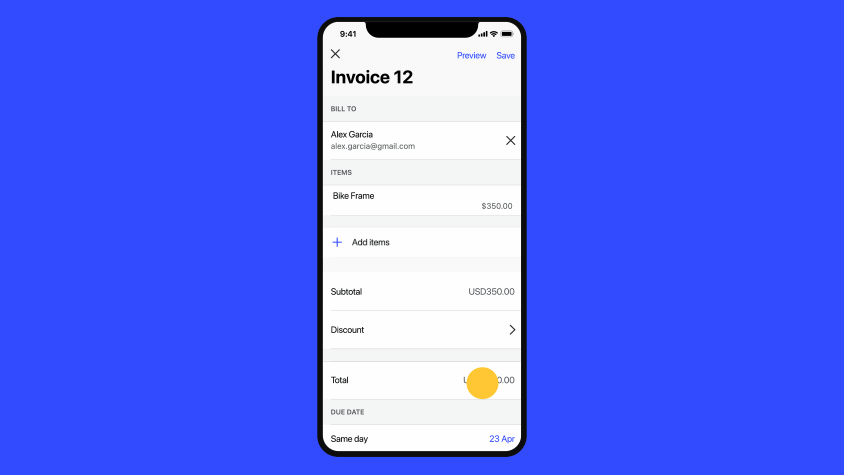 Step 3: Start making money moves!
Now the fun part: getting paid. With card payments enabled, customers can now pay you online directly from your invoices. Invoice2go automatically matches your payments with your invoices and estimates, so you'll spend a lot less time reconciling payments.

Don't want to accept card payments on every invoice? No worries, you can enable and disable this payment option as you'd like within the individual invoice settings.

Turn on tips to give your customers the option to thank you for your hard work. You can also choose to pass card fees on to your customers. Just be sure to check your local laws to see if it's possible to pass on those fees in your area.

Looking for more tips and strategies for accepting card payments? Check out this article for more helpful advice or view our Inovice2go Card Payments FAQ. Having trouble? Head to our support center. We've got you covered.