The winners of the 1st-ever Australian Tradie of the Year awards
Celebrating our kick-arse tradies
Last week was full of excitement. We enthusiastically announced the winners of the first-ever Australian Tradie of the Year Awards. This nationwide grassroots campaign celebrates excellence in one of our most diverse, dynamic, and important industries. 
From carpenters in Queensland and electricians in Tasmania to cleaners in Victoria and landscape gardeners in Western Australia, Invoice2go, a Bill.com company, was inundated with hundreds of inspiring entries from men and women of all ages in these four categories:
Male Tradie of the Year
Female Tradie of the Year
Community Tradie of the Year
New to the Trades`
We were blown away by the quality of submissions. Our expert judging panel including Rob Palmer, known from Better Homes and Gardens and Dancing With The Stars, and Invoice2go's own CFO, Mark Bartels, aided in carefully choosing winners based on industry commitment, business acumen, and community spirit. Their work was no easy task.
Especially as businesses across Australia grapple with an unprecedented challenge, we want to take time to celebrate our tradies and to hear their voices. Let's meet the winners of our inaugural Tradie of the Year Awards:
---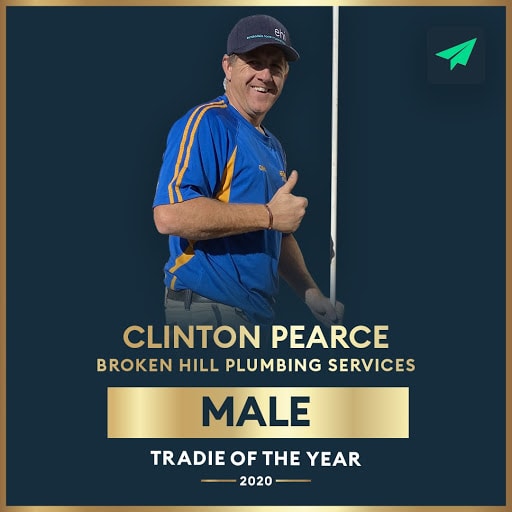 MALE TRADIE OF THE YEAR: Clinton Pearce, Broken Hill Plumbing Services
"After starting out as a sole trader a few years ago, building up the business to the point where I could put on two apprentices was a very proud moment."
If you ask Clinton what his customers love about his service, he'll tell you, "I'd like to think they'd say I'm punctual, my work is neat – and I'm sure they love my sense of humour too." He's known for his great eye for design and love for helping customers create and bring to life a vision for their home or business.
Clinton prides himself on the relationships he's made in both the industry and the broader community. He regularly travels up to 400 kilometres into the bush from Broken Hill to check on socially isolated customers that don't have access to local plumbers. "You meet some really interesting characters out here," laughs Clinton.
He explains that he's not just concerned about his bottom line: "Some of our older people are alone. It's great to make them feel safe and secure in their homes, but it's not always great for business." He continues, "My grandparents would have killed me if I charged for a quick inspection, so I still can't do it. I think I should start trading for baked goods soon."
Despite sacrificing some profits, Clinton has successfully grown his business over the past few years. After starting out as a sole trader, he built up his company to the point where he could bring on two apprentices – something he's especially proud of.
"It's so rewarding to share with them the tricks of the trade – making sure the next generation is skilled up and proud of their work," he says. "There are limited job opportunities in the outback, so it's one of my greatest joys is to provide secure jobs for young people." He wants to ensure local youth have options other than the mines or relocating to cities.
Our judges were impressed by Clinton's dedication to his craft and unparalleled eagerness to continue learning. He's also clearly committed to aiding members of his community – both young and old.
Commenting on his winning, Pearce said: "I'm thrilled to be selected as the Male Tradie of the Year. Winning this award helps me grow my business' presence – both locally and online – and is a great opportunity to spotlight working in Broken Hill. To provide some recognition for my business and others in the area."
---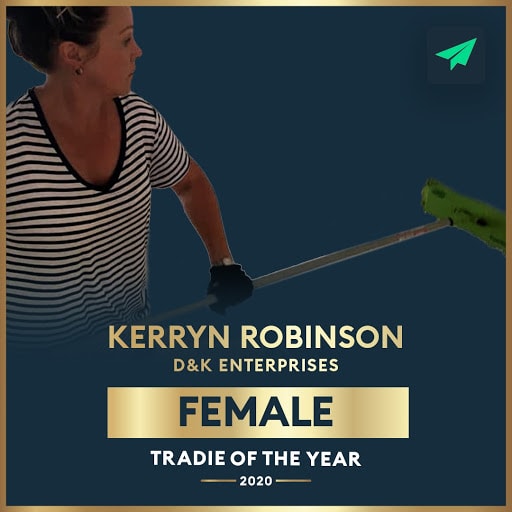 FEMALE TRADIE OF THE YEAR: Kerryn Robinson, D&K Enterprises.
"Getting recognition for a business that I started out of necessity to provide for my family, and in an industry that, generally speaking, doesn't receive a lot of recognition, really means a lot."
Kerryn decided to start her cleaning business to have greater freedom in her lifestyle. She explains, "I needed to be free to be with my family, my horse, and to volunteer at my church. Owning my own business allows me that lifestyle."
She loves bringing a highly appreciated service to her tight-knit community and now runs her business primarily on referrals. She credits her solid reputation and hard work as reasons for her continued success.
"I love to see the satisfaction on our clients' faces when we have gone beyond their expectations," she tells us. "My clients love my work. I am consistently thanked and even paid more than I invoice them for."
Kerryn proves that, with the right attitude, there is little to stop you from claiming your independence and enjoying the benefits of running a small business. She gets genuine joy from helping her clients and has an infectiously positive attitude. She's a fantastic role model for anyone looking to bring their goals to life.
When asked about winning Female Tradie of the Year, she commented, "To be honest, winning this award was such a surprise, but it means so much to me. Getting recognition for a business that I started out of necessity to provide for my family, and in an industry that, generally speaking, doesn't receive a lot of recognition, really means a lot."
---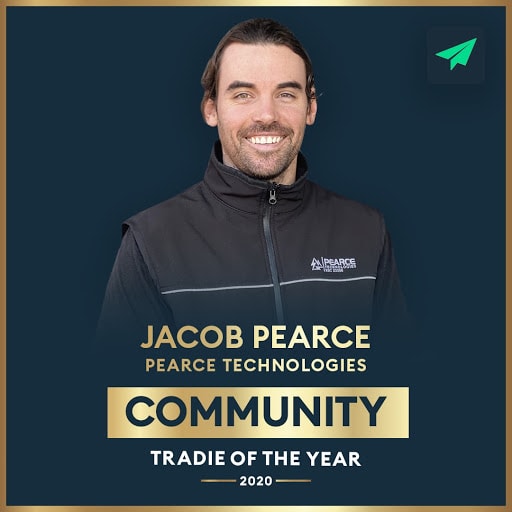 COMMUNITY TRADIE OF THE YEAR: Jacob Pearce, Pearce Technologies.
"Community is everything that we are as human beings. From the dawn of time, we have always been a tribe of people. To have a safe, strong, understanding, and reliable community means we can enter each day knowing that we are not alone."
At 25, Jacob started his electrical company and slowly built it from the ground up. Initially a side business, he worked weekends, after hours, and RDOs until he grew his client base large enough to make it his full-time job in 2017.
However, that same year, Jacob also faced two harrowing moments. The first was while at a party in a 24th-story Melbourne apartment, he tumbled over the balcony rail, fell 22 stories, and crashed onto a restaurant's roof below.
He woke up days later from an induced coma with pierced lungs, a fractured pelvis, and fractured arms – it was miraculous he was alive.
Recovery was a time of self-reflection. Jacob realized how much he had battled with inner turmoil. He felt the 30-meter fall could have been avoided if he had been able to better take care of his mental health.
Then, on Christmas Eve 2017, Jacob got a call and discovered his cousin had taken his life. While devastated, he resolved to make a difference in Australia – he had survived for a reason. Soon after, he teamed up with ALIVE, whose mission is to end youth suicide.
To fundraise for this organization, Jacob walked 375 kilometres from Barham, NSW to Melbourne in 10 days. Although his original goal was to raise $10,000, after 4 months of campaigning, he collected a massive $90,000.
On completing his long journey to Melbourne on foot, he was greeted by an enthusiastic crowd of 300. He says this was the greatest day of my life.
This money Jacob raised has positively impacted 50,000 young people in Victoria and earned him a position as a National Fundraising Manager for ALIVE. He explains, "I currently manage my electrical company 4 days per week, and I focus my energy on my organization every Wednesday. This creates a good balance, and I can concentrate better." He even adds, "I actually invoice ALIVE through my Invoice2go app."
Jacob now feels he's been given a second chance. His business currently employs a fully-qualified electrician, 2 apprentices, and a subcontractor. He's committed to keeping his business family and community-oriented. He continues raising funds for youth resilience-building mental health programs.
Through continued efforts, Jacob has raised hundreds of thousands of dollars and positively impacted the lives of many school children, teenagers, and young adults across Victoria. The Community Tradie of the Year Award is not for himself, he says, but everyone in his community.
"Winning the award is a huge honour – for a small business, recognition like this is really important," said Pearce. "I really appreciate the opportunity Invoice2go has given me, through these awards, to tell my story and talk about something incredibly important – mental health. This makes me proud of what I've achieved, and gives me renewed vigour for the future – both as a tradie and a campaigner."
---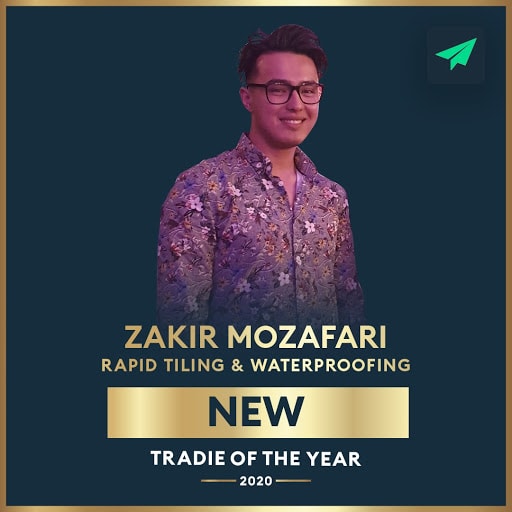 NEW TO THE TRADES: Zakir Mozafari, Rapid Tiling & Waterproofing.
"The best thing about being a tradie is that you feel free, happy, and never bored. It's always challenging, and that motivates you to be better."
Zakir Mozafari shared an inspiring story about the potential of a career change. Having felt unfulfilled in his previous position as a pizza maker, he has embarked on a career in the trades that provides him variety, fulfilment, and joy. He explains, "Pizza making wasn't the job I wanted to do for the rest of my life. I always had the interest to start a trade business."
Based on his passion and dedication to his craft, it's clear he's on the path to a long and exciting career in the industry. Zakir shared that, "The best thing about being a tradie is that you feel free, happy, and never bored. It's always challenging, and that motivates you to be better."
Zakir took a chance, embarked on a new profession, and hasn't looked back since. Zakir said: "I'm absolutely delighted to have won this award. It's going to help my business in so many ways. It's fantastic encouragement and motivation to keep dedicating myself to my craft. My goal is to be the best tradie I can be, and this award proves that turning my back on pizzas to learn a trade was a great decision!"
Celebrating our kick-arse tradies
We love our tradies – they've always been close to our heart at Invoice2go.
Mark Bartels, our Chief Financial Officer, commented: "As a company founded in Australia from a family of tradespeople, the Australian trades industries are part of our heritage. During this challenging and uncertain time for many Australian businesses, we felt it was important to champion them. We want them to be proud of the irreplaceable value they add to communities nationwide."
Bartels continued: "We'd also like to thank everyone who helped make the Tradie of The Year Awards possible. Thank you, ELWD Workwear, for the generous prizes, Rob Palmer as our industry-expert judge. And, of course, everyone out there who entered. Without you, the Australian trades industries wouldn't be the inspiring bedrock of the Australian workforce – both socially and economically."
The winners received a $1,000 cash prize, a year's subscription to Invoice2go's Unlimited Plan, and a selection of work garments and a gift voucher from ELWD Workwear. They also got exclusive Tradie of The Year Award winner branding to stick on their car or van, and add to their invoices, estimates, and email signatures.
Again, congrats to all the Tradie of the Year winners! Your success is ours. We're proud to celebrate you and your business – and to say that this first-ever event has been a tremendous success.
We look forward to continuing this tradition for years to come, sharing more of your stories, and continuing to help you do what you do best.