Defining and communicating your invoice payment terms
Getting paid on time is a challenge for every type of small business owner, and one of the top reasons people turn to apps like Invoice2go.
Sending an invoice is the first step to getting paid, but if your payment terms are anything but crystal clear, your clients may put off paying you. A little extra effort here can help streamline the payment process with your client, save you time, and ultimately get you paid faster.
Why are Payment Terms so Important?
Clear payment terms help both sides of the business-to-customer equation. Your customer wants to know where they stand. Most people don't want to pay their bills late – it's often a case of miscommunication. Also, payment terms can help incentivize the behavior you want from your customer – like when you offer a discount for early payment.
For you, having clear payment terms in place will help with managing your business's finances, making it possible to predict your revenue and manage cash flow. Also, without clear deadlines, you miss out on the opportunity to collect late fees.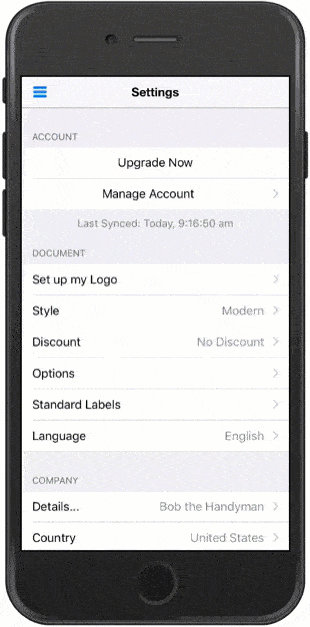 Defining Common Payment Terms
There are three main types of payment terms small businesses use:
Payable on Receipt: Payable on receipt means that the payment is due at the time of delivery. If a buyer doesn't make a payment immediately, the seller has the right to reclaim their goods.
Net 30: Net 30 is a very common payment term that requires customers to pay their vendor within 30 calendar days. Some vendors choose a different number of days depending on their business. Other common terms are net 15, 21, 60 or 90 days.
2/10 Net 30: This payment term is similar to net 30 but offers customers a bonus. The 2/10 means that the vendor offers a 2% discount to customers who pay within 10 days of receiving the invoice.
Which payment term is best?
At Invoice2go, we're all about making it incredibly easy for your customers to pay you. That means eliminating any confusion upfront to minimize the back and forth at the end of a project. Using Invoice2go, you can select the number of days until your invoice is due, from "Same Day," to "7 Days," all the way to "365 Days." This will set your due date. If you want to provide more information about payment in the notes section, try using short, clear wording that cannot be confused, such as "days to pay," instead of "net."
Here's how to set payment terms with Invoice2go:
Go to Settings and tap on Terms
Choose your ideal payment terms from a selection ranging from the same day all the way to 365 days.
Also from the Settings menu, you can click on Payment Options to control how your customers can pay you (i.e. by Debit and Credit Cards, PayPal, etc.).
Now when you create an invoice, the due date will reflect the payment terms you set.
Discuss Payment Terms Upfront
When you start working with a new customer, it's important to share your payment terms when you discuss other contract details, so you can answer questions or objections before any work gets underway. You can rest assured that you'll both be on the same page when it comes time to send the invoice. Customers will remember the business owners who are transparent and trustworthy – turning new customers into repeat business.
Late Payment Terms
As a business owner, chasing down late payments is likely one of your least favorite, yet most time-consuming parts of the job. Invoice2go allows you to set up automatic reminders within the app, which can save you a lot of effort. If you're still having to chase down late payments, try tightening your payment terms from, say, 30 days to 14 days, or you could consider creating late payment terms to influence customers to pay on time, or even early. Consider charging a fee on late payments to cover the cost of you chasing down a payment if it comes to that. To do so with Invoice2go, simply edit your sent invoice and add a late fee as a new line item. If you communicated early on when late fees come into effect, your customer won't be surprised when you send them the update.
As with most things in life, good communication can do wonders for clearing up confusion and shortening the distance from point A to point B. Be crystal clear in how you communicate your payment terms, and your customers will thank, and (most importantly) pay you!