New: automatic payment reminders that get you paid faster
Once you finish a job, Invoice2go, a Bill.com company, makes it easy to send a nice, professional invoice. What isn't so easy is following up on an unpaid invoice. You take time out of an already busy day to send an email, pick up the phone, or fire off a text. You might even decide to just wait until the next time you see that customer.
Following up doesn't have to be a chore. We've added new payment reminders that let you send customers friendly, automatic email reminders that help you get paid on time.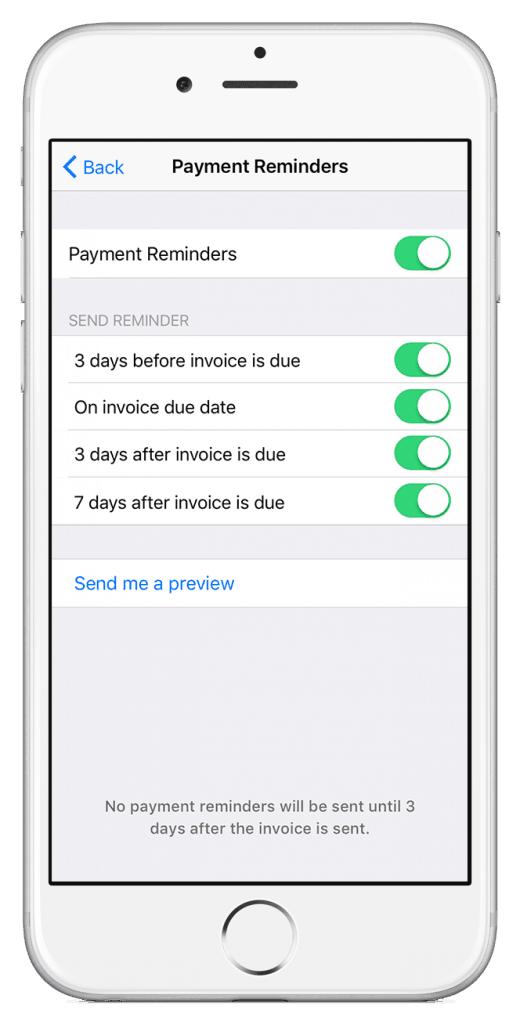 How it works
When you turn on reminders you have several options. Toggle on and off when you'd like reminders to be sent, including before, the day of, or up to 7 days after the due date. Set up automatic payment reminders for all the invoices you send or add reminders for individual invoices.
Whichever way you choose, payment reminders are smart enough to adjust if you change the due date or if the invoice has been paid.
Once you start using payment reminders, you'll find that it:
Takes the work (and pain) out of following up: Instead of calling, texting or emailing customers about unpaid invoices, let Invoice2go send friendly reminders for you.
It's one less thing to think about: You've got enough things on your mind. Let Invoice2go remember to follow up for you.
Lets you spend more time on what matters: Run your business, prepare for that next job or enjoy your nights and weekends.
Payment reminders are now available to all business owners with a Pro, Enterprise, or Unlimited subscription. To get started, make sure you have the latest app update from the App Store or Google Play Store.
For more details on using this feature, visit our Help Center.