Expert advice from a freelance greeting card designer
Going freelance is no easy task. While more people are deciding to ditch the 9 to 5 to build careers that fulfill passions and better suit their lifestyles, they still have to overcome self-doubt and learn the ropes of running a business.

That's why we want to share stories and tips from others carving out their own paths. We want to provide advice and inspiration you can take to move forward and confidently map out your next steps.

We recently got the chance to connect with up-and-coming freelance illustrator Madison K. Ferdman. Madison's artistic style revolves around delicate textures, bright colors, and playful shadows and she draws inspiration from the beauty of people, nature, and everyday things.

Madison began her artistic journey designing stationery for weddings and selling hand-embroidered clothing on Etsy. She now draws from these early artistic experiences to create personable, contemporary illustrations and has worked with clients, including Chick-Fil-A, The Gallery Collection, The Flower Company, Fresh Start Church, and Path Nutrition.

Read on to learn how she's gained more opportunities as an artist and overcome the challenges of freelance life. Also, check out how she makes each day count and navigates low moments and creative blocks.
How did you discover your passion for art and illustration?
It might sound like a stereotypical artist thing to say, but I've been drawing since I could pick up a pencil. I love learning anything new related to the arts – whether it's pottery, photography, learning an instrument, or anything like that. It's so satisfying to put in the work and discover that you can master something new.

That's what sparked my interest in calligraphy. At 15 in high school, I started a side hustle creating wedding signs and stationery for people. It began with people I knew and soon snowballed into something more serious. Then, I switched to digital freelancing – and here I am now!
What are some of your influences and what have you felt drawn to artistically?
My all-time favorite artist is David Hockney partly because he's also drawn to many different types of art. He was a photographer and often took photographs to turn into paintings. I love the idea of that.

I love drawing still lifes – that's always how I warm up. I love a page called Still Here Still Life that does prompts every week. So, I'll just take a random object around the house and try to make it as interesting as I can. I love taking ordinary things and making them super pleasing to viewers.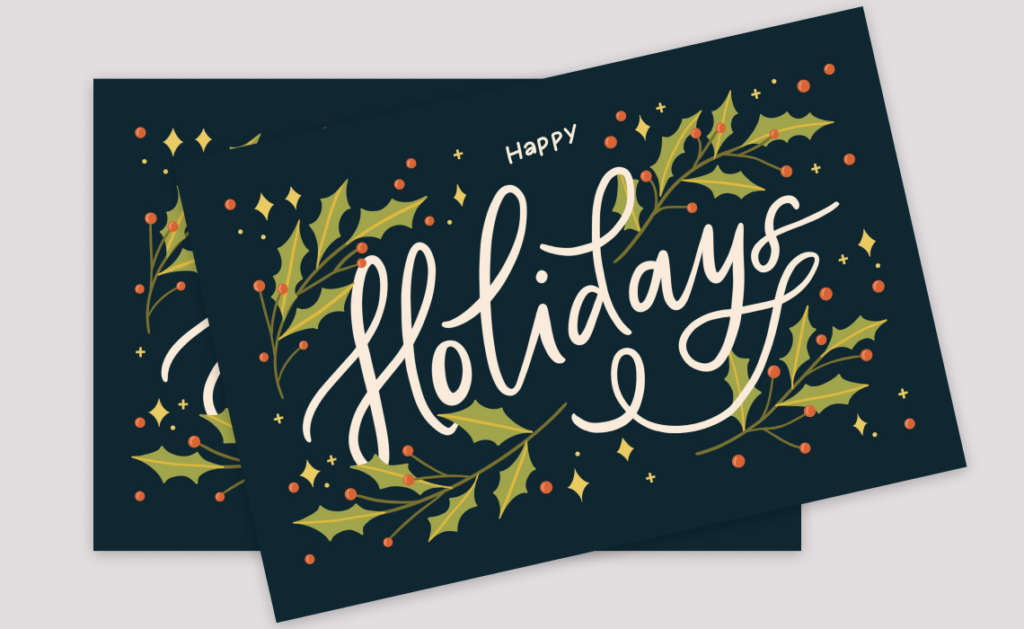 How did you begin to attract bigger clients for your freelance business?
It really grew over the last year from doing things for people I know or friends of friends. I focused on having an active presence on Dribbble, Instagram, and LinkedIn. And that's where I've started to get people coming to me. Dribbble has excellent freelance job postings, so I've kept updating that. Getting to know other illustrators on LinkedIn has also helped me attract new and exciting opportunities.
What would you say are some of the challenges of freelance life?
In 2019, I quit my job in retail and started freelancing full-time. Creatively, it's a roller coaster. Sometimes you're up high in a creative flow, getting everything done – and then there are crashes and blocks.

The biggest ongoing challenge for me is comparing my work to that of other freelancers. There's a quote I love that I try to remind myself of that says, "Never compare your beginning to someone else's middle." And even if you're in your middle, there's no point in comparing. 
The hardest thing – especially with social media – is that you're always seeing others' career highlights. So, the most important thing is to focus on your work and make sure you're bettering yourself each day. Other freelance artists are on the roller coaster as well, you know? People typically only share work when they're on the top.
Also, a few months ago, I had a huge creative block. And just in general, I have days when I have enormous confidence in myself as an artist. And others when I'm like, "Do I even know how to draw?" I have to remember when I'm in the eye of the storm to keep going with my ideas, even if I don't like them. I'll get them out as quickly as I can. Often the throwaways can spark a way to get out of a rut.

What's a recent project that you're excited about and proud of?
I have a pretty exciting ongoing project. I'm working with Chick-fil-A doing a complete holiday mural on one of their stores here. I've written "Love is a priceless gift" and added characters and Christmas elements. It's probably my favorite project to date! It's been a big change from working on a computer screen to creating on this huge space. But it's sparked my imagination and I want to do more large-scale murals.

This project came about simply through word of mouth. It's been helpful to my career to network outside the internet and get to know people face to face. Even if they're not other artists, they may eventually need what you have to offer. 
What are the top tips you would give to freelance artists starting out?
The number one thing is to focus on community over competition. Comparisons can limit us from creating something new. The best way to stand out is to focus on your own inspiration and work.

As far as working from home and creating my own schedule, I take some inspiration from my husband, who's been working from home longer than I have. He gets dressed up for work each day and always stays organized. The clothes you wear, your organization, and your workday structure can be hugely helpful to motivation and productivity. We try to make it fun and even have casual days like you would in an office.
What are some of your goals for the future? 
The biggest thing I'm looking forward to is that in the art industry, the possibilities are endless. I know that might sound cliche, but the art world is constantly changing, and there's always something new to learn.
The idea that there's no cap on what you can do inspires me. I just want to keep working up and up. I'm freelancing now, and I love it. I would also love to have the experience of working for an agency at some point. But mainly, I just hope to have bigger clients and work on projects that move me.
We're excited to see Madison continue to grow artistically and in her career. What inspires and motivates you to do your best work as a freelancer? Join our growing community of creative freelancers to join the conversation and share your thoughts.