Highest earning industries in the US: Blue-collar tops the list
The term "blue-collar billionaire" is getting a lot of attention around the world as one of the many terms used by Donald Trump to describe himself in this year's presidential campaign.
While billionaires are rare, being successful, and being blue-collar are far from mutually exclusive.
While Trump flaunts his big pile of cash, America's real blue-collar workers aren't doing too bad themselves. Small business owners in blue-collar industries, while often not thought of as such, are some of the highest earners in the country.
Invoice2go, a Bill.com company, is an app that is used by entrepreneurs, side giggers, and what we call 'micro' businesses (less than 5 workers), to get paid faster for projects, looked at the aggregate invoicing activity of more than 33,000 of America's smallest business owners. Specifically, 1-5 person businesses in an incredibly diverse range of industries – construction, plumbing, creative services, pet care, fitness, IT services, hair & beauty, you name it.
Blue-collar businesses bringing in the biggest buck
On the other side of the presidential campaign, Hillary Clinton is making student loan debt part of her platform, given the astronomical costs to attend a four-year university.
Recent high school graduates may be relieved to learn that eight of the top 10 highest earning industries for small business ownership come from the blue-collar sector, which challenges the perception that you need a four-year college degree to be among the top earners.
Eight of the top 10 earning industries for small business owners are blue-collar. They include: construction, roofing, flooring, painting, heating & air conditioning, carpentry, plumbing, and electrical – all billing more than $5,000 per month on average.
Construction and roofing top the list, invoicing more than $18,000 and $16,000 a month respectively – roughly double what most other trades are billing.
By contrast, creative industries such as design (web, graphic, and print design) came in at $2,600, photography at $2,200, and beauty/salon (hair, style, makeup artists) at $1,500 in monthly billings.
The Bureau of Labor Statistics reports on which industries are paying the most wages, so here Invoice2go aimed to understand the trends and opportunities that exist for small business owners, or people thinking about starting their own business.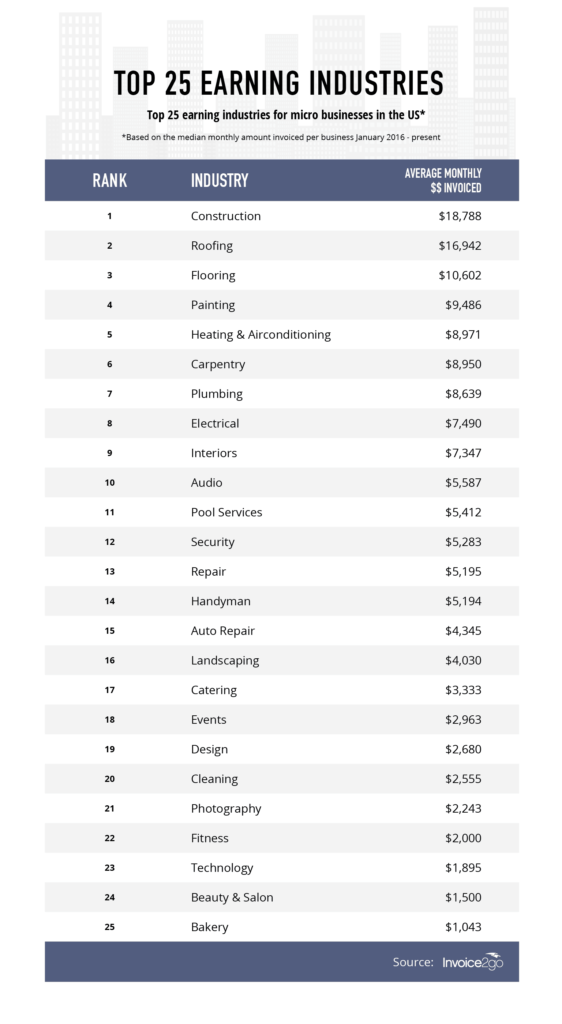 Here's a look at the top 25 earning industries for small business ownership in the US:
So if blue collar offers such a grand opportunity, where is the best place to be in business?
We looked at where in the US blue-collar businesses are earning the most, based on the average median dollar amount invoiced per blue-collar business in each city.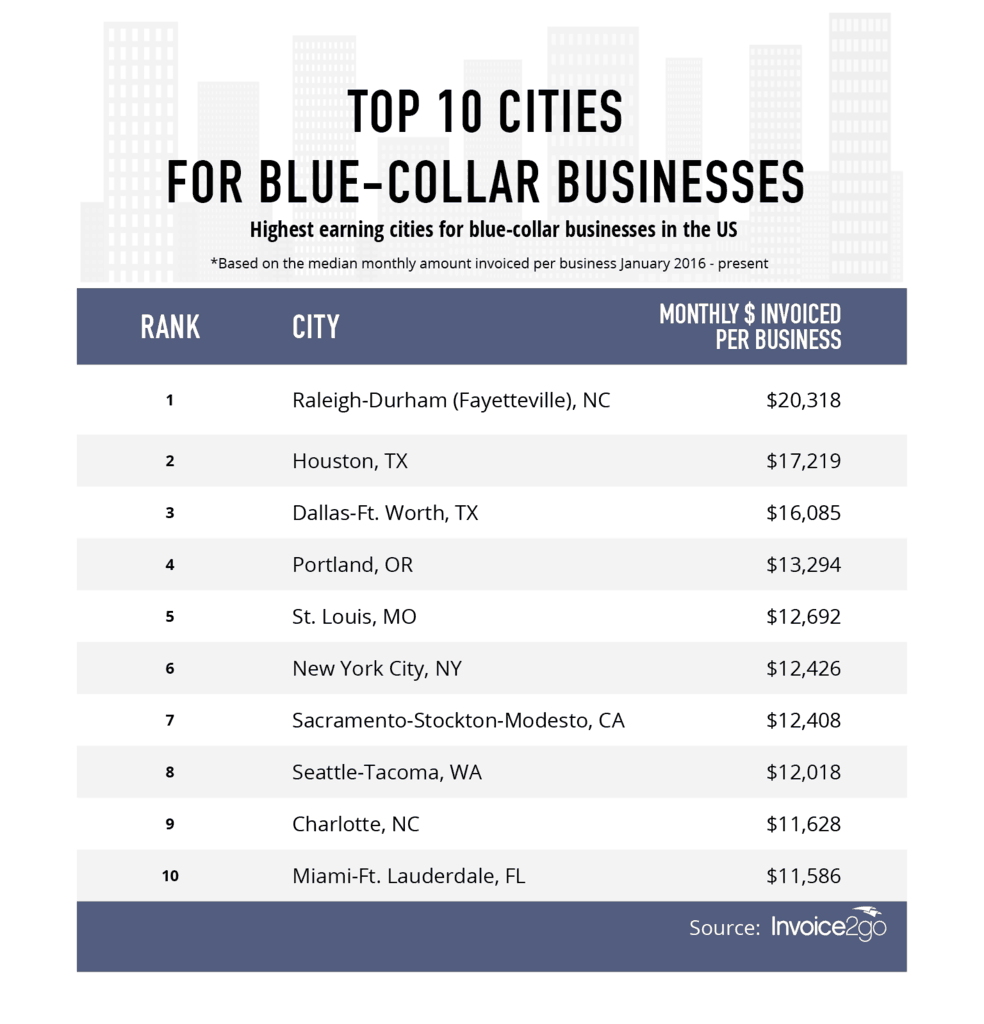 While society tends to push everyone to get a four year degree, and typically take on a lot of debt in the process, we are seeing countless examples of people carving out a very successful path of their own, particularly in blue-collar industries. There's a lot of opportunities out there, and with new technology to make it even easier to thrive as a small business operator, it's ripe for anyone's taking.
Interested in seeing how these trends change over time? Follow us and stay up to date with the latest from Invoice2go.
For more information about the lists, or to see what industries are earning the most in each city, please contact us at media@invoice2go.com.
Methodology
Invoice2go's Top-Earning Industries list was compiled by aggregating invoicing activity of more than 33,000 US-based Invoice2go users. "Earnings" was determined by taking the median monthly dollar amount invoiced per month for each business account from January 2016 to September 2016. Aggregate location data is based on the addresses self-reported by business owners.
What is blue-collar? The simple definition offered by Merriam-Webster's Learner's Dictionary says, "requiring physical work: relating to or having jobs that require physical work." Invoice2go took this definition and has grouped together the business owners in the following industries: Construction, roofing, flooring, painting, heating & air conditioning, carpentry, plumbing, electrical, pool services, repair, handymen, auto repair, landscaping, and cleaning.