How Christina Waters built Christy's Bakery and combined two life-long loves
Women-owned businesses are growing fast and are having an enormous impact on both the communities they serve and the overall economy. On average, women started 1,821 new businesses every day in 2020. There are also now 114% more women-owned businesses today than 20 years ago. 
Starting a business is difficult enough – especially for women who face additional challenges in entrepreneurship. Keeping one alive and thriving for decades is even harder.
Meet long-time Invoice2go, a Bill.com company, customer Christina Waters. She's the founder and owner of Christy's Bakery and has kept business strong for the past 20 years through hard work and continually adapting. How did this New Yorker start her bakery in South Florida? Well, she came here on a horse.
Combining two life-long loves into a successful business
Christy has combined her passions for baking and horseback riding throughout her life. Born and raised in a working-class family in Queens, she began making desserts at home with her grandmother and took up horseback riding at 10. 
Later, as a member of the equestrian team at St. John's University, she hosted bake sales regularly to help her team pay for supplies. (Her bakery currently sells some of the same horse-shaped chocolates and treats that she sold in college.) 
After finishing school, Christy worked professionally in the equestrian industry, traveled around the country and eventually landed in Wellington, Florida. However, after being badly injured on the job, Christy decided it was time for a change. 
It took some searching. "There weren't any good places to get pie or cheesecake in the area and this idea to start a bakery just kept coming up," Christy explained. She felt it could be an excellent addition to the community and a way to stay connected with her equestrian industry contacts. 
Taking inspiration from Kathleen's Bake Shop on Long Island and making all their cookies, cakes, croissants, and pies from scratch, Christy's Bakery opened its doors for business for the first time in 2004.
Adapting, overcoming challenges, and finding new space to grow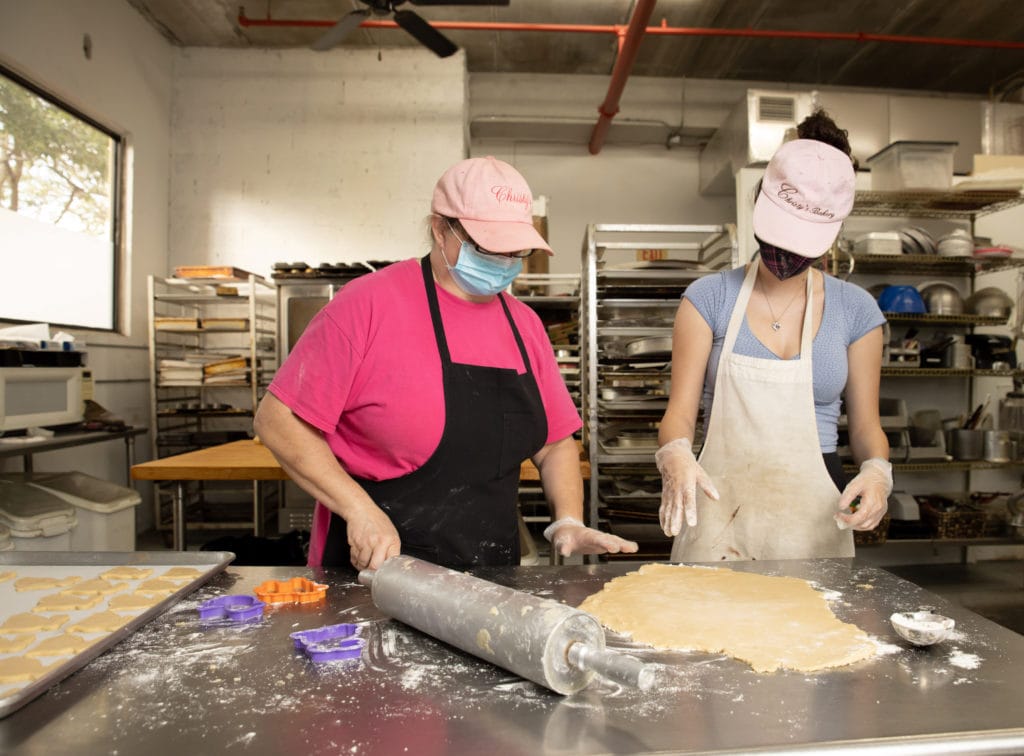 Christy's Bakery has had its fair share of challenges in its almost two-decade history. Starting as a retail bakery – where customers could come in to buy coffee and a muffin – the budding business struggled with steep rent while locked into a 5-year lease.
Then, natural disasters hit. "We got hit with hurricane after hurricane," she recalled. "The Bakery lost a ton of products and had issues dealing with insurance companies. We lost our equipment – our refrigeration system – and a ton of ingredients."
However, these early challenges led to the evolution that ultimately paved the way for greater success. Christy learned how to pick better suppliers and decided to move her business to an industrial area with a larger kitchen.
"We then had more room to produce more chocolate," Christy explained. "So we started catering to hotels, country clubs, and gated communities that have big events. Some of our accounts had 30-plus stores. That's where Invoice2go came in handy because we have to invoice them and collect billing."
She continued, "We started shipping our products all over, and the paperwork began to become too much to manage. Invoice2go's simplicity helped me avoid losing money by staying organized. I also spent a lot less time waiting on funds from customers."
Finding new ways to do business during COVID-19
Christy's Bakery persevered through the Great Recession of 2008. While people may not travel or make luxury purchases in a rough economy, they still want to indulge themselves. Throughout that tough economic time, Christy's customers increased their demand for cakes and treats for at-home parties.
However, the economic impact of the COVID-19 pandemic – and that people were not gathering for parties – required more adapting. Christy asked her customers what they wanted and decided to offer free COVID deliveries. 
"It worked!" Christy emphasized. "People feel more comfortable paying online now. So, we've continued to ship products and deliver locally throughout the pandemic." 
She went on, "When we started doing complementary COVID deliveries, online payments helped us eliminate 3rd party services like GrubHub. So customers get a personalized invoice online via Invoice2go, they're thrilled to have it – and they can't pay me fast enough!"
Keeping a professional image when working with big-name clients
Christy reflected on the early days when her business transitioned from being a cafe where people could buy a muffin and a coffee to serving larger organizations. She explained that once the bakery started making goods at a much larger scale, Invoice2go's deposits and custom invoices came in handy.
"Country clubs and restaurants aren't always prompt with payments," Christy confessed. "With food, it seems like people eat it, then forget about it. So I have to invoice on the same day. Being able to request deposits and send over invoices quickly helps me a lot."
Christy also recounted the early days of driving to big clubs to drop off handwritten 3-part carbon copy invoices. "I save so much time, and it just gives you a boost of confidence when you know you look professional," she said." I'm old-fashioned. I mean, I make cakes from scratch for a living. Still, it's nice to stay in this century with new technology."
Maintaining simplicity so she can focus on what matters most
For Christy – and any small business owner – time is a precious commodity. "It takes time out of my day to do invoicing," she shared. "And this is a difficult job. I'm tired when I finish making the cakes, so sitting down and doing something difficult doesn't work for me."
"The entering process for Quickbooks is so difficult. And people don't realize how difficult it is until they try something else," she explained. "With Invoice2go, I can have my assistant easily send out an invoice. Even my mom, who is 80-something, can send out an invoice!" She paused and added with a laugh, "As long as she can read my handwriting."
Taking advantage of the latest Invoice2go features
 At the end of 2020, Invoice2go launched a new reviews feature for small businesses to easily collect more verified customer feedback. Christy has taken full advantage of this feature already. "I seem to get the most customer feedback from Invoice2go," she said. "Around 50% of customers are leaving us detailed reviews. We don't see that large of a response on Google, Facebook, Instagram, or Yelp." 
Christy isn't just collecting reviews – she's using them as social proof and as a way to build closer relationships with her customers. "I have been starting to screenshot them and hope to use them on our future website," she told us. "It's great that I can personally thank the client quickly via email. Also, I've offered a few special incentives and custom items to our higher-end and corporate clients. I wouldn't be able to do this with an online review where I don't have their contact info."
Looking towards the future
What's next for Christy's Bakery? For starters, expanding her delivery service. "I bought a vintage school bus and we're making a mobile bakery. We'll make the cakes, cheesecake, and cannoli here in our kitchen and load them up on the bus. Then people will be able to walk up in their neighborhood or at their event!" 
She continued, "We're also planning to do educational classes and sell baking supplies. It's going to be a lot of fun, and I'm so thankful for Invoice2go."
We're proud to support Christy's Bakery and hope to continue helping the business to thrive for years to come. Our mission is to amplify independent professionals' voices with the best tools to stay organized, look more professional, and grow their businesses.
For more inspiration and tips for freelancers, small businesses, and independent professionals, check out our growing community of small business owners.