Small business stories: How Salim overcame his fear and founded My Barefoot Wedding
Who wants to live in a world where everything is the same? 
Variety is the spice of life, and diversity is the core of small business. Where else can you have such a massive opportunity to inject your personality into your work and create something that reflects your interests and unique spirit? A highlight of working for yourself is that you don't have to conform. You create your own company values and likely enjoy more dynamic workdays. 
Still, starting and sustaining a successful company is no easy task. You have to calculate your risks, overcome fears, and find courage despite potential warnings from loving friends and family members who don't want to see you struggle.
For us at Invoice2go, a Bill.com company, we celebrate diversity and the small business owners that enrich our communities. We know how hard you work each day and want to do our part to make your life a little easier. We want to share your stories, offer inspiration, and give advice you can apply to your own business. 
Meet Salim Al-Shatel, a long-time Invoice2go subscriber and co-owner of My Barefoot Wedding. His full-service company provides officiants, professional photography, florals, and decorations for Michigan destination beach weddings. 
Read his story to learn how he left the corporate world and overcame countless obstacles to create a business that now provides unforgettable experiences for hundreds of people each year.
From stuck in the office to barefoot on the beach
"That's the cool part of being a business owner – you're constantly learning."
Salim Al-Shatel waited an entire year before telling his parents he had bought a business.
Like many loving parents, they didn't want to see their child suffer emotional or financial hardship and had warned him against the idea. Salim was, after all, a 23-year-old still-recent college graduate with an engineering background. Owning and running a beach wedding company was hardly the trajectory they had anticipated.
Salim also had no experience with event management – which probably would have increased his parents' exasperation.
Salim recognized his parents' concerns. Even though he knew they had his best interests at heart, he had a fire in his belly and the confidence he could make it work. 
There was also another factor propelling Salim's desire to own his business: his recent entry into a respectable, but uninspiring corporate job. 
Until that point, he spent his young life exploring, learning, and gaining experiences. While still under 25, he had become a certified yoga instructor and an experienced sailor. He had also enjoyed stints at a fast-paced start-up and a travel-heavy Japanese auto company. 
He even developed ties with Sydney, Australia – just like Invoice2go. While originally from the United States, he spent five months living in The Emerald City.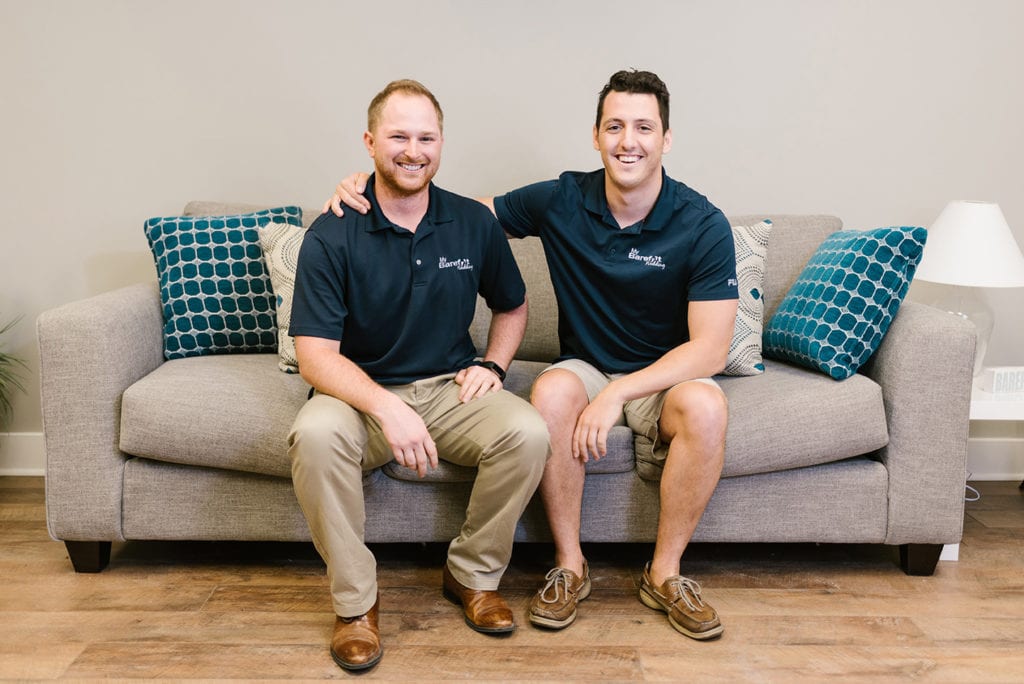 Now, he was wading through slow-moving processes and cookie-cutter days – and felt them wearing on his spirit. He didn't want to have a job just like everyone else, even if that was the "safe" thing to do.
Enter Salim's childhood friend, Ben Carson. One day Ben shared that he was thinking about buying My Barefoot Wedding. He thought the two of them would make great business partners and that they should go in on purchasing it together.
Salim paused and took some time to consider his friend's idea. He thought about what his family would think and mulled over his current position in the corporate world. He hesitated briefly – then decided to jump in with both bare feet.
Clearing hurdles and enjoying refreshing challenges
"It was scary that whole first year."
As with many new small business owners, anxiety and uncertainty ran high in the beginning. "It was scary that whole first year," said Salim, recounting the challenges he and his partner faced.
They had to negotiate the business's price, secure a loan, and figure out cash flow. These new financial skills required knowledge that continually pushed the duo to the edge of their comfort zone.
Salim highlights the importance of resilience at this time: "Having flexibility was the biggest thing." Both he and Ben were new to business ownership. Each day presented unexpected challenges and had countless ups and downs.
Despite all the unknowns and new demands, Salim's strong work ethic and engineering background played essential roles in getting his new business off the ground.
First, he had already become process-oriented. While still in school, Salim honed a strategy to figure out big problems by breaking them down into smaller, more easily manageable tasks. This strategy came in handy when tackling daunting challenges. 
Salim also highlighted the importance of patience and self-discipline. He credits these as keys to success that have proven vital during wedding off-seasons. His advice is supported by many other successful business owners.
"No one is going to tell you to get up at 7 a.m. and market your business or post photos on Instagram – it's all on you," explained Salim. "Always being ahead is a big thing, especially for small businesses. Set aside money for hard situations. Be cautious and think of things you didn't have to before."
Salim also explained how thankful he's been to have his business partner and friend, Ben. Together, they bounce ideas off of one another, give feedback, and troubleshoot different situations. These conversations have helped them become more far-sighted and prevent potential setbacks.
Learning has gone far beyond just business management, however. Salim has also picked up a few unanticipated skills.
"Coordinating bouquets and floral arrangements was such a learning curve, but it's a lot of fun. I remember one day early on, I was planning flowers and getting frustrated that orchids weren't in season and were so expensive. I remember just taking a step back and thinking, 'Who am I?'" Salim laughed. "But that's the cool part of being a business owner – you're constantly learning." 
He's even tried his hand at officiating. "I've officiated over 100 weddings. I'm an extrovert, so I like doing it. I was terrified the first time, but it was so cool!" he laughed. 
Reflecting on small business success
"Make sure you understand as much as you can, but know you're not going to understand everything. Be OK with that."
Now, three years after going into business with Ben, Salim has become a beach wedding coordinating pro. Last year alone, My Barefoot Wedding coordinated 146 weddings in just four months, handling everything from customizable décor to photography and officiant services.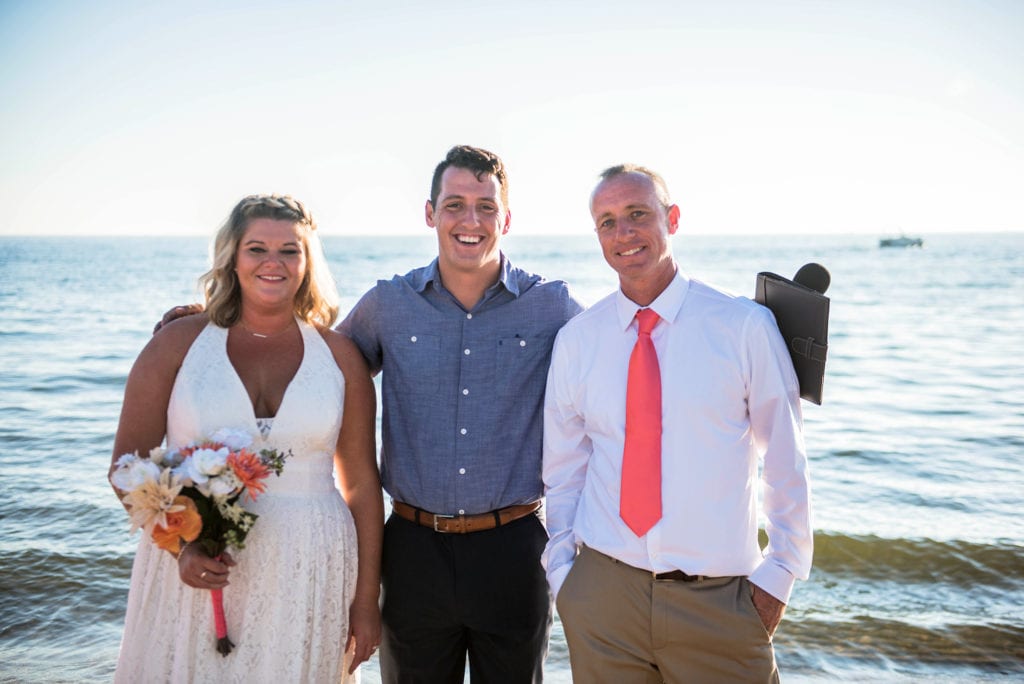 While Salim recognizes there will always be challenges in running a business, he now feels more accomplished. He shared some advice for new business owners: "I hope people have the confidence to start their own business," he encouraged. "But you have to do it responsibly." 
Salim acknowledges that many people glamorize starting a business. He recommends caution and highlights the importance of considering all the not-so-glamorous factors that go into running a successful company. You have to also learn how to coordinate health insurance, track revenue, and manage spreadsheets.
But despite the risks and challenges, Salim believes a successful business is in reach for those who put in the work and take advantage of available information.
"Make sure you understand as much as you can, but know you're not going to understand everything. Be OK with that," Salim encouraged. "I've always had the mindset that if you have the determination to do something, you'll be able to."
We're happy to support small business owners like Salim and help facilitate their success by simplifying their administrative tasks. We're continually inspired by how small business owners demonstrate courage to be themselves and live dynamic lifestyles with deeply fulfilling work.
We're here to support you and give you more bandwidth to focus on what matters most. For more inspiring stories and tips and tricks to help you grow your small business, join our Facebook groups.