How to start a side hustle as a life coach in 8 steps
With all the changes over the past year – whether because of the pandemic or otherwise – you might find yourself considering a little creative personal reinvention. Maybe your job disappeared, or perhaps it's high time to shake things up a bit.
If you don't know where to begin and you're not quite sure what you want to do, starting a side hustle is an excellent way to test the waters before diving into the deep end. And in case you haven't considered it before, life coaching is something to consider. It's a way to leverage your innate soft skills and your hard experience to help others succeed.
Our mission at Invoice2go, a Bill.com company, is to empower small business owners worldwide. Female Founders is our community and podcast for ambitious women in business. We're here to provide you with tools and resources to help you meet your goals and find balance between your professional and personal lives.

Intrigued by the prospect of becoming a life coach? Get started today!
Start a side hustle in 8 steps
A side hustle is more than just a part-time job. You leverage your skills and experience to get paid for something you're good at. Some people start side hustles to earn extra money, but they can also turn this additional income into full-time gigs. What's better than getting paid to do something you enjoy? That's what life ought to be about!
But starting a life coaching side hustle isn't like selling a product or a tangible service, like copywriting or graphic design. It's about you and what you bring to the table—your experiences, insights, and approach. Start by making a list of all your strengths and passions. From there, you can determine whether those skills are marketable or not.
Next, you'll need to build up your expertise. Some examples include nutrition, mental health, setting boundaries, work-life balance, mindfulness, etc. You may also have to get some additional training in that area. Narrowing your focus helps you clarify who you want to coach and how you want to do so, making it easier to market your services to your ideal clients.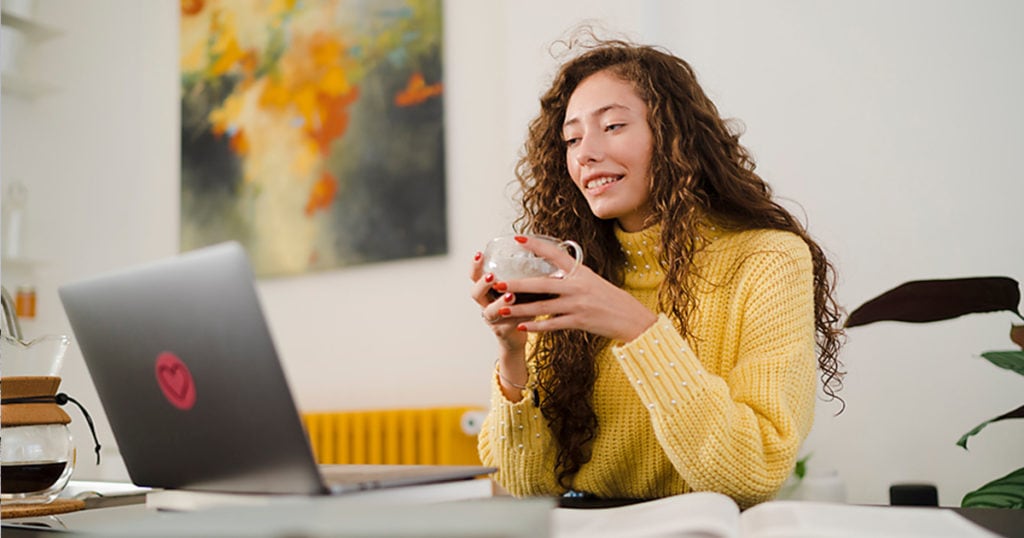 You're 8 steps away from a life coaching side hustle
Setting yourself up for success takes a lot of planning. The more work you put into the preparation, the more successful you'll be. Start at the top and work your way down – when you get to number eight, you'll be in business!
1. Start with your life experience
Look to your own experience to better understand how you can help others. Think about all the things that have happened in your life that made you who you are today—marriage, divorce, having a baby, raising children, caring for a child with a disability, buying a house, losing a loved one, becoming a step-parent, co-parenting with your ex, going back to school as an adult, and so on. 
These challenges set the stage for your coaching business, and they prove your worth. You've faced adversity and grew stronger because of it – and others will find value in that. What you might write off as being "just life" might seem impossible to others. Your strength is bankable. Own it!
2. Explore your passion areas
What are you passionate about? It doesn't have to be something you're already an expert at. If you're genuinely passionate about something, learning about it will be easy. Think about areas you might be interested in, and find out what it will take to either make that your focus or part of the bigger coaching picture. 
There is a balance to be struck here, as some areas, like nutritional counseling or mental health, might require additional certification. Of course, if you're willing and able to go all the way, more power to you, but be sure you understand the implications before you commit.
Bottom line: No matter why you're doing it, becoming a life coach is a big move. It's not like taking a new job that you can quit if it doesn't work out – it requires not only an investment of time and energy, but a deep sense of responsibility to your clients. If you base your new business on something you're already passionate about, you have a much better shot at success.
3. Pick a focus
You've already made a lot of lists by now. Let's start another one. Choosing a focus will help you determine who you work with and how you market yourself. It might take time to get this right, but you have to start somewhere.

Make a list of at least 20 things you're really good at. It could be accounting, organizing, mediation, conflict resolution, talking to children, public speaking, reading, writing, or designing corporate policy – everything is on the table. Once you're done with that, pick the top five things on that list you have the most expertise with. 
Next, go back to your list of life experiences. Think about what you gained by going through those processes. Perhaps you learned how to navigate the complex landscape of the public health system, or maybe you know everything that can go wrong with employees during a merger or change of ownership. It could be that you learned how to heal after significant trauma or loss. Your perspective is what counts here. 

Your focus and ideal demographic will emerge at the nexus of your skills, life experience, and the wisdom you gained along the way. 
4. Research, research, research!
Like any new business, you'll need to do plenty of research to know what you're taking on, who your competition is, and who your ideal customers are. You'll also need to know about any educational courses or certifications that will help position you as an expert in your niche. 

Here are a few things to add to your research to-do list: 
Find blogs and online communities related to your focus area and read everything that comes your way. Knowing the common parlance, current issues, professional expectations, and even pricing are valuable. Look at the kinds of questions people ask. As a coach, you're a problem solver, but you need to know the problems before you can address them.
Soon, your ideal customer will begin to take shape. You might reach out directly to people who fit your paradigm. Invite them to chat over Zoom or meet for coffee if it's convenient. Ask them about their challenges, their lives, their goals. Ask open-ended questions. Explore what they've done to solve their challenges and what they liked or didn't like about the solution. Pay special attention to the vocabulary your ideal client uses, as this will be critical when it comes time to craft your website and marketing messages.
5. Become an expert
Your research will lead you in many directions. It's essential to keep an open mind about coaching topics because no two people are the same, nor are their circumstances or attitudes towards personal growth. The more you learn about an issue, the more quickly you can shift between two clients who might have the same general problem and goals but require different approaches.
Are there certifications in your area of expertise? Continuing education courses? Or any type of accreditation to upgrade your skills and build authority?
You might also look at organizations that certify life coaches. The field is largely unregulated, so a certification sets you apart from others who might not have the same credentials. Plus, you'll pick up tons of new skills and practice with people who have experience. The networking opportunities alone are well worth the investment. Having an expert or mentor to turn to when you have a question always helps.
Finally, curiosity is your friend. It leads you places you wouldn't go on your own and ultimately differentiates what you do.
6. Decide on your service offerings
Before you define your service offerings, keep one thing firmly in mind: People don't buy coaching. They buy solutions. If you have answers to the problems your customer wants to solve, this step should be pretty straightforward. Defining the problem is always the first step towards the outcome.
If you know what the problems are and how you're going to solve them, you now need to put it into terms your clients will understand. It should be simple enough that they immediately say, "Yes, I want that." Here are some examples:
Earn an extra $50,000 a year with your side hustle
Heal from traumatic loss and reclaim your life
Find success as a mystery writer
Discover a new career in mid-life
Get physically fit after age 50
Become a better step-parent to your partner's children
Take over the family business and achieve what your parents could not
Once you have a clearly defined offer, you'll need to put a value to it. If you could put yourself in the client's shoes, how much would you pay for a solution? Think about a ballpark figure and make sure it's in line with what you offer. Don't worry too much about what other coaches are charging. Just think about the transformation and what that's worth. The Forbes Coaches Council suggests setting your fees based on what your client's problem is costing them, rather than the number of hours you anticipate working. 
Your fee doesn't have to be the final bottom line, either. You can add plenty of services to increase value, like weekly phone consultations, pre-event mini-sessions, books, videos, resources – whatever seems most appropriate. What are these extras worth?
7. Design Your Work-Style
Just as every client is different, every coach works a little differently. If you're working from home, you'll need to have a quiet, private, dedicated space that's separate from high-traffic areas. It should be someplace you won't be interrupted or distracted. If you work outside your home, seek out shared or flexible office space to keep costs down. Be sure it's a space where you can close the door and not be disturbed.
There are multitudes of coaching styles, and most coaches don't rely on just one method. Every session is different, and different approaches might be more suitable than others, depending on the day, the client, and the issue at hand.
Common coaching styles include:
Democratic. The client is an active participant in the process, but the coach always has the final word. This style supports creative thinking, commitment to goals, motivation, inspiration, and empowerment.
Autocratic. The coach takes on a more authoritative role, and there is less client input. The coach makes the decisions, and the client follows through. This technique could help deal with productivity and motivation, health goals, stress reduction, or reduce the ambiguity around a process.
Holistic. The holistic coaching style considers the whole person, not just the issue they're trying to solve. Sometimes, recognizing aspects of a client's life that have a bearing on their process is necessary to growth. It may also help when dealing with challenging personal situations, as the client will feel understood.
Hands-Off Approach. Also called "Laissez-Faire," this technique supports the idea that the client has what it takes to achieve their goals with minimal intervention.
8. Open Your Business
Before you see your first client, you must get a few of the nuts and bolts out of the way. Once you've applied for and received your business license, you'll need to decide how you want to be paid.
You'll also need to establish a web presence, which means having a business website and business social media accounts on platforms such as Facebook, Instagram, and LinkedIn. Website builders like Wix or Weebly help you get up and running quickly, or you can hire somebody to put it together for you.  
Make sure visitors to your pages can find your contact information easily. Encourage them to reach out by offering an initial consultation; that way, the two of you can learn whether you're a good fit for each other.
Is life coaching the next chapter for you?
Whether you're looking for a side hustle or a complete career makeover, life coaching offers possibilities geared to your passions and interests. Ready to get started?