Happy International Women's Day 2021!
Happy International Women's Day and Women's History Month! Today we celebrate the social, economic, cultural, and political achievements of women. From the labor strikes that helped International Women's Day take root until today, women have had to fight for fair treatment and for their voices to be heard.
Today is a call to action for women's equality and a reminder that there is still plenty of work to be done. In 2021, women continue to make less than their male counterparts. There are also significant gender gaps in health, education, economics, and politics, which at the current rate aren't expected to close for another 100 years.
At Invoice2go, we believe that a global, inclusive community is essential to innovation, strength, and greater prosperity for all. In support of women entrepreneurs, we're thrilled to announce we've finished recording the first season of the Female Founders Network podcast. We're pleased that our global community of ambitious women has grown to almost 3,000 members in a few short months.
… And this is just the beginning.
Throughout the month of March, we're celebrating women's history and highlighting contributions women make to the world of entrepreneurship and small business. As a new year unfolds with greater optimism for small business owners worldwide, let's look at the origin of International Women's Day some of the key reasons why we feel so strongly about supporting women:
A brief history of International Women's Day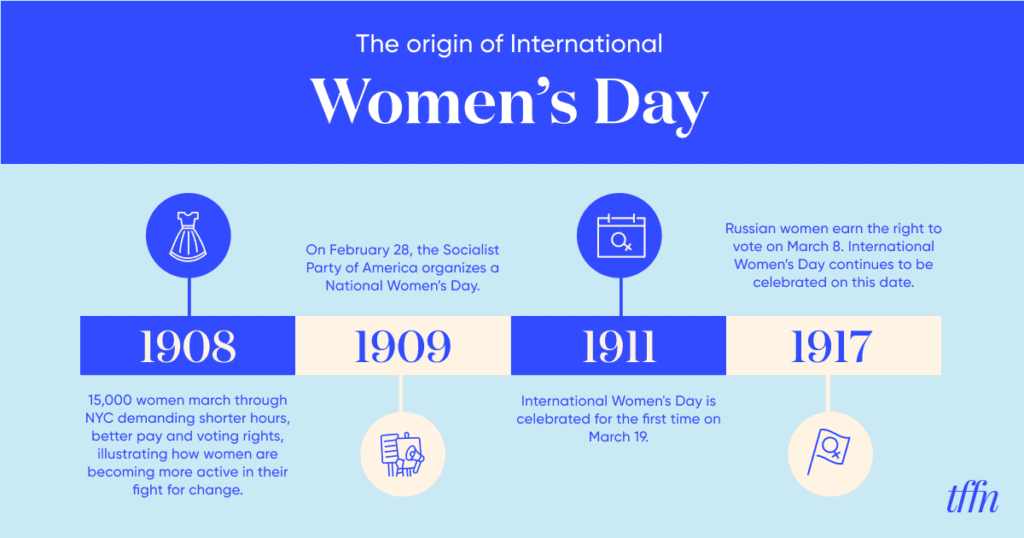 International Women's day sprung from labor movements in North America and Europe that started at the end of the 19th century, when women were becoming increasingly vocal about low wages, long hours, and inhumane working conditions.
On March 8, 1908, 15,000 women protested in New York City. Many of the demonstrators were young immigrants who came to the US in search of better opportunities, only to face exploitation. They reiterated their demands for better working conditions as well as for voting rights and an end to child labor.
On February 28, 1909, National Women's Day was celebrated for the first time in the US. Then, on March 19, 1911, International Women's Day was honored for the first time and marked by over a million protestors demanding women's suffrage and an end to employment discrimination. Six years later on March 8, 1917, Russian women earned the right to vote.
Women are now transforming entrepreneurship and what it means to be a small business owner
In the more than 100 years since its inception, International Women's Day has played a part in significantly shifting cultural attitudes about women and making steps to greater equality.
Women's progress in the world of business and entrepreneurship has been phenomenal – especially when you consider the odds stacked against them. For example, before 1988, women in the US couldn't get a small business loan without a male cosigner. Now, women own 40% of small businesses – and in the last 20 years, the number of women-owned companies increased 114%.
Additionally, women of color are now one of the fastest-growing entrepreneurship segments – they're 4.5x more likely to start a business than other demographics. In just the past few years, Black women-owned ventures grew by more than 67% and now comprise more than 2 million US businesses.
While women still struggle to gain access to capital and face countless challenges, it's undeniable that their presence is growing and having an enormous impact on business and culture.
Women embody the resilient spirit of small business
In 2020, we faced unprecedented challenges and were reminded of the grit it takes to keep a business alive. While starting and growing a business is daunting no matter who you are, women faced additional challenges this year – just as they have in years past.
COVID-19 is disproportionately impacting women. Moreover, women struggle with everything from securing funding to being taken seriously. 63% of women finance their business with their own savings, and women are far more likely to start their businesses out of necessity. Almost half of women report a lack of advisors and personal mentors and juggle family responsibilities on top of running their business.
Despite these hurdles and setbacks, women are pushing forward and continuing to take risks in entrepreneurship. Black and Hispanic women-owned businesses grew by over 500% in the past 25 years – and this growth is only expected to continue.
Women drive innovation, growth, and team performance
A Harvard Business Review article notes that if businesses want to tap into the $20 trillion market of female consumers, they need to get serious about leveraging female talent.
For companies tasked with understanding female consumers, including women improves the likelihood of their success by 144%. Companies that ensure women have equal opportunities to speak are far more likely to elicit breakthrough ideas and increase their market share. It's clear that including women in business leadership isn't just fair – it's fundamental to innovation, growth, and overall success.
There's a ton of scientific evidence that shows how gender and ethnic diversity improve performance. When you expand the backgrounds, experiences, and outlooks of the people on your team, you're more likely to avoid echo chambers where inherent biases are normalized and groupthink sets in.
For example, researchers found that diverse groups can solve problems better than homogenous ones. Additionally, a McKinsey report that covered 366 public companies in various countries and industries found that those that were more ethnically and gender diverse performed significantly better than others.
Women's contributions to all areas of society are undeniable – and warrant celebration today and every day. While there is no doubt that women will continue to face challenges in the world of business and beyond, we are committed to supporting them in creating companies that help them live life on their own terms.