Invoice2go + Stripe: introducing our latest partner program
One of our goals at Invoice2go, a Bill.com company, is to help your small businesses to improve cash flow. We know collecting payments can be one of the most challenging parts of running a business, and we look for any opportunity to make it as fast and painless as possible.
That's why we launched our partnership with Stripe and established zero-fee small business banking to make it easier for our customers to accept payments. Since then, we've noticed something impressive:
Businesses accepting online payments get paid more than 2 weeks faster
We've also launched a number of improvements to make it even easier to get paid fast, like the ability to set automatic payment reminders and to accept up-front deposits straight through your estimates and invoices.
And now, today we're excited to be one of the first to join the official Stripe Partner Program – a newly launched initiative aimed at increasing online commerce and helping companies start, run and scale their businesses.
Now that's something we can all get behind. An enhanced partnership means a better overall experience for the thousands of small businesses using Invoice2go with Stripe's seamless payments platform.
Your Invoice2go + Strip top questions, answered:

We get a lot of interest from our customers about how to accept online payments with Stripe and wanted to share some of the most common questions and answers here.
What does my customer see when I enable payments?
When using our payments feature, every invoice your customer receives will include a "Pay Now" button. This button links to an online payment form where customers can pay invoices with a debit or credit card.
If you have provided a PayPal account, a link to PayPal will be included on this form. You can see how this works here. Your customers can also pay you via Apple Pay, using just a thumbprint.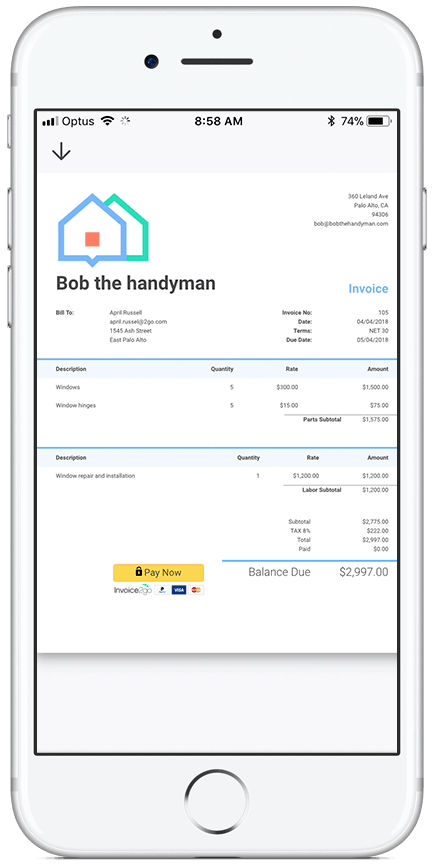 How long does it take to get paid with Stripe?
The first transaction will always take 7 business days to be deposited. This initial holding period is necessary for complying with anti-money laundering regulations and to reduce the risk of fraud.
After this, the time it takes for Stripe to place the money into your selected bank account depends on where you're located. In the United States and Australia, it typically takes up to 2 business days to cash out.
If you're in Canada, the United Kingdom, or Ireland, it can take up to 7 business days. Once completely processed, you will receive an email notification.
What is Stripe?
Stripe is a technology company building economic infrastructure for the internet. Businesses of every size—from new startups to public companies like Salesforce and Facebook—use the company's software to accept online payments and run technically sophisticated financial operations in more than 100 countries. At Invoice2go, we use Stripe to power our debit and credit card payments feature.
Stripe has been widely recognized for its work, winning awards such as the Forbes Cloud 100, and EY Industry Entrepreneur of the Year Award. They're backed by a number of globally recognized investors, including Sequoia Capital, Visa, and American Express. We're proud to have Stripe as our partner.
Are my payments secure with Stripe?
Stripe meets and exceeds the most stringent industry standards for security. They are also audited by a PCI-certified auditor and are certified to PCI Service Provider Level 1 (This is the highest level of certification available; you can see Stripe's PCI certification here). 
They also ensure Secure Sockets Layer (SSL) and Transport Layer Security (TLS) mechanisms for all payments, to verify that all traffic is legitimate and to ensure data is safely transferred.
You can learn more about the technical details of Stripe's secure infrastructure here.
What are the fees with Stripe?
Fees differ depending on your Invoice2go plan. Our Unlimited Plan offers the lowest rate at 2.9% + $0.30 per transaction. Visit the Invoice2go Help Center to learn more about processing fees.
Do you have more questions about accepting debit and credit cards through Invoice2go? Drop our support team a line by visiting us at support.2go.com. We're always here to help you make the most of Invoice2go, so you can get paid quickly, and get on with real work.