Invoice2go Artists: Q&A with Jonathan D. Chang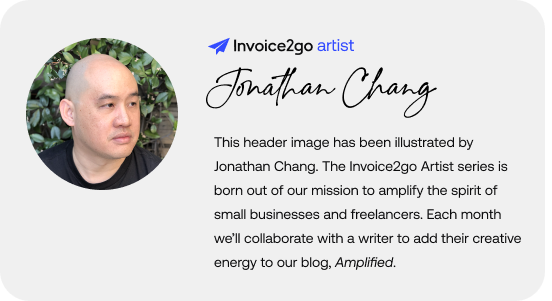 Born in Taiwan, Chang immigrated with his mother to the U.S. when he was three years old. He's spent most of his life in Los Angeles, which he calls home to this day. After freelancing on the side while working at a creative agency whose clients included major toy brands among the likes of Hasbro, Moose Toys, and Spin Master, he now freelances full-time. His clients have spanned a vast array of industries, from the mobile gaming brand Gamation to Andrew Yang's 2020 presidential campaign. 
You might also recognize Chang's portraits of the victims of anti-Asian violence from social media, as well as protests and memorials, including the Times Square vigil for Michelle Go, who died after being brutally shoved from a subway platform in January. Through these tributes, Chang wants to not only bring attention to these attacks, but also allow the victims' memories to endure, even after the news cycle has moved on.
Chang talked to us about his artistic journey, life as a freelance illustrator and designer, and the constant challenge of balancing profit with passion. 
What inspired your career in design and illustration?
Drawing was just something I always liked doing. I was the worst math student because I would doodle in class instead of paying attention. Like most kids, I was influenced by pop culture — TV shows like Teenage Mutant Ninja Turtles, video games. I liked drawing that kind of stuff.  
My mom wasn't resistant at all to me going into design and illustration. She told me she was actually pretty talented at drawing when she was young, but her parents didn't support her passion, so when she found out I had the same interest, she always encouraged me to pursue it. It's almost like she lived a little through me. I think she just wanted me to do what would make me happy.
What are some of your artistic influences? 
I appreciate all sorts of art. I'm really into foundational drawing, like the basics you learn when you first start drawing the human figure. Michael Hussar was one of my head painting instructors at the Art Center College of Design in Pasadena, California. I really looked up to him. He does alla prima style painting (a method that involves painting a canvas in a single session with one layer of paint rather than with several layers over multiple sessions). 
I actually do the portraits of the victims of anti-Asian violence really quickly, too. I try to draw them right when I hear about their stories, because it holds more meaning for me personally when I do it in the moment. 
As far as pop culture, I'm really into the key art they use for Japanese video game covers. I'm also a super big Disney fan. I'm not really into highly rendered drawings. I appreciate concepts and really good design over something that's just tedious for the sake of it. 
You've worked for several years in the toy and entertainment industries. Tell us about those experiences and what motivated you to make the leap to freelancing.
I was involved in art direction for toy packaging. Let's say for a toy package, there's only a limited amount of space for the illustration. I'd draw pose suggestions for the 3-D team and present them to the marketing and brand teams to get buy-off. I'd work on everything from the conceptual stages to the final product, including touch-ups, so that a kid picks it up and goes, "Dad, this is really cool." 
I went full-time freelance because I wanted more freedom to do different projects outside of just toys. I have a lot of different interests. I've done branding work for local dog stores and up-and-coming food brands. When you're doing stuff for smaller clients, sometimes you have a little more freedom to do riskier things and explore different concepts. I'm working on some NFT projects, too.
Early on in Andrew Yang's 2020 presidential campaign, I made a small animation of a mini version of him on my Instagram account. His campaign people reached out, bought the rights to the character I designed, and brought me on to lead their merch efforts. If you put something for your dream client out in the world, you never know what might happen. 
Freelancing also allows me to focus more on what I think is important. I feel like people really appreciate the portraits I've been doing of the victims of anti-Asian attacks, and I don't want to stop doing them. It's the right thing to do. 
What lessons have you learned about growing your business?
When you're starting out, you can't really be that picky with the projects you take on because you need the cash flow. I tend to work with a lot of smaller clients, which I learned has its advantages and disadvantages. Sometimes, a project from a smaller client is more enjoyable because it's also their baby — they have more stake in it. You're watching them enjoy what you're doing and feeling happy about it alongside you. But I guess the downside to that is that they can be more critical of the work than a large client might be. 
A lot of growing your business is building relationships because you really don't know how many connections your small client has. Let's say you do a really great job for this one client. They might know someone who can elevate your career to the next level or introduce you to other clients. I've had small clients who actually knew a lot of really powerful people, and I got a lot of cool gigs as a result. Treat every client equally. Don't just not just look at the budgets they have. Look at every client as potential for something better. 
Your portraits of the victims of anti-Asian violence have become integral to the fight against anti-Asian racism. What inspired them? 
Rapper China Mac and actor Will Lex Ham approached me to design a shirt for them to wear at a rally to raise awareness of a case involving an 89-year-old Asian woman who was set on fire in Brooklyn in the summer of 2020, part of the #TheyCantBurnUsAll movement.  That's when I designed the Proud AF To Be Asian shirt. They wore it at rallies and sold it to raise funds for more rallies. That year, we did rallies on the East and West Coasts. The one in L.A. was frustrating. The turnout was really small. None of the Asian friends I invited showed up, but there were a lot of Black and brown allies. Our Asian community really has a lot to learn from these communities. 
When an assailant shoved 84-year-old Vicha Ratanapakdee in San Francisco last January, I was kind of jaded. My friend showed me the story. I told her no one would care, that the local news would cover it, and it would become invisible. She asked me, "Why don't you put  your frustrations into your art, maybe do a portrait of him as a tribute to his life and share his story?" So I drew a portrait of him and posted it on Instagram. The next morning, it was all over social media.  
All these people had changed their profile photos to the portrait of Vicha. I feel like that really galvanized the movement against anti-Asian violence early on. The attacks weren't stopping that year, so I just kept drawing the victims. Because so many people learned about Vicha's story through my portrait, I felt like I kind of had to. I'm glad people find the portraits touching. At the same time, I really wish I didn't have to create them. But ensuring people know about these victims is more important than the way drawing them personally makes me feel. 
I do all the portraits in Photoshop. I draw an outline of the victim's silhouette, and then I start looking for features that give their face character  — like a certain grin, or the way their eye droops on one side  — and emphasize them. The portraits with a white halo indicate someone who's deceased.
I just did one of Yao Pan Ma, who recently died of his injuries from being attacked in Manhattan while collecting cans to cover his rent. Based on the photos of him that came out, you can tell he had a hard life. In a lot of them, he's not smiling. He's not smiling in the portrait I drew of him, either, but I tried to give him a little bit of the softness I feel like he deserved. 
As far as the Times Square vigil for Michelle Go, Ben Wei, the founder of Asians Fighting Injustice, who organized the event, originally wanted to just display my illustration of Michelle. I was like, "The space is really big. Do you think we can put all of the portraits there?" Instead of just having Michelle up there by herself, I wanted to show that she wasn't alone in this, and that there are people with her. I also wanted to show that she's not a lone statistic. These attacks are ongoing, and they've affected several people. So I did a quick mockup. Even at a low-res scale, it looked really powerful. The team agreed, and we went with that layout. 

You also designed the F*ck Around and Find Out tee inspired by Xiao Zhen Xie, who fought off her assailant in San Francisco last March, to fundraise for the Asian American community. Why is it important for you to leverage art for social change? 
The whole point of these projects, especially in the beginning with the portrait of Vicha Ratanapakdee and the #TheyCan'tBurnUsAll campaign, is that we felt invisible, like our stories didn't matter. Asian people are often viewed as an aesthetic and not as people. We don't need to have drawings of tigers and other decorative things. We just need to show what's happening, which I feel like engages a way more visceral reaction than an aesthetic, and actually enacts a positive change. 
If you want those outside the Asian community to actually think of us as people, you have to show them that we're people. Center the victims. Center the elderly who are getting attacked and killed. Using art and design to showcase our humanity is something I feel like all creatives have a responsibility to do. 
What advice would you give freelance artists and designers about striking the balance between maintaining cash flow and pursuing meaningful, socially-conscious work that may not be as profitable?
You need to make a living. At the same time, you need to make time for yourself, and you need to have that creative outlet to do things you care about. I feel like when you carve out time to express that part of yourself, it reflects well in your other projects because you're happier as a designer. If you're not happy in one part of your life, it'll creep into your work. You're not going to do the best for your clients. 
How do you keep yourself from burning out when taking on such heavy subject matter? Do you ever feel like giving up?  
Last March, when my portraits were blowing up, I actually took a small hiatus because my dog died suddenly. He was my world. I was like, "Man, I'm getting too close to this death stuff, and it took something away from me."
But people convinced me to keep doing the portraits. They told me to think about the families appreciating me for telling their loved ones' stories because these people never really die until you stop thinking about them. Their portraits were in Times Square for an hour — but for an hour, they were alive in everyone's minds. I hope that brings some solace to their families. I really hope they felt the love from everyone that night. In the end, that would make it all worth it.