Small Business Spirit: Liam Elliott and Beat N Trak
The pandemic left few industries unscathed. Live events – which widespread lockdowns brought to a halt – endured especially brutal losses, amounting to a staggering $30 billion in 2020, according to concert trade publication Pollstar. 
Freelancers like Liam Elliott were among the most vulnerable members of the events industry. Since 2017, the UK-based solopreneur – a customer of Invoice2go, a Bill.com company – has been running the mobile DJ business Beat N Trak, performing at events ranging from birthday parties to music festivals, all out of his custom-built Land Rover. Last year saw the postponement of most of Liam's bookings, and even a few cancellations. 
But the father of three adapted, bringing his DJ sets to virtual reality. In the depths of lockdown, he started accepting viewer donations through Twitch livestreams of his VR performances. 
Now, as COVID restrictions continue to lift and people return to partying IRL, he's succeeded in keeping his business afloat. His rugged 1984 Land Rover-turned-DJ-booth recently pulled up to a motocross championship afterparty, a wedding, and a corporate event that involved shepherding roughly 700 attendees to an outdoor festival. In May, he's scheduled to spin tunes at a mud obstacle course.     
We caught up with Liam about growing Beat N Trak, finding creative ways to sustain it during lockdown, and staying true to your worth.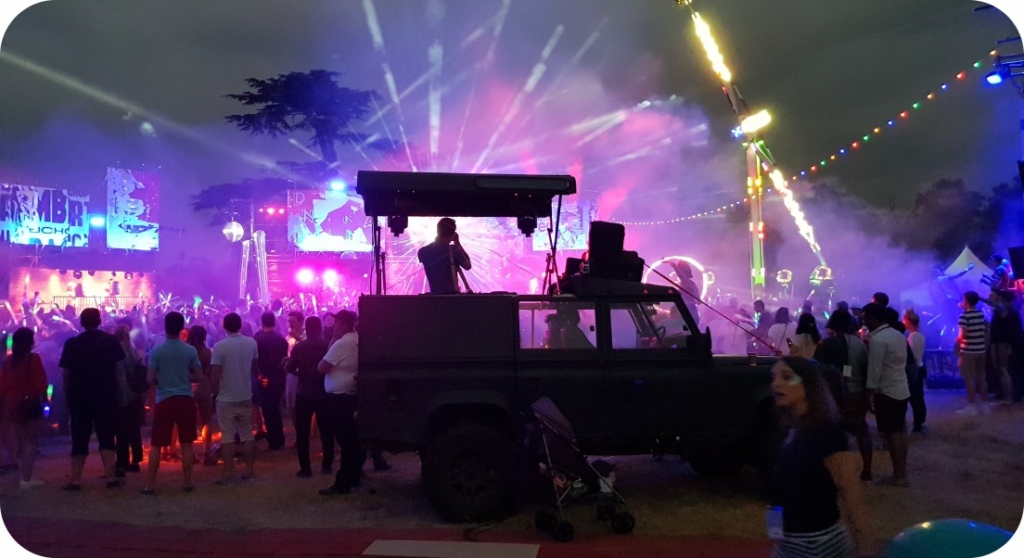 How did you get started DJing? 
It goes back to when I was about 15, 16. I was the new kid at school, and another student had decided to write on one side of a pencil case "God is a DJ," and on the other side, "I am God." The message stuck from that point on. Maybe I saw it as a sign from the universe. 
I started wanting to do it professionally when I realized the DJ at a party my friends and I threw weren't listening to us as customers. A lot of DJs do this, actually. You tell them how many people will be at the party and what type of music they're into. The DJ will go, "Oh, yeah, ok" – and ignore everything you've told them. 
How do you figure out what your customers want? 
Most of it, to be honest, is as simple as asking them. When you do something like a wedding, the couple's probably sat down and thought about it all anyway. They might say they want a certain color scheme, for example. From there, I can ask what kind of lighting they want, and they'll say "We don't want mirror balls. We want more of a nightclub feel," something like that. They'll give me those kinds of prompts. The same with music. You can only get a reasonable idea from someone's age if it's a birthday party, but you can invite them to send a playlist. 
Others haven't thought about what they want. I send them photos or videos from past events I've DJed and ask, "Which one do you prefer?" or "If you like any of the features in the video, point them out to me, and I can tell you what is and how we do it," and go from there. 
I always try to get videos or photos of any event I DJ, even if it's just a handful. I like to be able to throw something together at the end and send it to the celebrant. If that goes up on social media, they'll comment on it and tag their friends. That then spreads. You can then show the next client that video and say, "This is what we did there. What do you think of that?"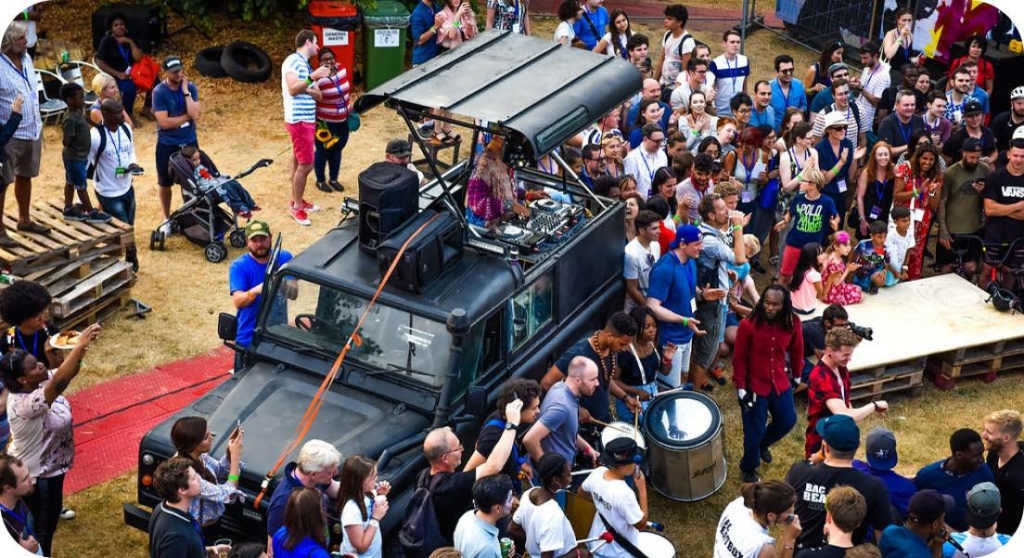 Speaking of which, what inspired you to transform your Land Rover into a DJ booth? 
Fifteen, 16 years ago, I had a slightly newer Land Rover than the one I have now, with a full-length roof rack. I was unloading equipment at a venue. I hung some lights along the side of the roof rack while I got some other stuff out, took it into the venue, came back out, and saw the lit-up Land Rover. I thought, "Hmm, that looks cool." That's pretty much how it started.
I kept putting off the build. Finally, in 2017, I couldn't wait any longer. At 7:00 or 8:00 at night, I went straight outside with an angle grinder and cut the roof in half. It was on a whim. I was like, "I'm doing it, and I'm doing it now!" 
I have a 1984 Land Rover at the moment. At a few points, I thought I'd get another one that's a little bit shinier, a little bit prettier. But whenever I floated the idea at pretty much any event I've DJed, people would say, "No, we like this one because it's got dents, because it's got character."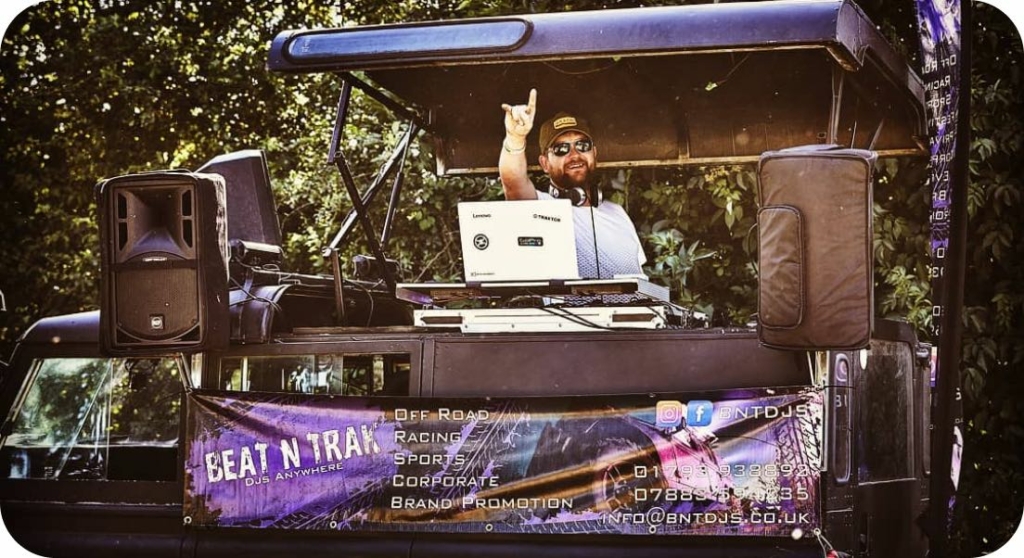 Besides sending photos of events to customers that they can then share on social media, what other strategies do you use to grow your business? 
Mainly word of mouth. Sometimes a company will try to sell me an ad in some obscure magazine for, say, 500£. It makes more sense for me to do an event for cheap but get a lot of exposure at the event itself and through social media posts about it. At the end of the day,  it only takes one person at an event to come up to me and ask, "Are you free on this date?" 
The Land Rover basically advertises itself, doesn't it? It's branded and has the hashtag (#bntdjs) on it. 
Yeah, there's a big hashtag on the back window, so if someone's taking a photo or recording a video, it's normally in the background. Some people use the hashtag on social media, some don't, but even so, you can still find their posts. A couple days after an event, I'll do a quick search on Facebook or Instagram, and more often than not, if even one person uses the hashtag, they've tagged a load of other people. I can then click through their photos, which often include the Land Rover, even if they didn't use the hashtag. Then I'll comment with something as simple as, "Hope you had a great night" to make the Beat N Trak social media account more visible. 
Right there and then, or maybe a week or a month later, I'll get a notification that they've tagged a friend in a comment: "This is the DJ I was telling you about," that kind of thing. A lot of customers find us that way.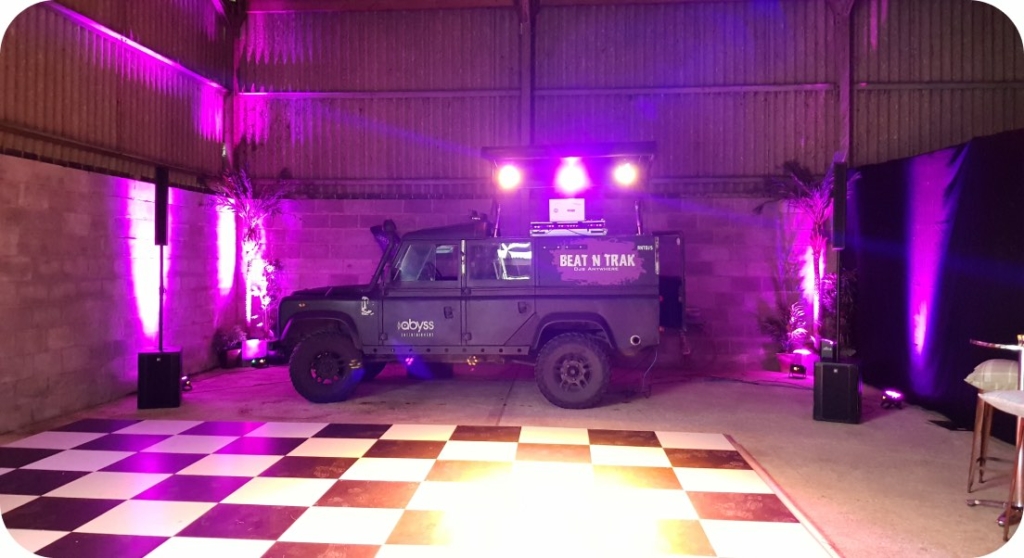 How has Invoice2go helped your business thrive?
It's made it a lot easier to just keep track of stuff. I can delve into what I've got coming up and take a quick click-through on the phone right on the spot, where I can see that, oh hang on a minute, this customer hasn't paid yet – rather than when I'm sitting in front of the computer.
The other thing that's made a difference is the payment reminders Invoice2go sends to customers. You can set your due date on the invoice and all the rest of it, and a few days before the event, it'll send them an email reminding them they need to pay the bill. Once they do, you'll get an email notification. It updates itself, and I don't even need to touch it. It just works, really. 
How did you keep Beat N Trak going during lockdown, when parties and other gatherings were out of the question? 
Mainly livestreaming. I started out on Facebook, but that quickly ended after it updated its copyright guidelines. At one point, I was kicked off after about two minutes due to a copyright violation. From that point on, I DJed into VR games. 
I bought the Oculus Quest 1 VR headset, came across some DJ software, and ended up DJing in VRChat, which is a game that's blossomed into its own community. There are thousands of people who basically party together at virtual nightclubs. When you have the headset on, you can see all their weird and wonderful avatars, dancing and chatting. 
Some people I met along the way suggested setting up a donation page on the video livestreaming service Twitch. People livestream themselves playing video games, singing, or whatever they're into, and there's always a donation page. Since I started accepting donations, I've earned enough to buy software updates for the lighting, a new VR headset, and other small things I could put back into the livestream. The way I looked at it was, it's not unlike someone coming up after I play at a nightclub or a pub and saying, "Thanks for playing that song. Can I buy you a drink?" That kept the business ticking over during lockdown.
What advice would you give other small business owners in the entertainment industry, especially now? 
If you've decided you're worth a certain amount, stick to it. A lot of people are considering reducing their pieces now that a lot of folks are struggling financially, and I've said to a few DJ friends, "Look, don't do it." Take one bucket at 400£ rather than two at 200£ because I've seen it so many times – someone will take a bucket for cheap for a friend, and then they struggle to get away from that. After they've done it at that rate once, the next person expects that rate, too.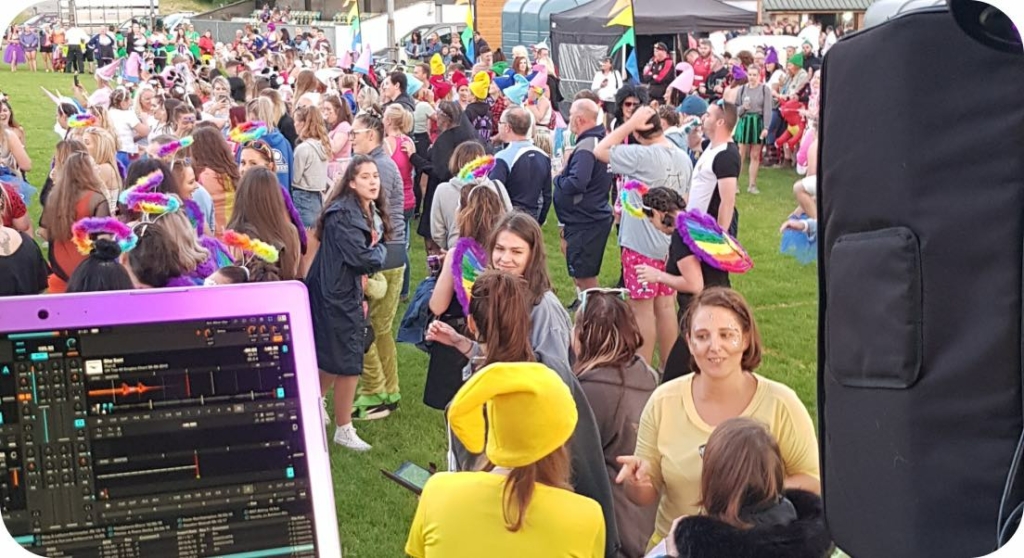 What are you most excited about? 
What I've got planned is to basically get another old Land Rover and extend it so it's got six wheels instead of four – just make it bigger and more outlandish. It would pretty much be half camper van, half rave. The dream would be to drive through other countries, for example, help activists build schools or whatever they may be working on, and then basically throw a huge party after each project. The original Land Rover would probably be not far behind it with all the spare parts, so we can fix up the big one along the way.