How to make your invoices more effective
Many business owners send invoices all day long but fail to take advantage of the many ways your invoice can actually help you collect payment faster. Sure, some late payers will always be late, but taking every opportunity to optimize your billing process, and encourage customers to pay on time (if not early), gives you greater control over your cash flow. And cash flow, as we all know, is king when it comes to growing your business.
Here are some great ways to use your invoices to encourage faster payment:
Send your invoice right after finishing a job
Don't let the burner run cold on sending out invoices. Don't even wait for the weekend. Send your invoices out as quickly as possible, while your services are still fresh in your customer's mind. Mobile invoicing apps can be a big help here. If you combine immediate invoicing with digital payment options, you'll be much more likely to get paid right then and there.
Online invoices
If you're still creating invoices manually, consider ditching the carbon copy notepads and switching to online invoicing software. Most customers prefer electronic invoices. They're automatically in a format that's easy to read, and can be downloaded into their accounts payable system without the need for a separate scan. Online invoicing streamlines the billing process, resulting in faster payments for you.
Invoice2go is a mobile app that allows small business owners to effortlessly send invoices, track work, and even collect payment as soon as the job is complete.
Itemize, don't generalize
An invoice can be a really powerful tool to receive payment quickly, as long as it's easy to understand. Avoid grouping details together, and spell out even the smallest of details as separate line items so there is no room for confusion. For example, separating labor and parts, and itemizing within those categories (i.e. design fees and installation should be itemized within labor).
If you're in doubt about how much detail to include, always err on the side of clarity and over-disclosing. You'll never have someone hold up payment because there was too much detail on the invoice.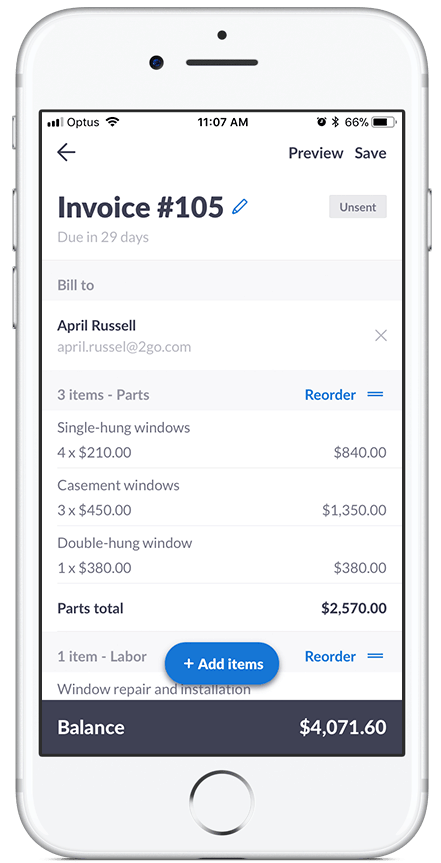 Shorten payment terms
Make sure that your customer clearly understands your payment terms. Discuss it with them while you're live on site, and include the terms right on your invoice template. Don't be shy to tighten up the usual 30-day terms to something more like 14 days. Some customers will wait until the last possible moment to pay an invoice, leaving you hanging for longer than you needed to. Tighter payment terms will close the gap between services rendered and payment received.
Make it easy to pay
Offer your clients as many ways to pay as possible. Cash might be king, but in our plugged-in world, most people don't have a lot of it on hand. You can drastically increase how quickly you get paid by accepting digital forms of payment like PayPal, debit, or credit. Sure, you'll have a small % taken out, but at least the money is on it's way.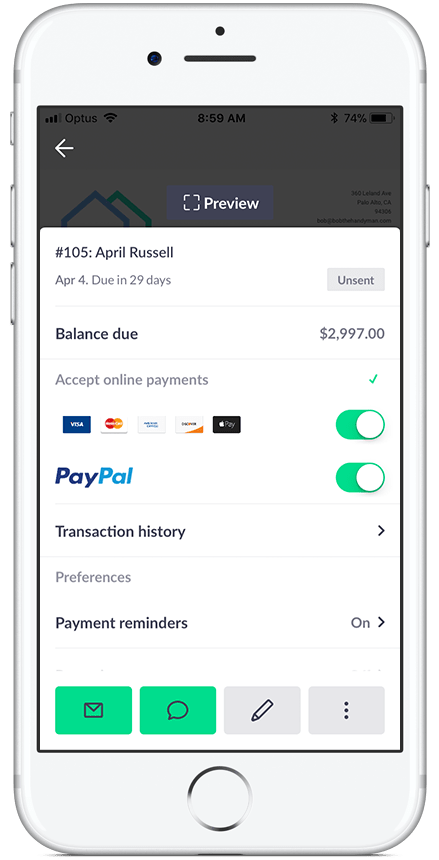 Set up automatic payment reminders
A little reminder can go a long way in making sure you get paid, but manually calling, texting, or emailing be painful. Take the work out of following up by setting up automatic payment reminders within Invoice2go. Just set your ideal timeframe (i.e. on the due date, three days before the invoice is due, etc.) and Invoice2go will send a friendly reminder for you.