What is progress invoicing and how does it benefit your business?
Are you a small business owner involved in projects with a long timeline or multiple phases? Setting up progress invoicing can help you maintain a sufficient cash flow so that overhead costs are covered and the job can still get done.
What is Progress Invoicing?
Progress invoicing – also referred to as progress billing – is the process of invoicing a client incrementally for the percentage of work that has been completed of the total work due.
How Does Progress Invoicing Benefit Your Company?
If you're billing your customer on a consistent basis, it also means that money is flowing into your bank account also on a regular basis. This could help you buy more supplies for a project and pay your staff or hire additional people as needed.
If you have team members working with you on a project, getting paid on a regular basis for completed work can be a way to help incentivize yourself and your team to work more efficiently. Efficiency means that less time and money will be spent on wasted materials and wasted man-hours, ensuring a larger profit and the ability to it means you can kickstart other projects more quickly. This is a way to motivate any external independent contractors you may work with too – they don't get paid if the project isn't reaching its scheduled milestones.
Progress invoicing can be a good way to earn new business too. Progress invoicing means that customers do not have to come up with the full project cost upfront. Plus, your customers can rest assured that work will continue on the project because your business won't be able to take their deposit and leave without completing the job.
 Sending a Progress Invoice with Invoice2go, a Bill.com company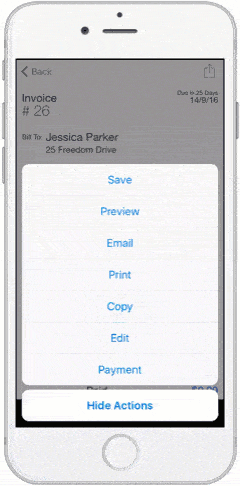 Your business and the customer should agree on milestones, or the percentage of work that should be completed for each progress invoice before beginning the project. It's important with any progress invoice to include the original agreed-upon contract amount and any amendments to the original contract. Having clear expectations for both parties will help you keep the project and the working relationship running smoothly.
When using Invoice2go, you can add multiple partial payments to an invoice as you complete each milestone of work. These payments display in the Payment History at the bottom of the Payment Info screen.
How add partial payments with Invoice2go:
Open the invoice and tap the Action button.
Select Payment.
Enter the amount paid under Part Payment.
Set the Date Paid.
Enter the type of payment made in Type. Or, tap on the Plus sign button to choose from a list of payment types.
You can enter notes related to the payment under Comments.